Asa Davis Thibodeau
Born: 20 May 1875, Mattawamkeag, Penobscot, Maine
Marriage: Clara Thyrza Case in Sep 1902 in Oswego Town, Oswego, New York
Died: Nov 1966, Denver, Denver, Colorado at age 91

Noted events in his life were:
• Birth: From Family Search org, 20 May 1875, Mattawamkeag, Penobscot, Maine. Name: Asa Davis Thibedeau
Gender: Male
Baptism/Christening Date:
Baptism/Christening Place: CIVIL, MATTAWAMKEAG, PENOBSCOT, MAINE
Birth Date: 20 May 1875
Birthplace: CIVIL, MATTAWAMKEAG, PENOBSCOT, MAINE
Death Date:
Name Note:
Race:
Father's Name: Joseph A. Thibedeau
Father's Birthplace:
Father's Age:
Mother's Name: Lizzie
Mother's Birthplace:
Mother's Age:
Indexing Project (Batch) Number: C52186-1
System Origin: Maine-VR
Source Film Number: 11564
Reference Number: 2:1777F99

• Newspaper: Oswego Daily Times, Monday Evening, Page 4, 1 Aug 1904, Oswego Town, Oswego, New York. FILLED THE PULPIT

Rev. Asa Thibodeau preached Two Able Sermons at M. E. Church

Two very able sermons were preached yesterday at tho First. M. E. Church by the Ray, Asa Thibodeau of South Dakota. It is understand that Mr. Thibodeau will preach in the same church next Sunday. It is hoped that all the members will avail themselves of the opportunity of hearing this able preacher.
• Residence: From 1905 South Dakota State Census, 1905, South Dakota. Name: A D Thibodeau
Age: 30
Estimated Birth Year: 1875
Gender: Male
Race: W
Birthplace: Maine
Marital Status: Married
Residence: South Dakota, United States
Years in State: 3
Estimated Arrival Year in State: 1902
Years in United States:
Estimated Arrival Year in the United States:
Father's Birthplace: Maine
Mother's Birthplace: Maine
Film Number: 2281916
Digital Folder Number: 4245282
Image Number: 2340
Card Number: 250

• Residence: From Census, 1910, Pierre, Hughes, South Dakota.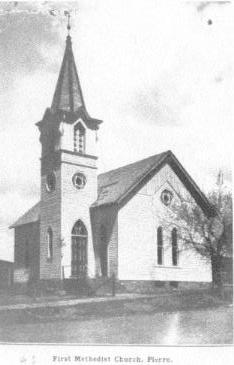 • Occupation: Pastor of Methodist Episcopal church, 1910, Pierre, Hughes, South Dakota. From Census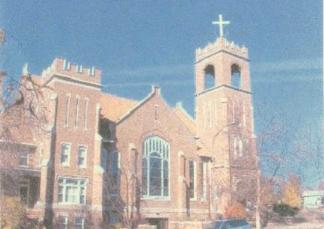 • Newspaper: THE OSWEGO DAILY PALLADIUUM, MONDAY, 28 Nov 1910, Oswego Town, Oswego, New York. THE OSWEGO DAILY PALLADIUUM, MONDAY, NOVEMBER 28, 1910, PAGE 3.

PREACHED TWO SERMONS

The Rev. Asa Davis Thibodeau at First Presbyterian.

Told of Conditions in South Dakota and the Rapid Development of the Country-Mrs. Case of this City, Who is Now Visiting Here.

The Rev. Asa Davis, Thibodeau, pastor of the First Methodist church of Pierre, S. D., delivered two sermons in this city yesterday. In the morning, he preached at the First Presbyterian church, and at the 7:30 o'clock service last evening at the First Methodist church he delivered his second address. Mr. Thibodeau is well known in this city, having married - Miss Case, a daughter of the late Chester O. Case, a well known attorney of this city. Miss Case's grandmother, Mrs. Thyrza Gray, was one of the first members of the First Presbyterian church society organized ninety-four years ago. Mrs. Gray died several years ago after having celebrated her centennial anniversary.

The Rev. and Mrs. Thibodeau have visited here on several occasions. Mr. Thibodeau spent the last three weeks in New York city, where he visited a number of New York philanthropists and secured substantial contributions from them which will aid in the erection of a new church in his home. In his addresses yesterday he related many interesting facts about the country in which he is working; also of the progress which is being made by. the westerners generally.

Mr. Thibodeau's visit to this city was not for the purpose of soliciting funds for his new edifice but a purely social affair.

Mr. William Gray, of Oswego Town, is an uncle of Mrs. Thibodeau. The latter has many friends in this city, where she was educated and where she was prominently known in musical circles.
• Occupation: Listed in the Year Book of the Churches by Clyde F. Armitage, 1919. Lists Asa D. Thibodeau, M.E. on page 168
• Occupation: President of Quadriga Manufacturing, 1922, Chicago, Cook, Illinois. QUADRIGA MFG & SPECIALTY CO., 213 W Grand Ave., Chicago, Ill. Manufacturer of stampings and washers President AD Thibodeau; vice president and treasurer W Dangle; secretary O Seig.

From: EMF Electrical Year Book, an encyclopedia of current information about each branch of the electrical industry with a dictionary of electrical terms and a classified directory of electrical and related products and their manufacturers in the United States and Canaa. Edited by Frank H Bernhard. First annual edition issue June 1921.

• Occupation: Brochure on his being a lecturer, teacher, and minister.
• Residence: From 1930 Census, 1930, Oak Park, Cook, Illinois. Name: Asa D Thibodeau
Event: Census
Event Date: 1930
Event Place: Oak Park, Cook, Illinois
Gender: Male
Age: 54
Marital Status: Married
Race: White
Birthplace: Maine
Estimated Birth Year: 1876
Immigration Year:
Relationship to Head of Household: Head
Father's Birthplace: Canada
Mother's Birthplace: United States
Enumeration District Number: 2259
Family Number: 100
Sheet Number and Letter: 4B
Line Number: 88
NARA Publication: T626, roll 504
Film Number: 2340239
Digital Folder Number: 4584585
Image Number: 1032
Household Gender Age
Asa D Thibodeau M 54
Spouse Clara P Thibodeau F 59

• Residence: PERRY HERALD, PERRY, N. Y., WEDNESDAY, OCTOBER 2, 1940, 1940, Denver, Colorado. Dr. A. D. Thibodeau of Denver, Colo., was a guest of Mr. and Mrs. Charles Barber from Saturday to Monday.
• Residence: From 1940 Census, 1940, Denver, Denver, Colorado. A D Thibodeau
United States Census, 1940
Name A D Thibodeau
Event Type Census
Event Date 1940
Event Place Tract 42, Denver, Election District O, Denver, Colorado, United States
Gender Male
Age 64
Marital Status Married
Race (Original) White
Race White
Relationship to Head of Household (Original) Head
Relationship to Head of Household Head
Birthplace Maine
Birth Year (Estimated) 1876
Last Place of Residence Oak Park, Illinois

Occupation: Minister, Religious Work


Household Role Gender Age Birthplace
A D Thibodeau Head M 64 Maine
Clara C Thibodeau Wife F 64 Michigan

• Social Security Number: From Family Search org, Nov 1966, Denver, Denver, Colorado. First Name: Asa
Middle Name:
Last Name: Thibodeau
Name Suffix:
Birth Date: 20 May 1875
Social Security Number: 342-07-6897
Place of Issuance: Illinois
Last Residence: Denver, Denver, Colorado
Zip Code of Last Residence: 80207
Death Date: Nov-66
Estimated Age at Death: 91

Asa married Clara Thyrza Case, daughter of Chester O. Case and Mary Gray, in Sep 1902 in Oswego Town, Oswego, New York. (Clara Thyrza Case was born in 1871 in Adrian Township, Lenawee, Michigan.)

Noted events in their marriage were:
• Engagement: The Oswego Daily Times, Saturday Evening, Page 4, 27 Aug 1902, Oswego Town, Oswego, New York. Engagement Announced.

The engagement of Miss Clara Thyrza Case of this city to, Rev. Asa D. Thibodeau of Redfield, South Dakota, has been announced. Miss Case is one of Oswego's most accomplished musicians and is the daughter of Mrs. C. O. Case of Ellen Street. Thibodeau is a rising young mil Mr. Thibodeau, The wedding which will be a quiet one will occur early in September.