1919 Road Trip
Johnstown, Pennsylvania to Oswego, New York
Bob Gray, August 2016
My brother brought me an old tin box a year or so back along with several photograph albums and other family treasures that came into his possession one way or another.† I published one of the photograph albums titled: Photo Album for Robert Beckwith Gray but had not really looked through the tin box until recently. The photo album includes pictures that were obviously taken during a trip to Oswego, New York in 1919 to visit my fatherís grandparents.† Going through the tin box, I found a diary from 1919 where my grandfather had documented the trip from Johnstown to Oswego.† Continuing my look through the tin box, I found a similar diary for 1918 which includes notations on when the car was purchased and my grandfatherís early experiences diving it.†
<![if !vml]>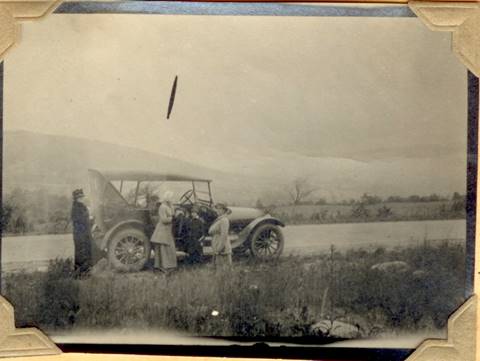 <![endif]>
ET Gray and family on 1919 road trip, location unknown.
<![if !vml]>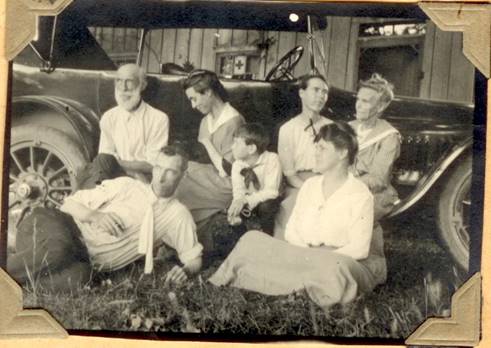 <![endif]>
Back Row (L to R): William Gray, Florence Gray, Robert B. Gray, Thyrza Gray, and Rosanna Stevenson Gray.† Front Row (L to R): ET Gray and Sarah Jean Lomison Gray.† Oswego, New York, 1919.
Based on ETís notes in a 1918 calendar, the vehicle is a 1918 Buick and he bought it in August of that year.† Buick offered three different touring models that year with four or six cylinder motors and seating for five or seven passengers.†
ETís entries in his diaries tend toward the cost associated with the vehicle but some information on their route is also included.† The table below is a transcribed record of his diaries from 1918 and 1919 starting with his purchase of the vehicle up through the end of 1919.† Although the early entries have nothing to do with the road trip to Oswego, they are included as they provide some insight into what it was like to own an automobile at that time.† Some entries in the diary have been omitted either because they did not involve the vehicle or they were simply records of miles driven. †Also included in each diary is a summary of expenses by month.† ET used these to document the costs of owning and operating the car, and, therefore, these cost summary pages are provided below the calendar entry table.† These expenses show that gasoline cost about $0.30/gallon and taking the car up or down the incline, connecting Johnstown and Westmont Borough, cost $0.45.† (Note: The incline still operates today and was one of my fatherís favorite things to do when we visited Johnstown.† A one-way trip for an automobile now costs $6.00.)†
1918

Date

Description

Wed. Aug. 7

Paid for license for Buick car $5.00. Notaryís Fee $0.25.

Thur. Aug. 8

Gave Note for $550.00

Paid on car $800.00

Paid Interest on Note $16.62

First Lessons in Running Car

Abt. 28 mi.

Fri. Aug. 9

Gas 5 gal.

Sat. Aug. 10

Ran car in evening Morrellville & back!

22 mi.

Gasoline 12 gal.

Sat. Aug. 17

Brought car home and washed it.† Millage 352.

1919

Date

Description

Sat. Mar. 8

Mileage 1,487

Gas total 121 gal.

Mile per gal. 12.24

Wed. Mar. 12

Took auto to Swank to have new clutch release bearing put in

Thu. Mar. 13

Got car back.† Brakes too tight.† Car will not pull up hill.† Released brakes.

Sun. Mar. 16

Tried car. Still will not pull.† Appears to be clutch.

Mon. Mar. 17

Car back to Swanks. Byers says clutch slipping.† Adjust valves. Pulled Muffin St. OK in high.

Tues. Mar. 18

Dash lamp out.

Thurs. Mar. 20

New dash lamp. Bt. Hydrometer.

Sat. Mar. 22

To Franklin in PM via Roxbury. Bt 14 gal gas.† Tank almost empty at mile 1,558.

Fri. May 9

Car to Swank to have muffler repaired & valves adj.

Sun. May 18

Tightened or refilled all grease cups. Filled oil cups & transmission. Tightened steering wheel. Battery test 1275. Time 3 hrs.

Mon. June 30

Car left at Smith garage.† Oil changed, valves ground, carbon removed.† New valve put in. Cost $15.35.

Sat. July 5

Bought telescope for vacation trip. $1.50

Sun. July 6

Total gas bt. to date 121. In tank abt. 5 gal. Total miles 2,496 ų 206 = 12.11 mi. per gal.

Thurs. July 10

Smith reset valves.

Fri. July 11

Left rear tire vulcanized - $2.00. 4 gal. Gas Ė Full tank. Mile 2,560.

Sat. July 12

Left Johnstown mile 2,564.

Duncansville 2,602

Altoona 2,611

Tyrone 2,627

Bellefonte 2,662

Sun. July 13

Bellefonte

Cogan Station 2,723

Elmira 2,792

Ithaca 2,825 Ė 163 miles

Room & Breakfast $6.50

Mon. July 14

At Ithaca, 35 mi. around city & campus. Mile 2860

Tues. July 15

Left Ithaca 7:45 PM. Oswego 12 M. Mile 2,955. 1st 50 mi. to Syracuse in _____

Wed. July 16

Fishing

Thur. July 17

Washed car. Hoed. Gas 5 gal.

Fri. July 18

At farm. Hoed. Took Papa & Mama to Minetto & Oswego. Saw Aunt M.L.<![if !supportFootnotes]>[1]<![endif]>

Sat. July 19

Hoed. Gas 10 gal. Jean $1.00. Florence & Margaret home.

Sun July 20

At home all day. Small rides.

Mon. July 21

At home. Said good bye. Shipped telescope to Johnstown. Greased car. Gas 7 gal.

Tues. July 22

Start for Buffalo. Mile 3,160.

Rochester 3,231

Batavia 3,282

Buffalo 3,322

Silver Creek 3,359

Stop for night.

Wed. July 23

Erie 3,419 Ė Detour for 3,401 Ė 3,444.

First puncture at 3,445. Put on spare rear tire.

Conneaut 3,452

Ashtabula 3,467

Cleveland 3,530 at 9 PM

Thurs. July 24

At Cleveland. Gas 12 gal. Rep(air tire) $1.10

Fri. July 25

At Cleveland. Repair torque rod $1.85 Gas 5 gal.

Sat. July 26

Left Cleveland. Mile 3,609

Pittsburgh 3,744

Aspinwall 3,755

Irwin 3,777

Put on Goodyear tire at 3,744 & it blew out at 3,753.

Sun. July 27

Left Irwin 8:15.† Arrive Johnstown 12 M. Mile 3,848.

Sat. Sep. 13

Put Sears Roebuck tire on right rear wheel.† Mile 4,174.

Sun. Oct. 5

Started for Pittsburgh. Wrecked at East McKeesport. Room $1.50. Lunch $1.90. Street car $0.30. Breakfast $0.80.

Mon. Oct. 6

Lunch and dinner at Ottingerís. Street car $0.40.

Tues. Oct. 7

Hospital $0.30. Jean $0.20. Street car $0.10. Shave $0.40.† RR & street car $5.63. Taxi $1.00.

Wed. Oct. 8

At work. Heard from Jean and Belle.
†A search for Swank Buick yielded the following:
<![if !vml]>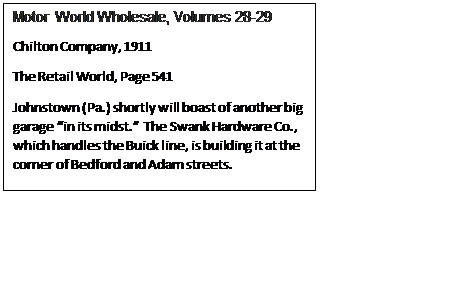 <![endif]>

which is obviously the dealer where ET bought his Buick in 1918.† ETís office was in the Swank building in downtown Johnstown.† The total amount of the Buick that ET bought was $1,350 in 1918.† A search for 1918 Buick vehicles produced the specifications listed in the table below.† This table is from ďThe Car NutĒ web page.† It lists all nine models produced by Buick in 1918 including three touring models.† It is noted that the tire size is different for each of the three touring models.† Per ETís entry for Saturday, September 13, 1919, he bought a tire for the Buick from Sears and Roebuck.† His order for the tire was also in the tin box and the tire size, 34 x 4, indicates that his car was a five passenger, six-cylinder E-6-45 Touring model.† A search for original prices for 1918 Buick automobiles produced two published manufacturerís prices ranging from $1265 (Motor Age, February 2, 1922, Page 65) to $1361 (Automobile Journal, Volume 64, December 25, 1917, Page 42). †As these prices bracket the price ET paid, they further confirm that he bought the E-6-45 model.† Current internet asking prices for a restored 1918 Buick E-6-45 Touring automobile are in the $20,000 plus range.
1918 Buick automobile specifications published on ďThe Car NutĒ web page.
Year -† 1918

Production
Total

Model
Designation

Wheel
base
Inches

Weight
Min/Max

Tire
Size

Wheel
Bolt
Pattern

Valve
Location

Bore
and
Stroke

Piston Displacement Cubic Inches

Compression Ratio (Standard)

Maximum
Brake
H.P.
@
R.P.M

Spark
Plug
Size

Spark
Plug
Gap

Point
Gap

Firing
Order

Ignition
Timing
BTDC
or
Mark

Grnd
+/-
Volts

3,800/172
27,125/1,190
700

4 cyl

E-34 Roadster
E-35 Touring
E-37 Coupe

106

1900
2100
2420

31x4

Hub

In Head

3.375 x 4.75

170

4.5

35

18mm

.025-.030

.020

1243

O Mark

-6

10,391/275
58,971/3,035
2,965
463

6 cyl

E-44 Roadster
E-45 Touring
E-46 Coupe
E-47 Sedan

118

2750
2750
2965
2965

34x4

Hub

In Head

3.375 x 4.5

242

4.5

60

18mm

.025-.030

.020

153624

O Mark

-6

16,148
987

6 cyl

E-49 Touring
E-50 Sedan

124

3075
3520

34x4.5

Hub

In Head

3.375 x 4.5

242

4.5

60

18mm

.025-.030

.020

153624

O Mark

-6
There were entries for a trip to Oswego in 1918 but there were no associated vehicle costs, so it is assumed that ET took a train.† He returned via Youngstown, Ohio, most likely to visit his brother-in-law, Elmer E. Lomison, before returning to Johnstown.† The road trip to Oswego, New York in 1919 included a return via Cleveland, Ohio which most likely was so they could visit Sarah Jean Lomison Grayís nephew, William Spear Lomison who was living in Cleveland at the time.† The trip ended on July 27, 1919. The table below lists the cities given by ET and the millage driven from the start of the trip.† The cities identified by ET were entered into Google Maps for each of the three days of travel to Oswego, New York.† The routes identified by Google maps will be slightly different from the route traveled by ET and his family but the results presented below for each day give a general idea of their path. The millage calculated by Google tends to be slightly lower than the data from ETís calendar.† The intermediate cities are shown in bold type on the maps.† The scales for the maps are in the lower right corner.
| | | |
| --- | --- | --- |
| Date | City | Miles |
| July 12, 1919 | Johnstown | 0 |
| | Duncansville | 38 |
| | Altoona | 47 |
| | Tyrone | 63 |
| | Bellefonte | 98 |
| July 13, 1919 | Bellefonte | 98 |
| | Cogan Station | 159 |
| | Elmira | 228 |
| | Ithaca | 261 |
| July 14, 1919 | Ithaca | 296 |
| | Syracuse | 346 |
| | Oswego | 391 |
<![if !vml]>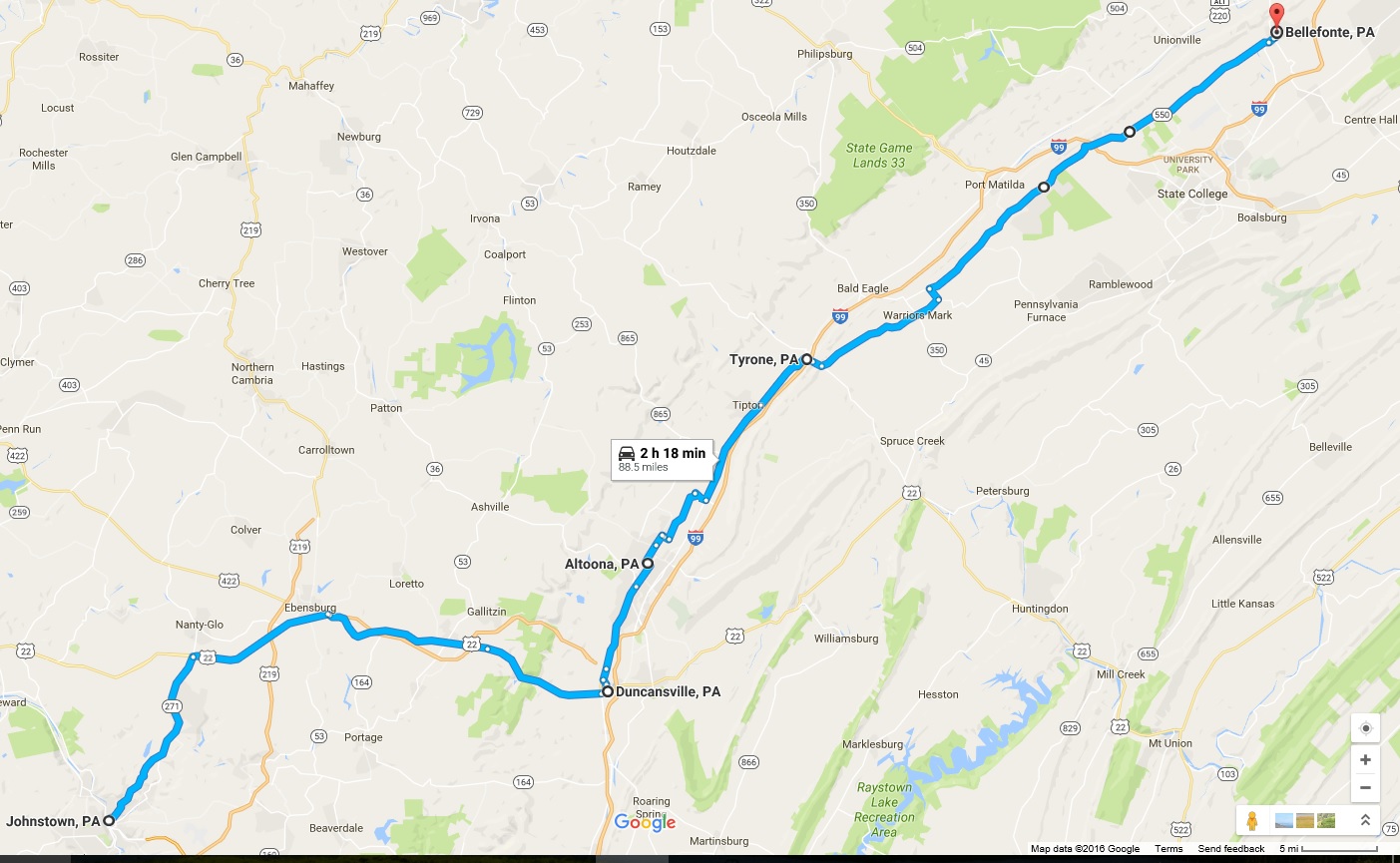 <![endif]>
Day 1: Johnstown to Bellefonte.
<![if !vml]>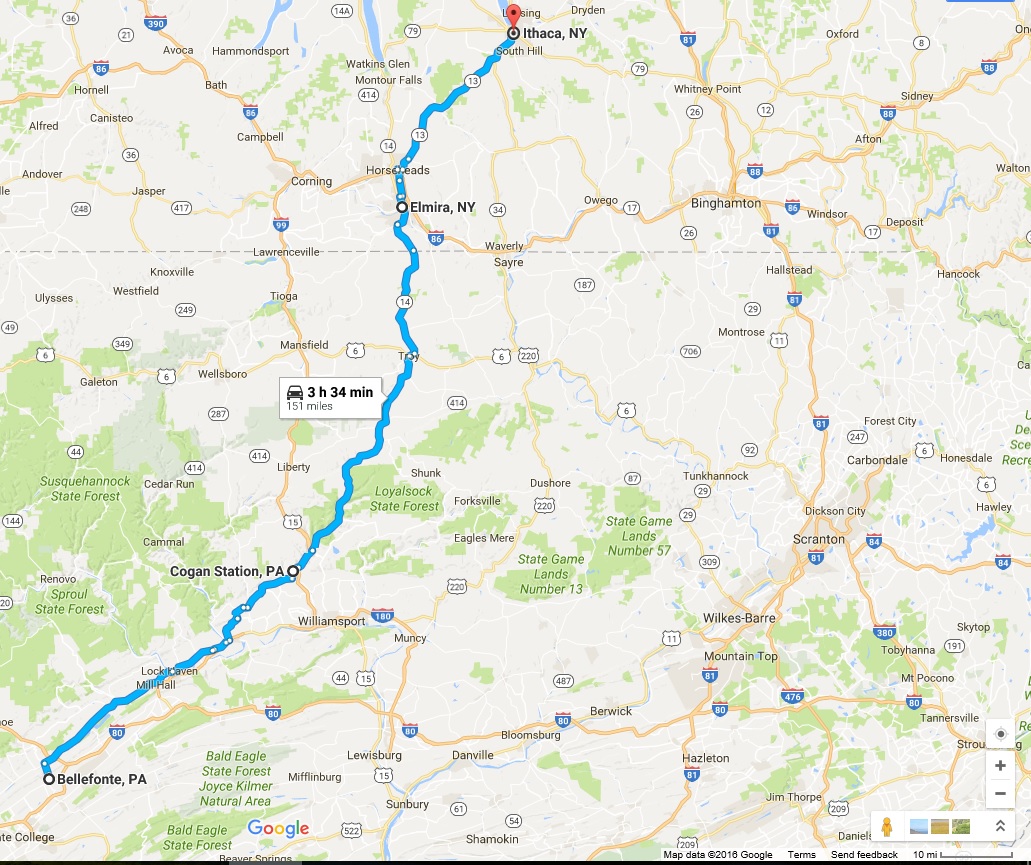 <![endif]>
Day 2: Bellefonte to Ithaca.
<![if !vml]>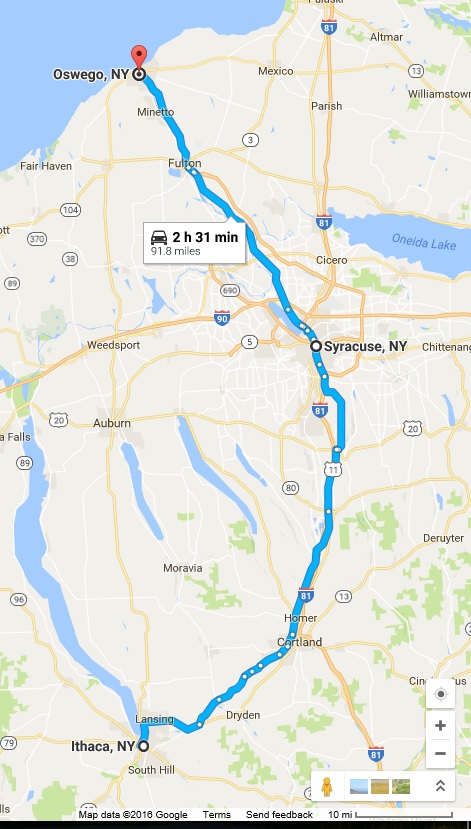 <![endif]>
Day 3: Ithaca to Oswego.
The return trip took four days as they went by way of Cleveland.† The total distance traveled and the cities along their route are provided in the table below for each day of the return trip.†† Again, Google maps has been used to show the general path of the return trip for each of the four days.† The map for each day showing the cities listed by ET are provided below.
| | | |
| --- | --- | --- |
| Date | City | Miles |
| July 22, 1919 | Oswego | 0 |
| | Rochester | 71 |
| | Batavia | 122 |
| | Buffalo | 162 |
| | Silver Creek | 199 |
| July 23, 1919 | Silver Creek | 199 |
| | Erie | 259 |
| | Conneaut | 292 |
| | Ashtabula | 307 |
| | Cleveland | 370 |
| July 26, 1919 | Cleveland | 370 |
| | Pittsburgh | 505 |
| | Aspinwall | 516 |
| | Irwin | 538 |
| July 27, 1919 | Irwin | 538 |
| | Johnstown | 609 |
<![if !vml]>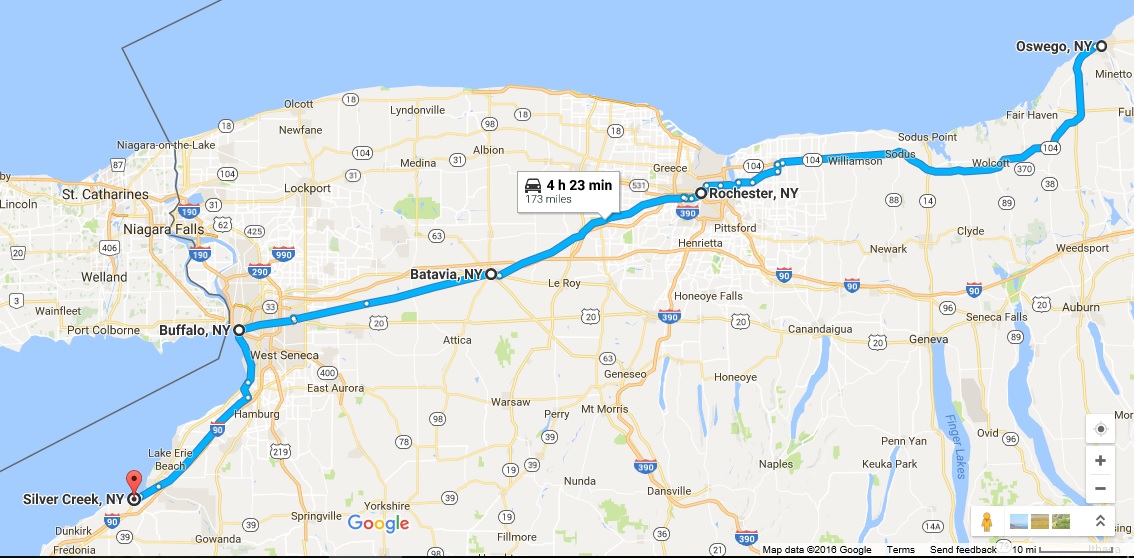 <![endif]>
Return Trip Day 1: Oswego to Silver Creek.
<![if !vml]>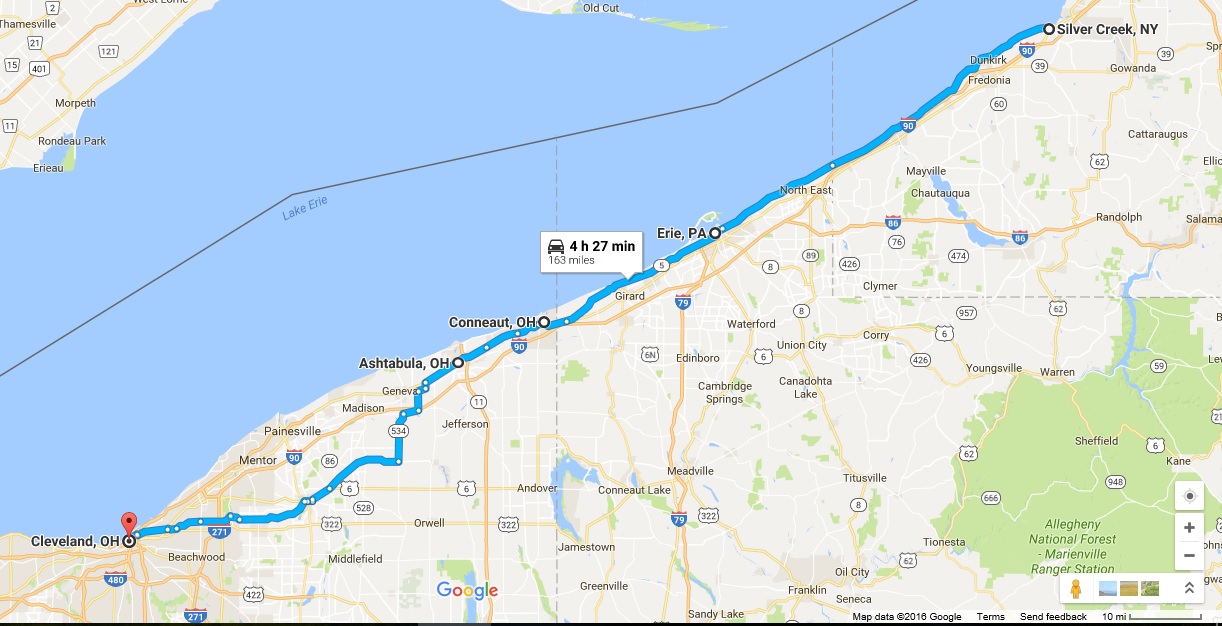 <![endif]>
Return Trip Day 2: Silver Creek to Cleveland.
<![if !vml]>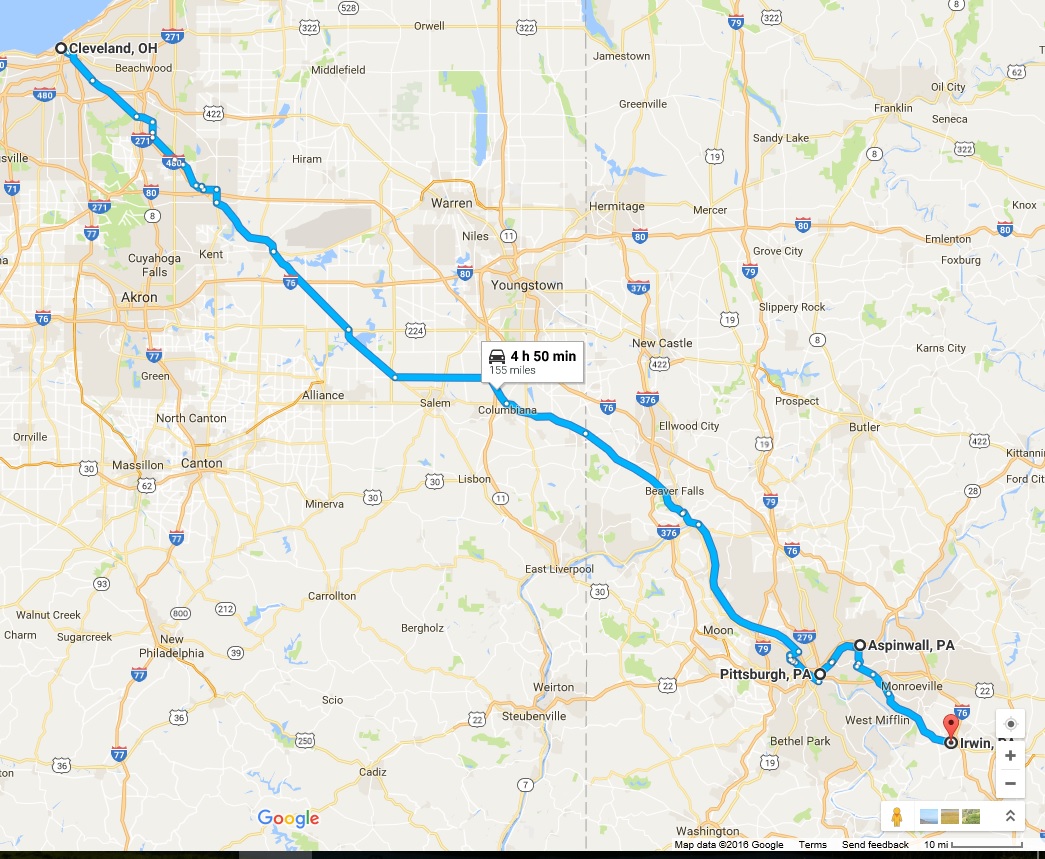 <![endif]>
Return Trip Day 3: Cleveland to Irwin.
<![if !vml]>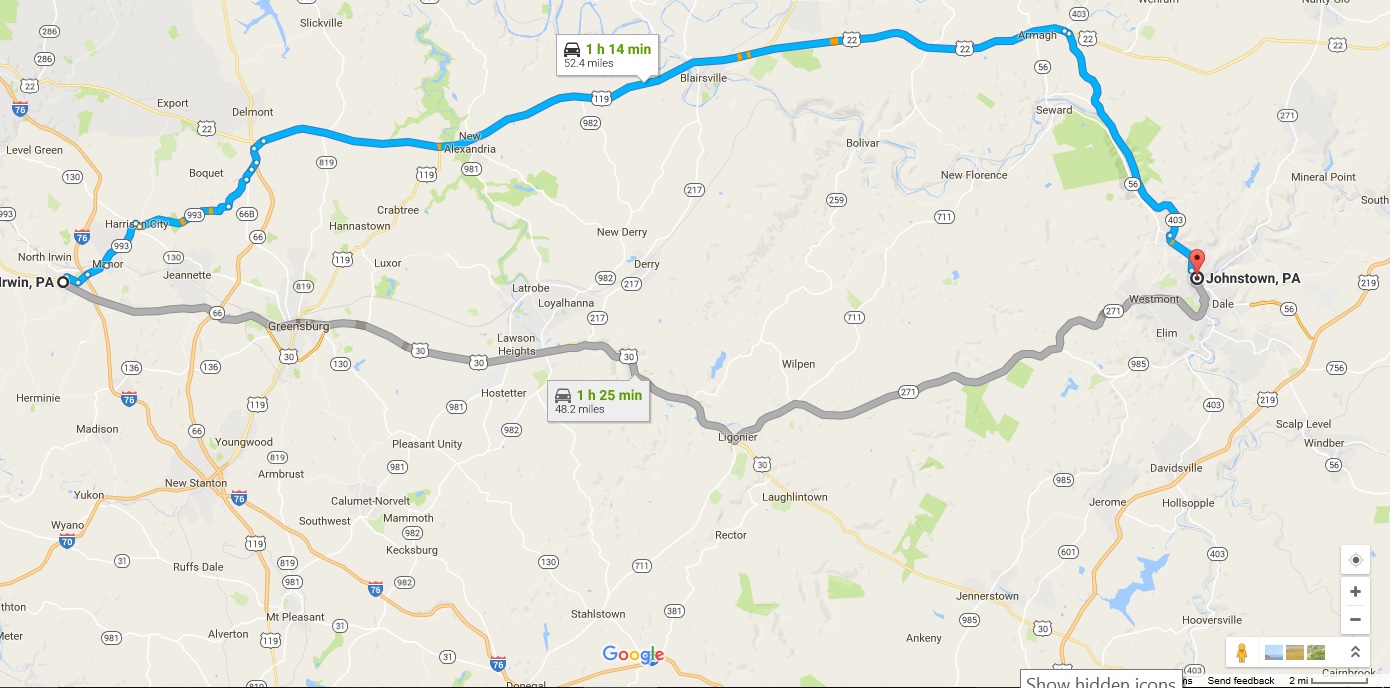 <![endif]>
Return Trip Day 4: Irwin to Johnstown.
I have included some entries for later that year as they involve more repairs and travel.† ET documents the start of a trip to Pittsburgh on October 5 that ended in an accident at East McKeesport.† I remember my mother telling me about an accident that ET had where his wife, Sarah Jean, was badly injured.† My mother said the car slid backwards into a ditch and that Sara Jeanís injuries were due partly to the fact that she had my father on her lap.† My father would have been seven years old at the time.† ETís notes for the event indicate a trip to the hospital.† More detail is provided in the expense summary for the month.† Based on ETís notes for October 8th, Sarah Jeanís sister, Belle, must have been on the trip with them. Further search of the tin box produced a hospital bill for Belle Lomison and payment receipts for her visit made out to ET Gray. †Based on the hospital bill, Belle was in the McKeesport Hospital for a total of twelve days from October 5, 1919 to October 17, 1919.† It is noticed that the total for Belleís hospital stay is consistent with ETís entry for the hospital expense in the October CASH page below.† This finding indicates that it may have been Belle that my mother said was badly injured as there are no hospital bills for Sarah.† The auto was repaired by the East McKeesport Auto Repair Company and ET picked it up on November 21, 1919 at a cost $560.00 which is almost half the original cost of vehicle.† ET did not put any entries into the calendar for November but the expenses summary page shows $4.16 for railroad fair on November 21st.† At the end of 1919, ET calculated the total cost to date of owning the car in 1919 at $1,345.91.† The expense for the vehicle in 1918 was $941.57 yielding a total to date of $2,287.48.† ET also showed the cost including his wifeís hospital stay as being $2,660.73.† The lack of detail about his wifeís injuries or condition is disappointing. His focus seems to have been on the cost of her injuries as indicated in his summary cost sheet shown below.† Early on, ET recorded every detail of his ownership of the Buick, making notes about when he washed it, as well as, when he had routine maintenance or repairs performed.† His expense records were likewise very detailed, such as ten cents for a sponge, 45 cents for the incline.† After the accident, ET did not provide descriptions in the day calendar about the expenses for the vehicle or any notations about miles driven, such as the return trip to Johnston after he picked the car in November.† It appeared that ETís interest in the Buick had soured due to the expense associated with his accident but he had a garage built for it in October 1921.† A receipt was found for $531.43 for construction of a garage at his residence in Westmont, Pennsylvania.† The garage was built by the Industrial Housing Corporation of Johnstown, Pennsylvania.† Material for the garage is listed at $371.33 and the labor cost $160.10.
<![if !vml]>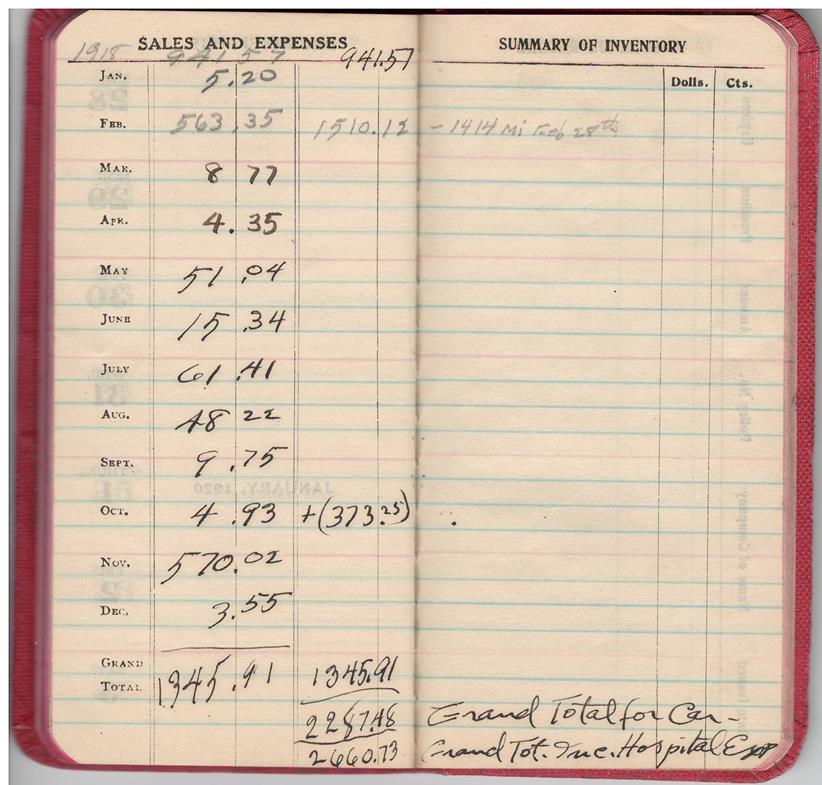 <![endif]>
No calendars were found beyond 1919.† There were several earlier calendars that appear to have been work related as the entries were crossed out.† The monthly expense records for 1919 are provided below.
<![if !vml]>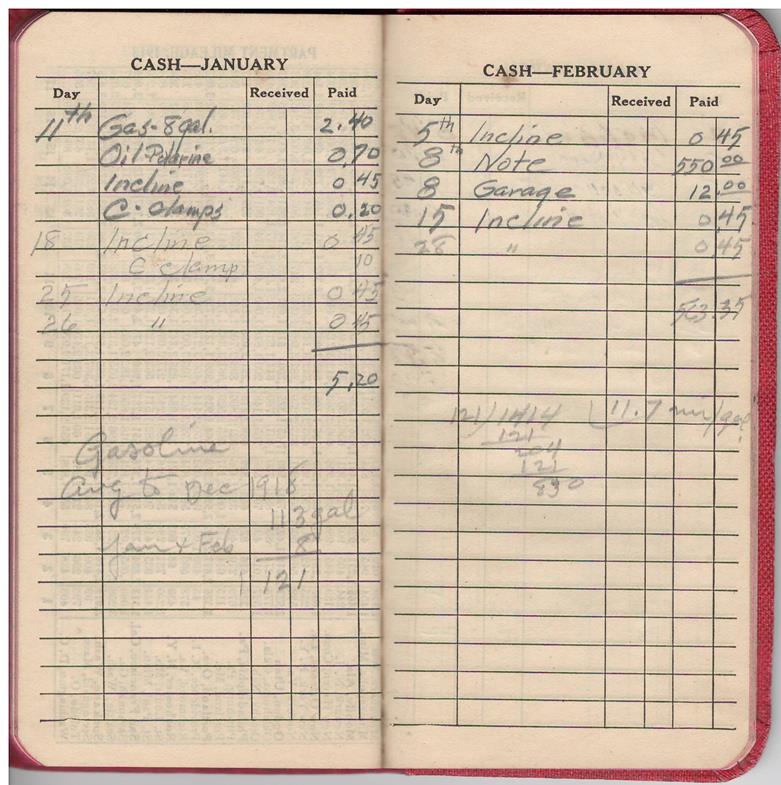 <![endif]>
<![if !vml]>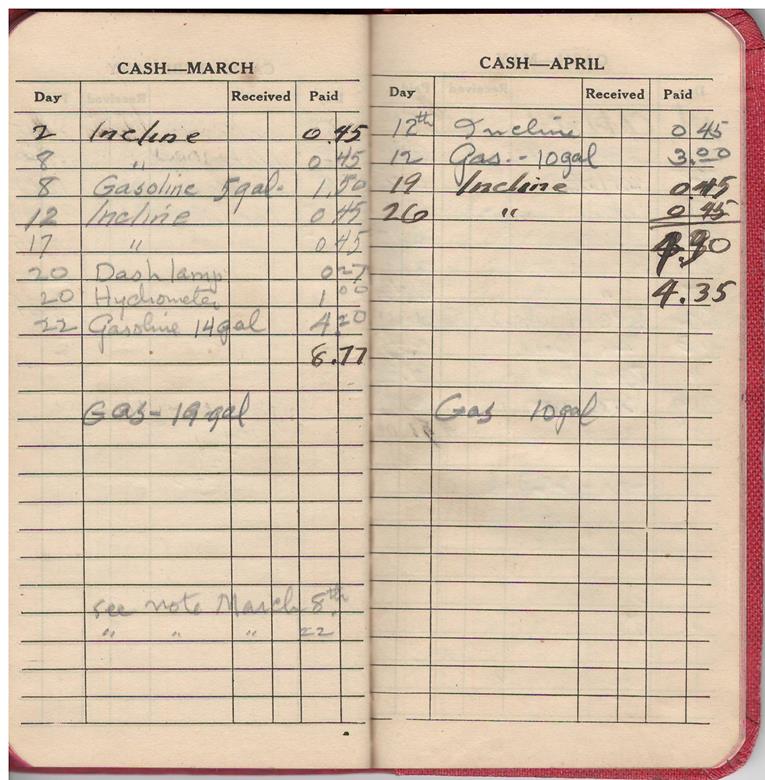 <![endif]>
<![if !vml]>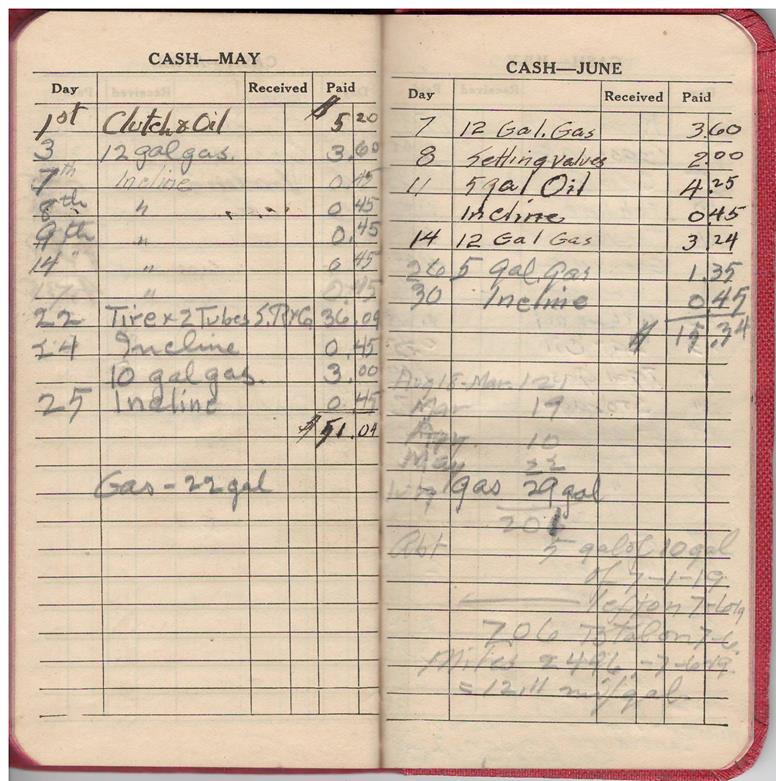 <![endif]>
<![if !vml]>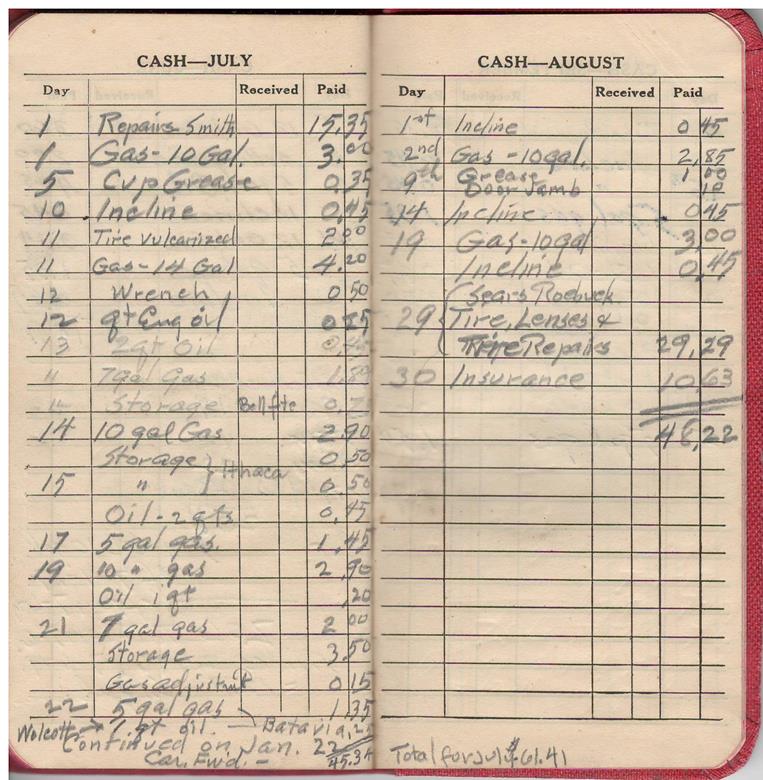 <![endif]>
<![if !vml]>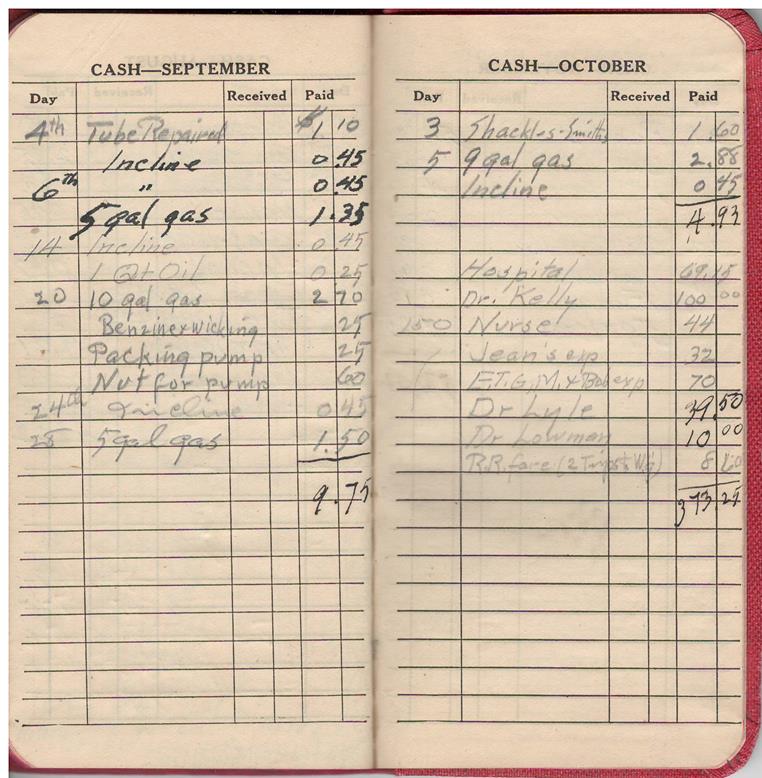 <![endif]>
<![if !vml]>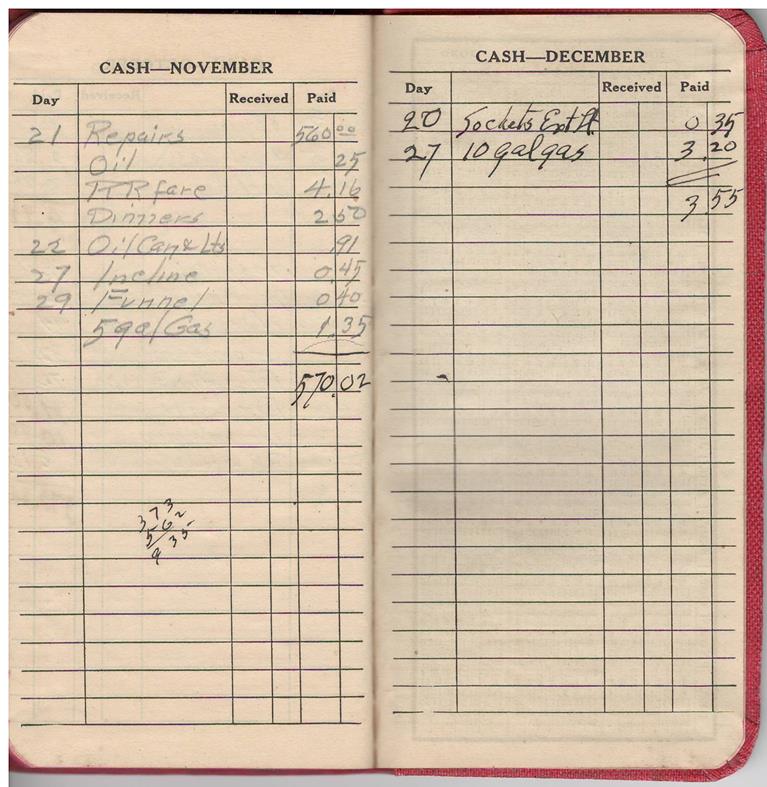 <![endif]>
ETís records indicate that early road travel included many tire and valve train repairs.† There are at least four times that the valves had to be adjusted or replaced in the first year and a half of his ownership.† There are an equal number of references to tire repairs or purchases.† Based on the limited time information included in ETís notes, it is estimated that his average speed was in the 25 mph range which probably accounts for the seemingly reasonable average gas millage of about 12 mpg.† The millage driven in a day ranged between 100 and 200 miles.†
Following the trip to Oswego, ET placed an order with Sears and Roebuck for a new tire and other items for the Buick.† His order along with the response from Sears and Roebuck are provided here.† The size of the tire he ordered was 34 by 4 which definitively identifies his automobile as an E-6-45, six cylinder, five passenger touring model from Buick.† In keeping with the observation that tire repair was a major part of early automobile travel, the reply from Sears and Roebuck indicates that they could not fulfill his order for three tire repair kits due to the large volume of requests for that item.
† Back to family history | Home | Bob Gray Consulting | Genealogy
Copyright 2016, Robert F Gray