Betty Lynch: An Educated Woman in Mid-Twentieth Century America
By Barry J. Gray
August 2017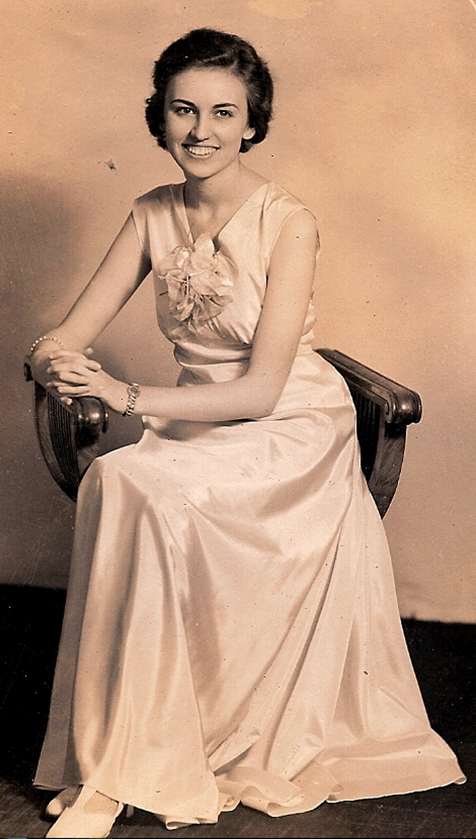 Betty Lynch as a college student, 1936.
My mother, Mary Elizabeth "Betty" Lynch Gray,[1] was born on February 3, 1917 in Erie, PA, the third child of Frank Lynch[2] and Jenny O'Brien Lynch.[3] She was a remarkable woman in many ways, but my goal in this document is to discuss her education and its effect on her and her family.
In this discussion, I have tried whenever possible to document my statements with my mother's papers and photos in my possession. In other cases, I rely on my mother's own statements as I remember them, or those of my siblings. Where there are gaps in my mother's story, or I have only conjecture to rely on, I have indicated as much. I have cited secondary sources where I felt it necessary, or to elaborate on a point in my narrative. I hope that the reader will forgive any shortcomings in my own writing, and appreciate her gifts as revealed in hers.
When she was 18 months old, Betty's parents moved to 217 East 8th Street.[4] Betty attended Jones Elementary School[5] at 7th and Holland Streets on Erie's lower east side, a couple of blocks from her home. When she was six years old, in April 1923, her older sister Jean died of diphtheria, possibly contracted at school. Her parents were so devastated and fearful that they withdrew Betty from school. Mary Purtle, the 5th grade teacher at Jones School, tutored her until she entered 3rd grade.[6]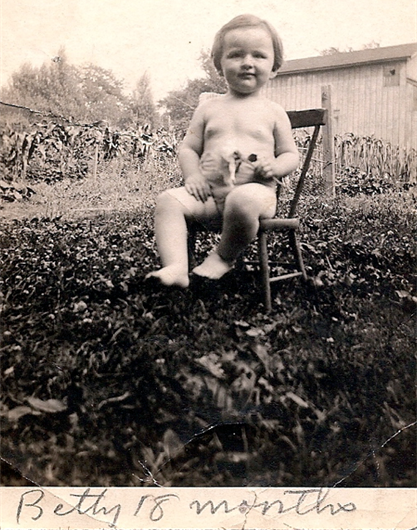 Betty Lynch age 18 months, at 217 East 8th Street in Erie.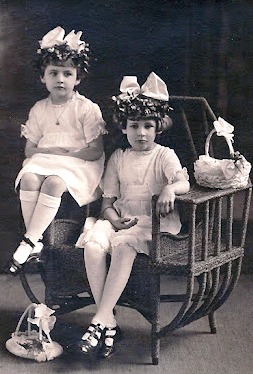 Betty and Jean Lynch, ca. 1920.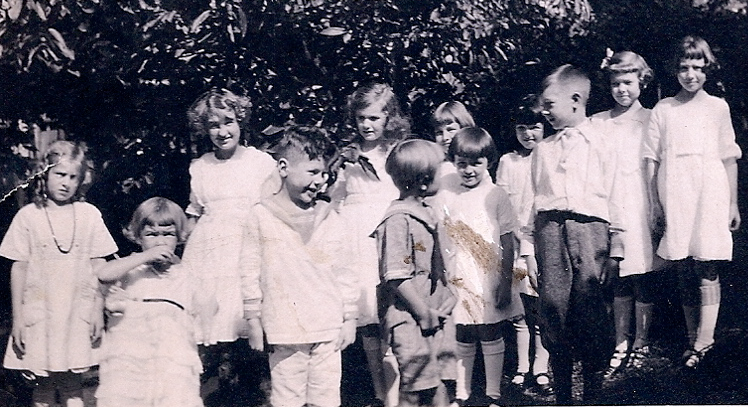 Betty Lynch, fifth from right, with classmates at Jones School.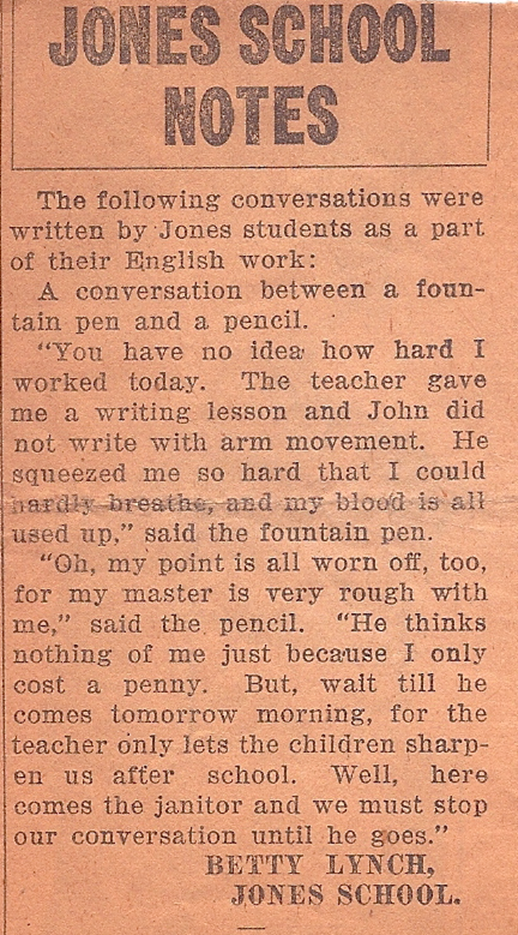 Writing assignment by Betty Lynch reprinted in the newspaper.
Betty's parents moved from the east side to 447 West Seventh Street about 1930, around the time that she would have been attending junior high school. I have no documentation about what school she attended, and no recollection of her mentioning it.
Betty graduated from Strong Vincent High School, on West 8th Street in Erie, in 1935.[7] She was selected as one of nine student commencement speakers presenting on the topic of "Our Schools and the Changing Social Order." She chose to give her address on the use of education for indoctrination. In it, she warned against the dangers of the misuse of education as a tool to impose the will of the "dominant community" on the student. She warned against education "patterned after governments across the sea," a clear reference to what was happening in fascist and communist countries in Europe at the time.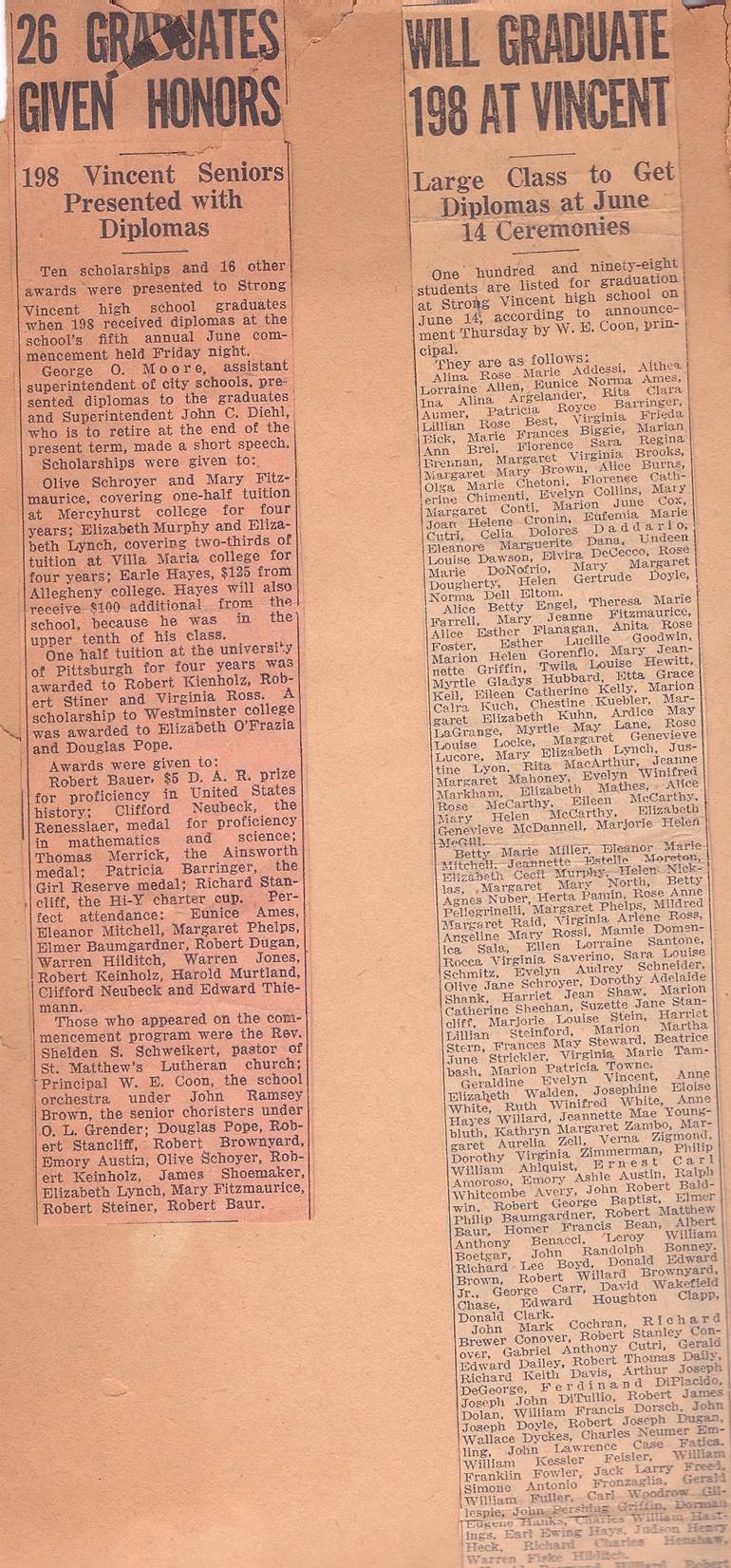 Clippings from Betty's high school scrapbook.
Note her scholarship at Villa Maria.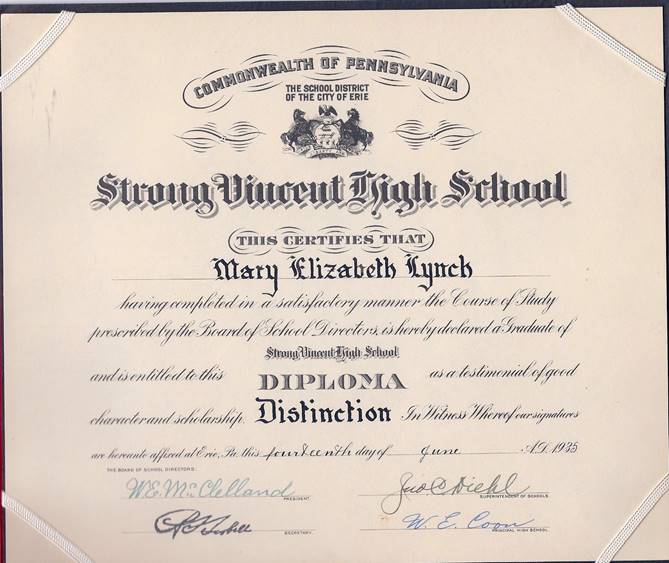 Betty Lynch's high school diploma.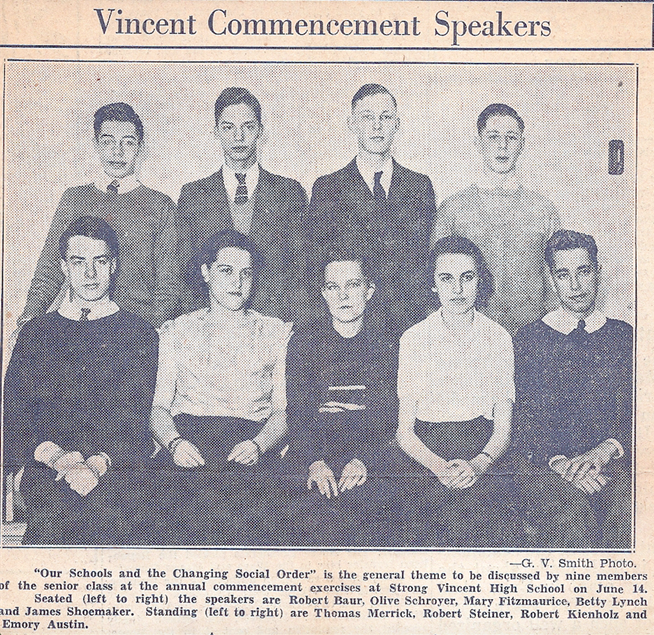 Betty Lynch (front row, fourth from left) was one of the speakers at her high school commencement in 1935.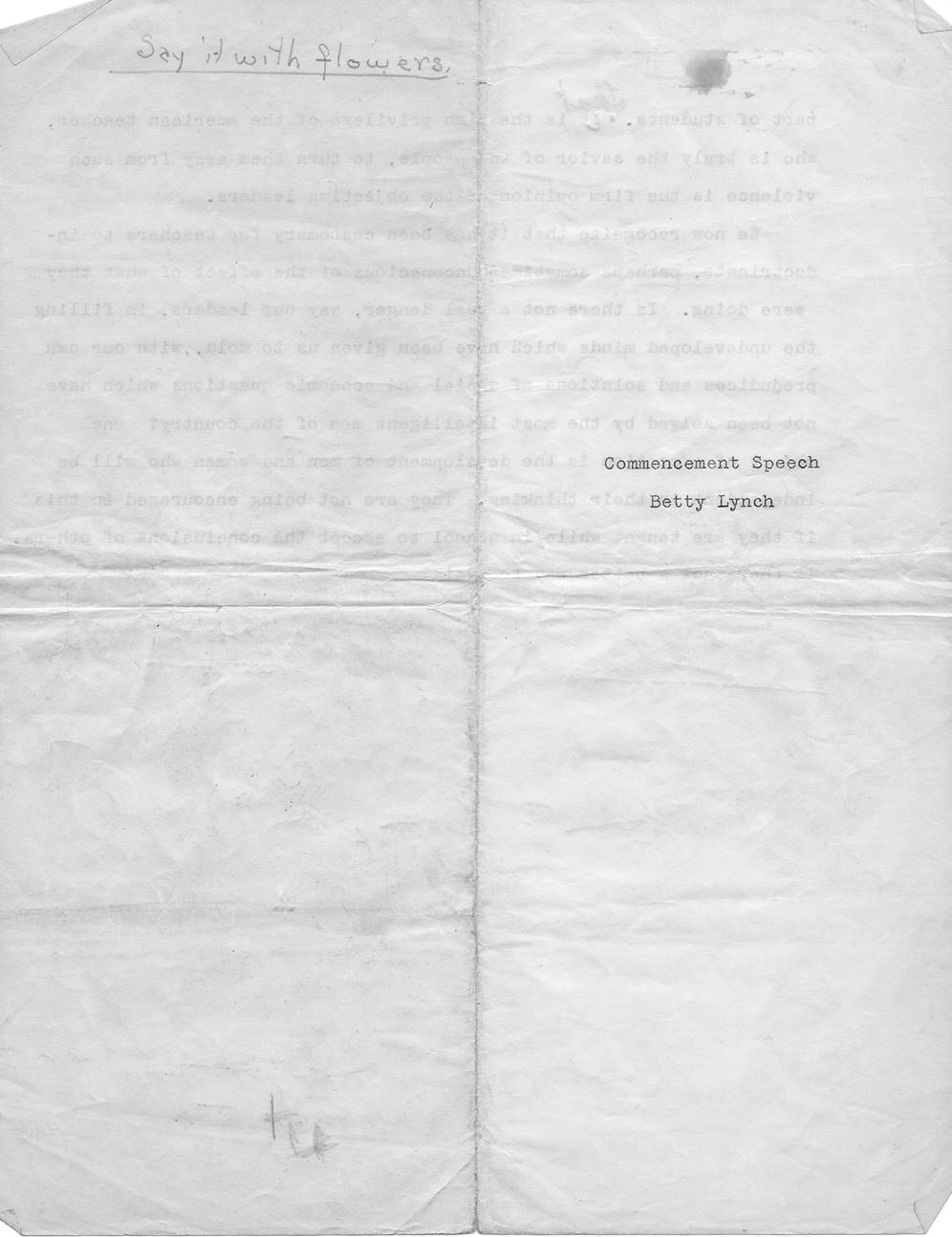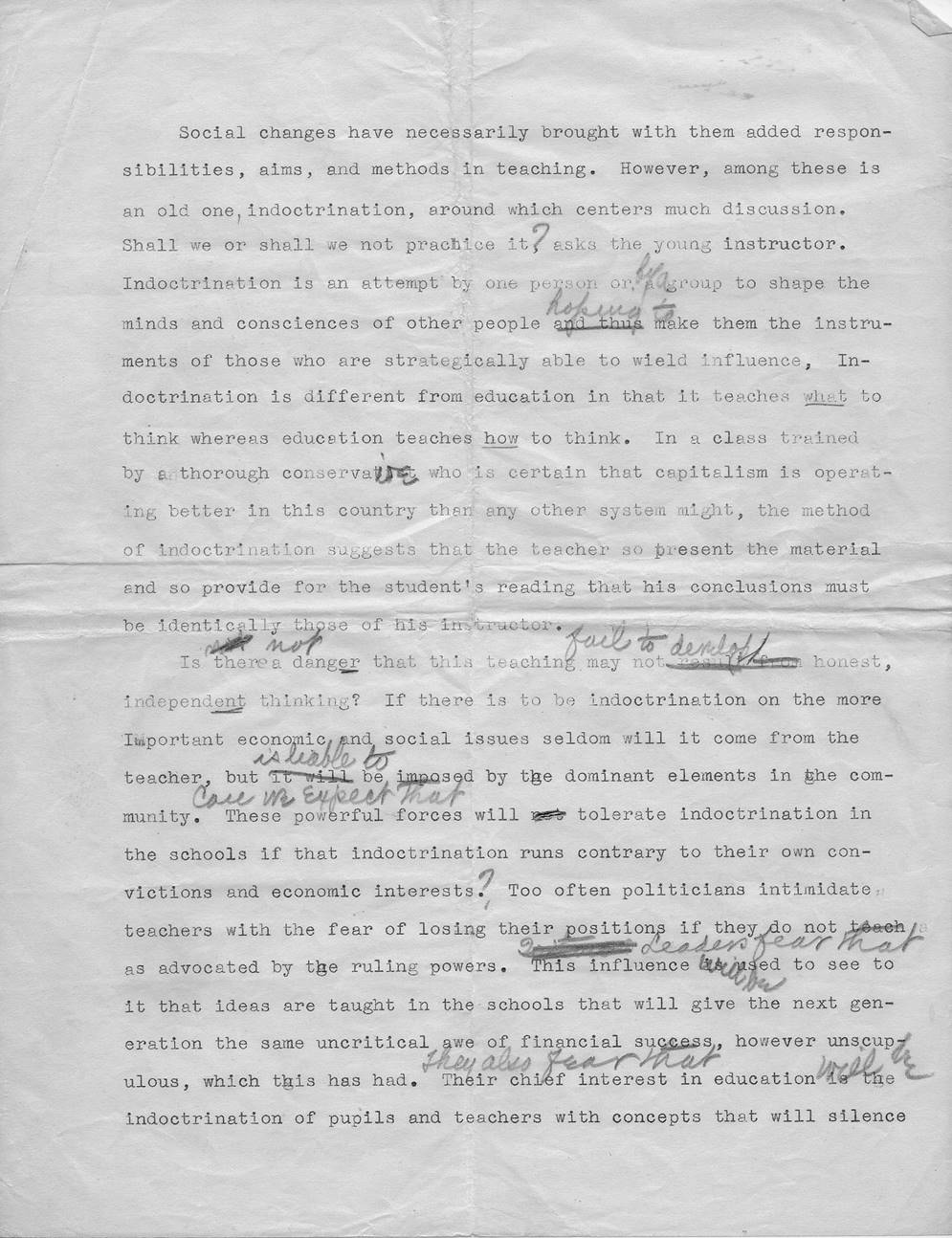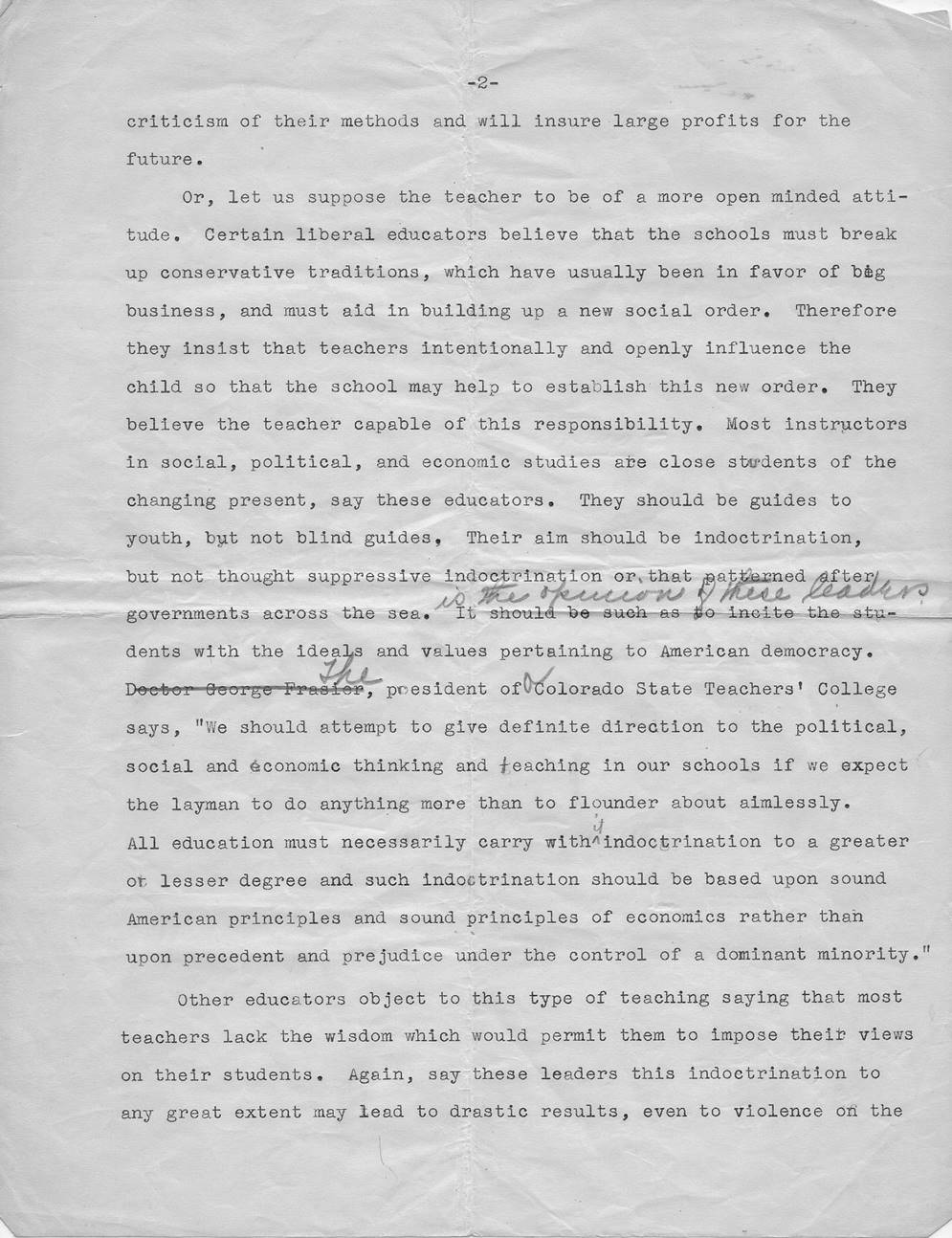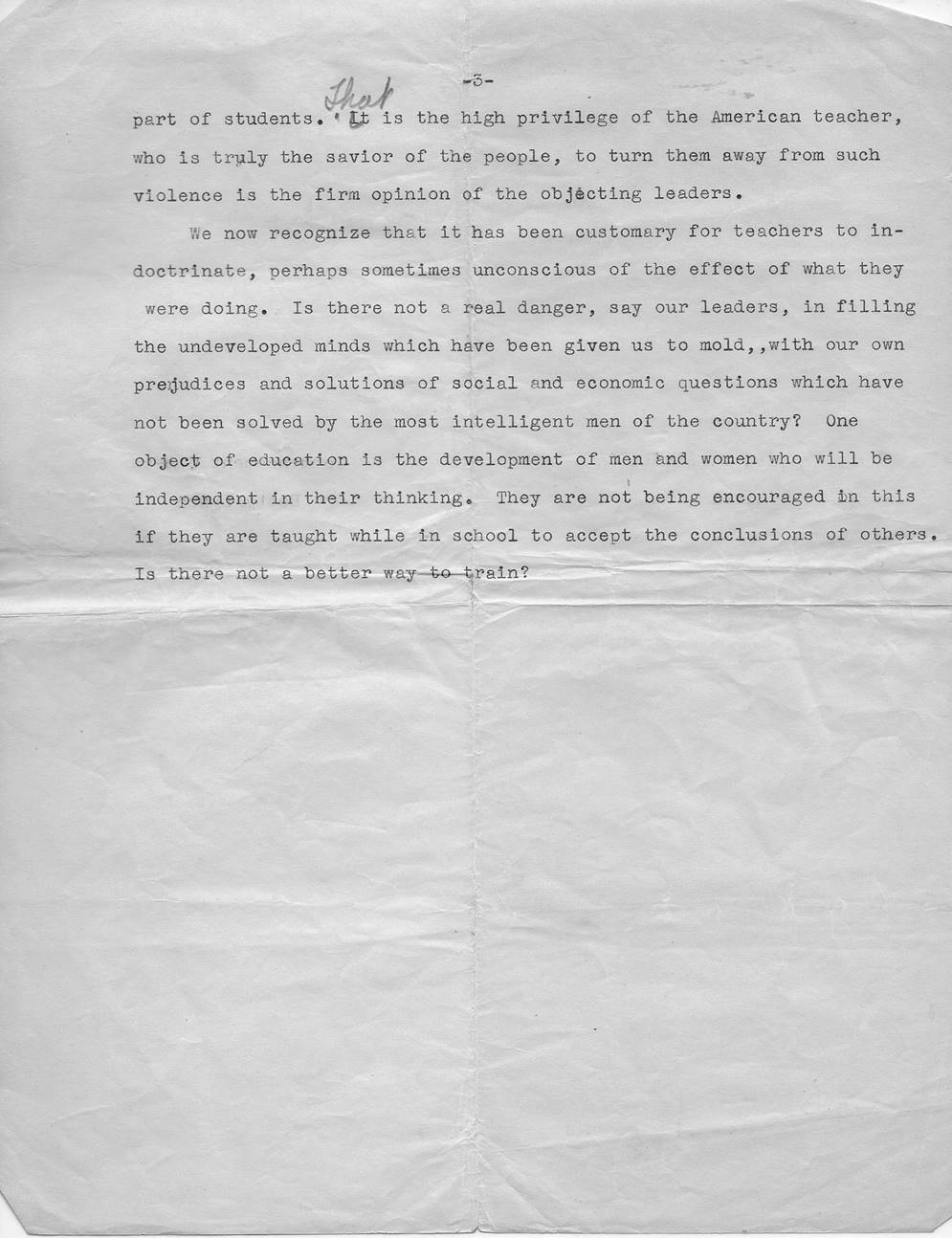 Betty Lynch's high school commencement speech.
Betty was given a two-thirds scholarship for four years to attend Villa Maria College, at Eighth and Liberty Streets in Erie, PA.[8] She was accepted into Kappa Gamma Pi, the National Catholic College Graduate Honor Society, and Lambda Sigma Tau, a community service sorority.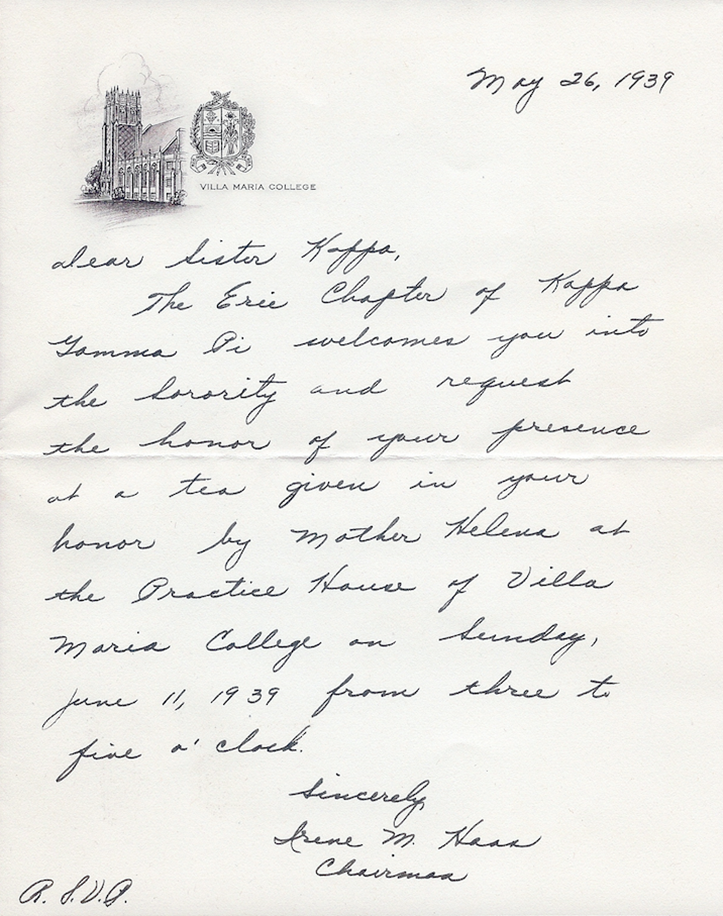 Betty Lynch's letter of acceptance in Kappa Gamma Pi sorority.
Betty earned good grades at Villa, as evidenced by a report card from her senior year, when she received A's in History of Mathematics and Physiology, and B's in Doctrine and Morals, and Student Teaching. Her study schedule for her master's degree states that she also received A's in Physical Science, Foreign Languages and Social Science. It is significant that her report was mailed not to her, a 22 year old college senior, but to her father, Frank Lynch. She graduated Magna cum laude with a Bachelor of Science degree in June 1939.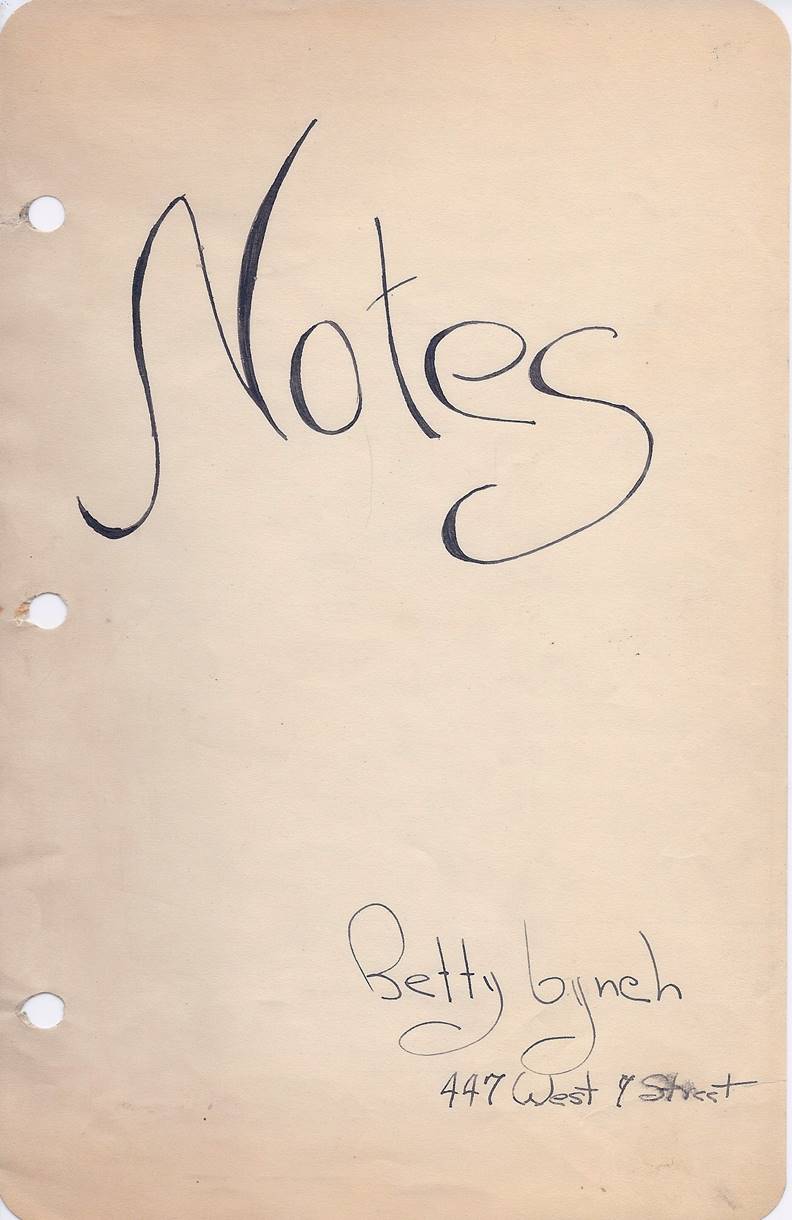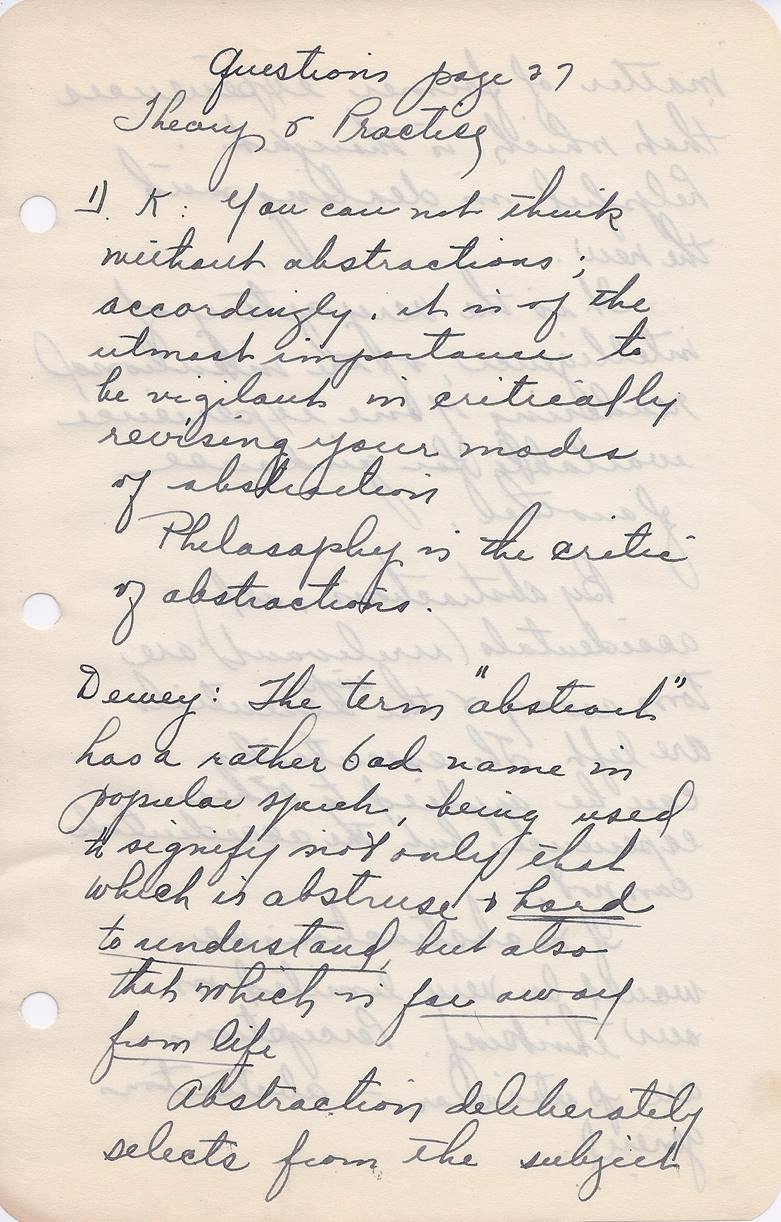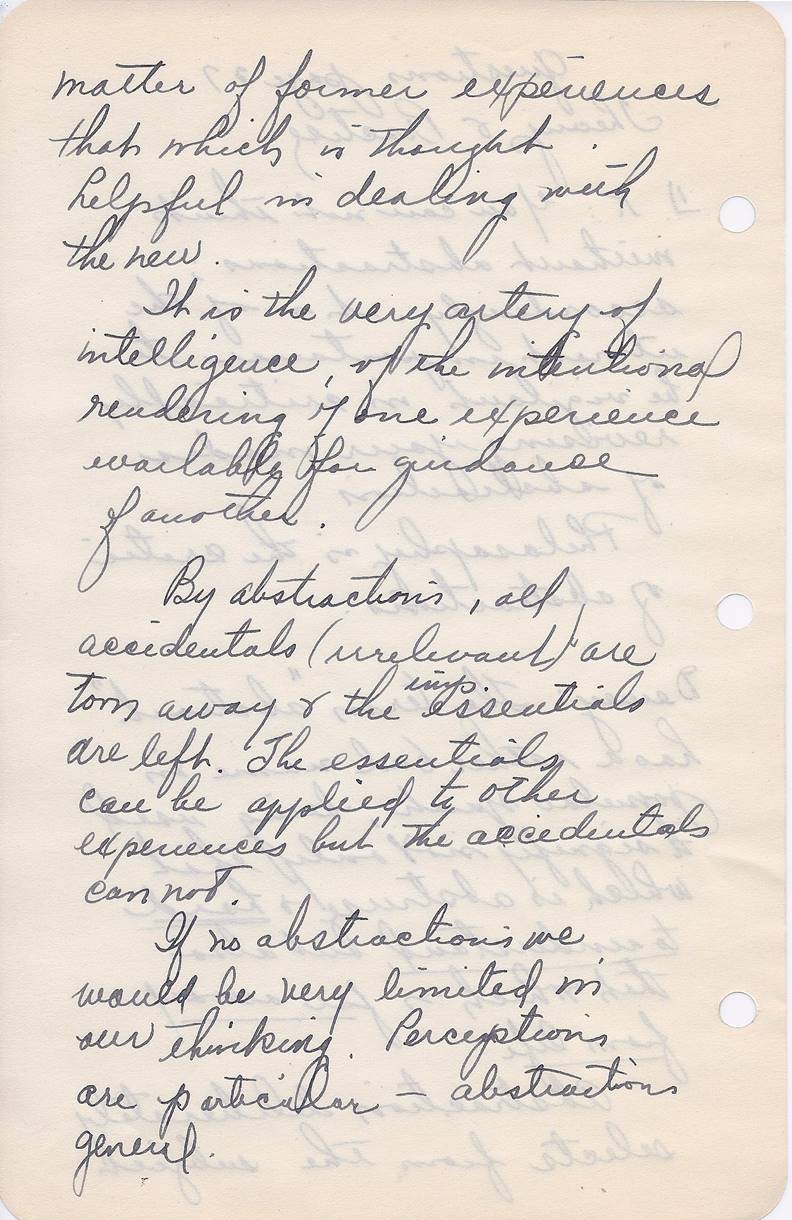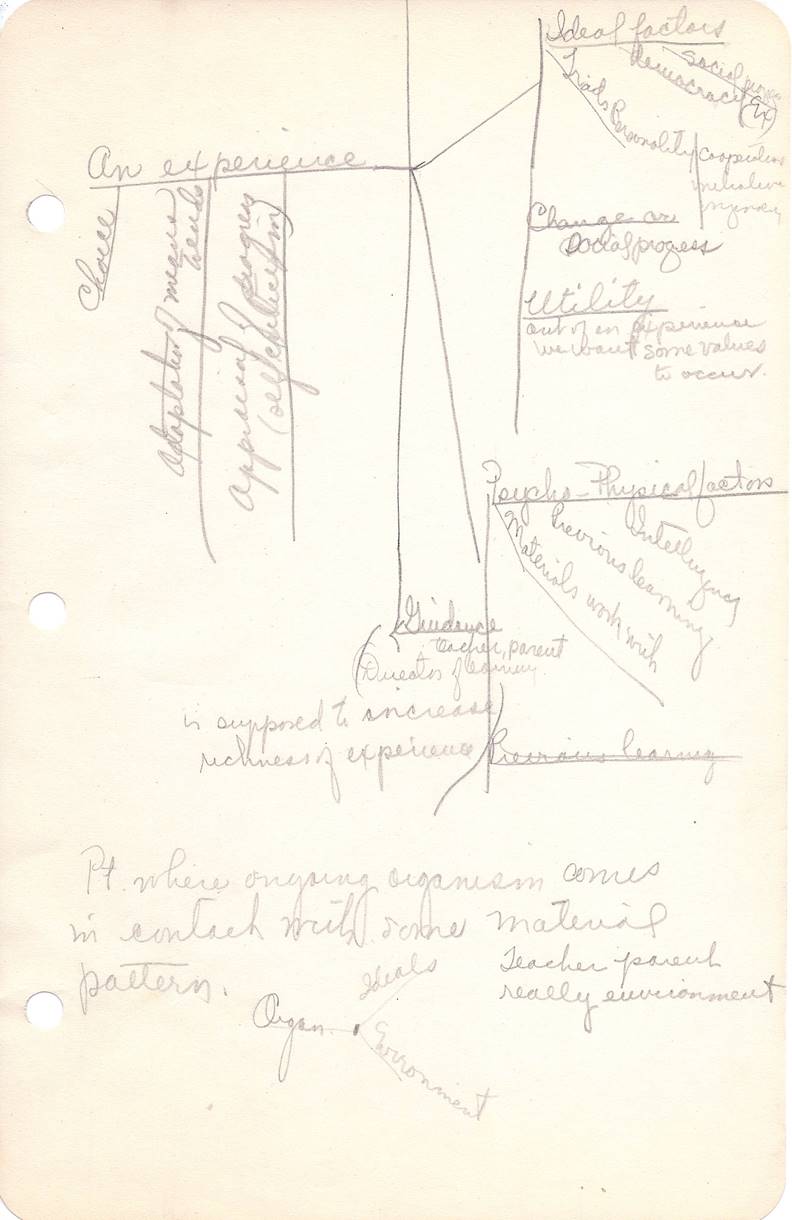 Betty Lynch's Notes for Philosophy of Education.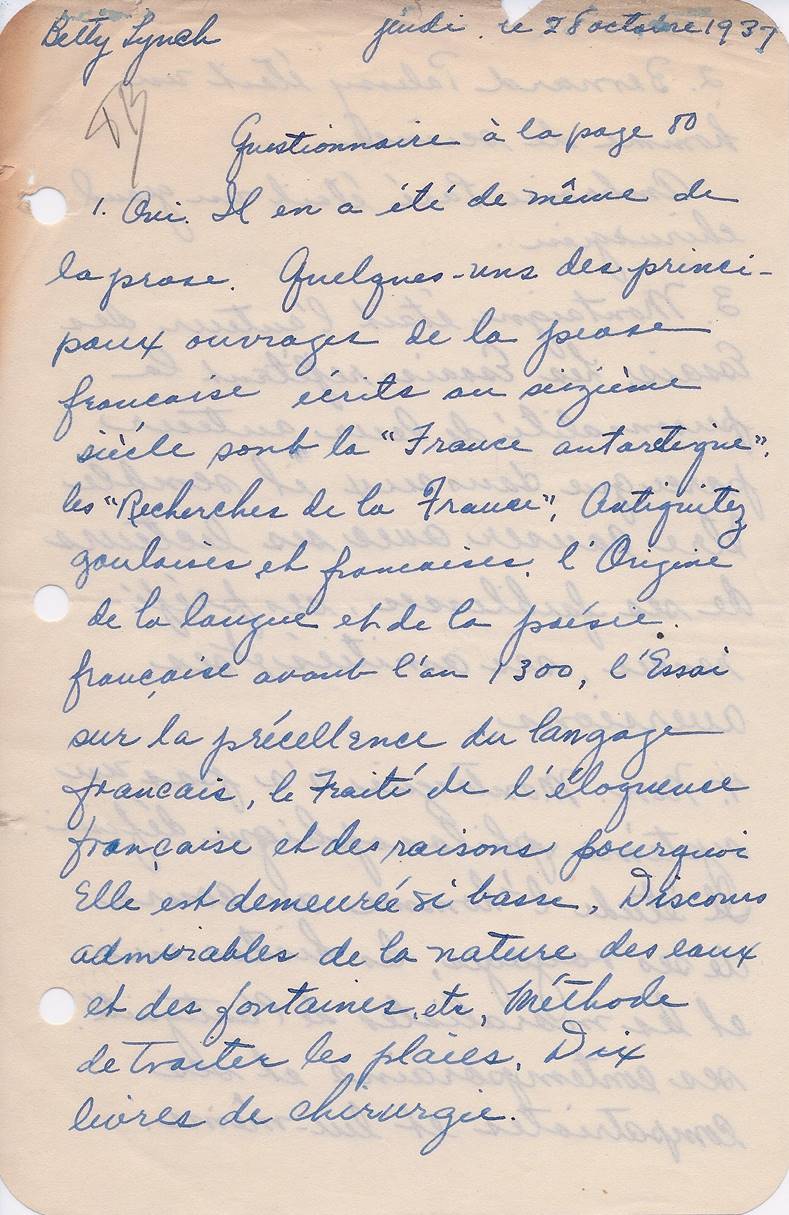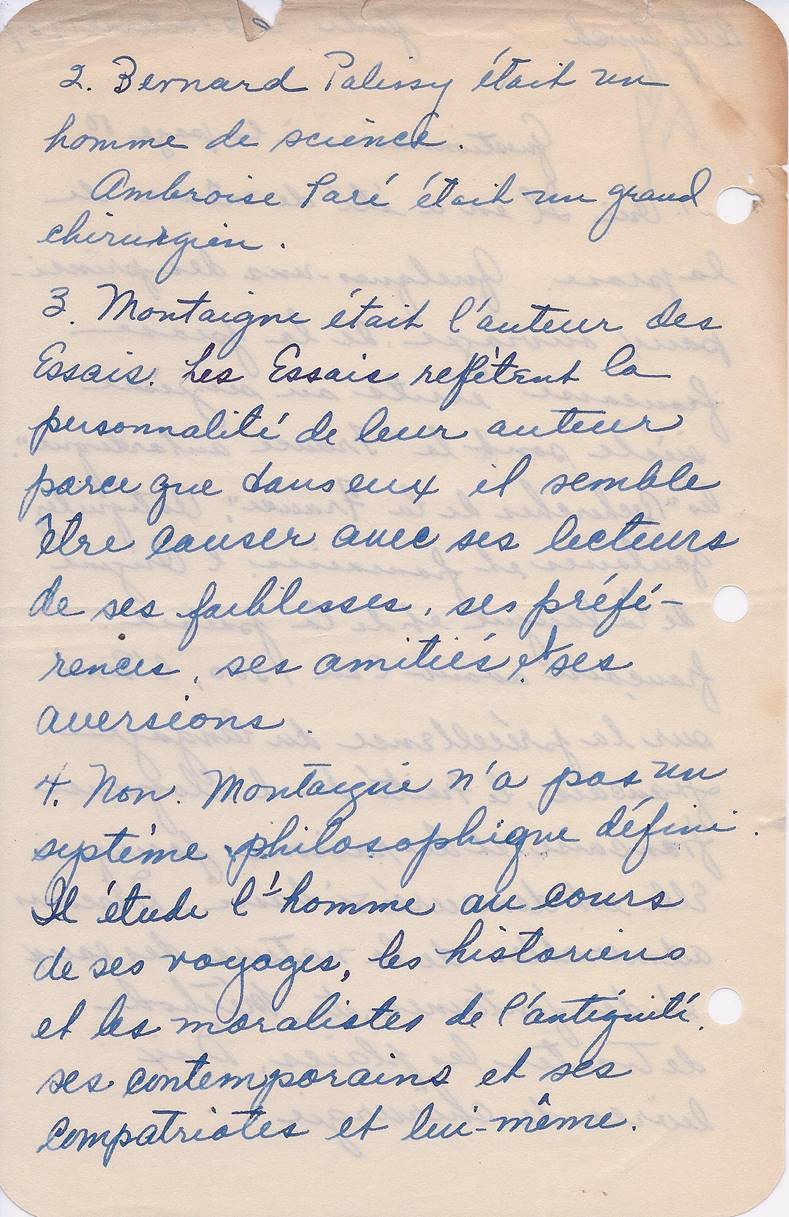 Betty Lynch's French assignment.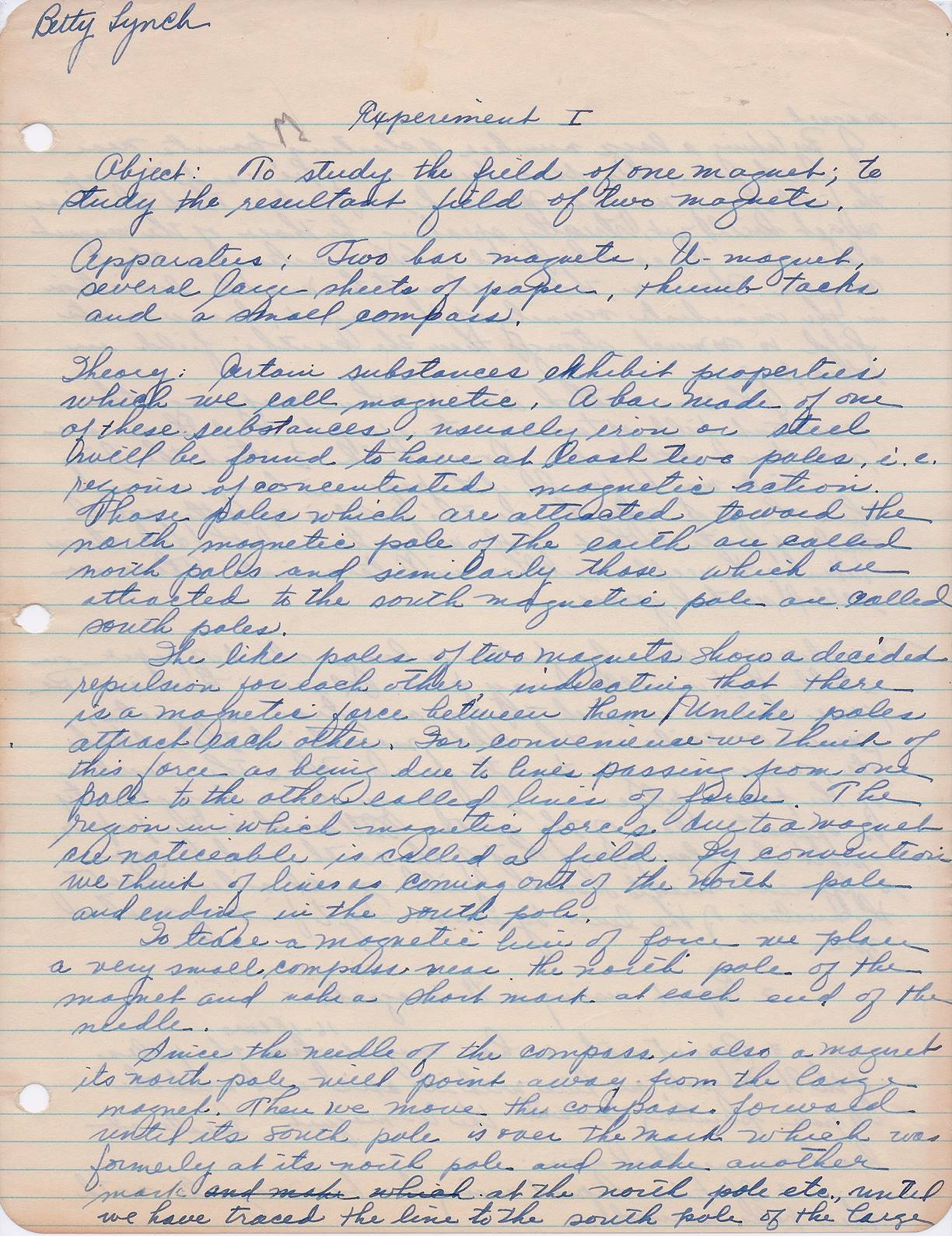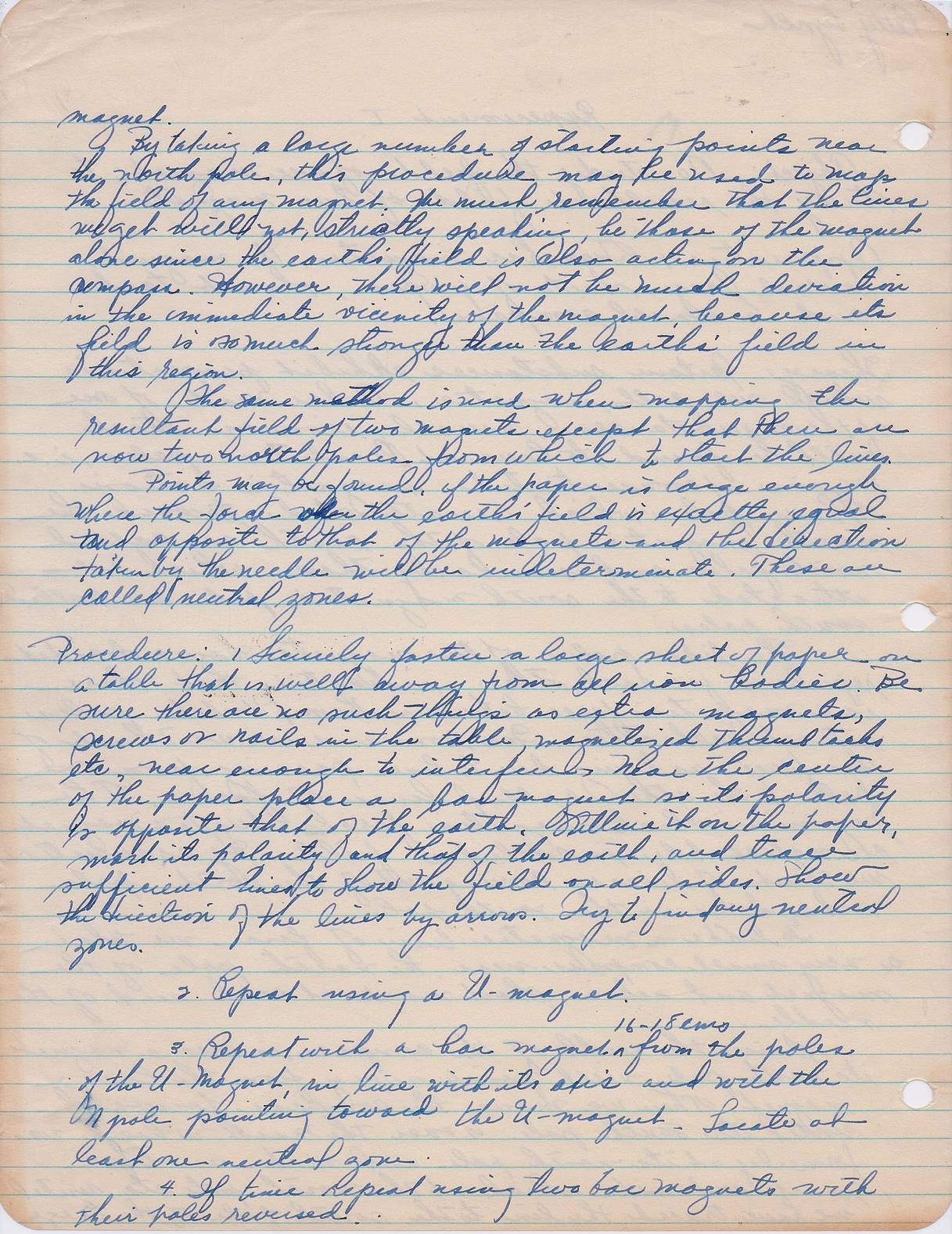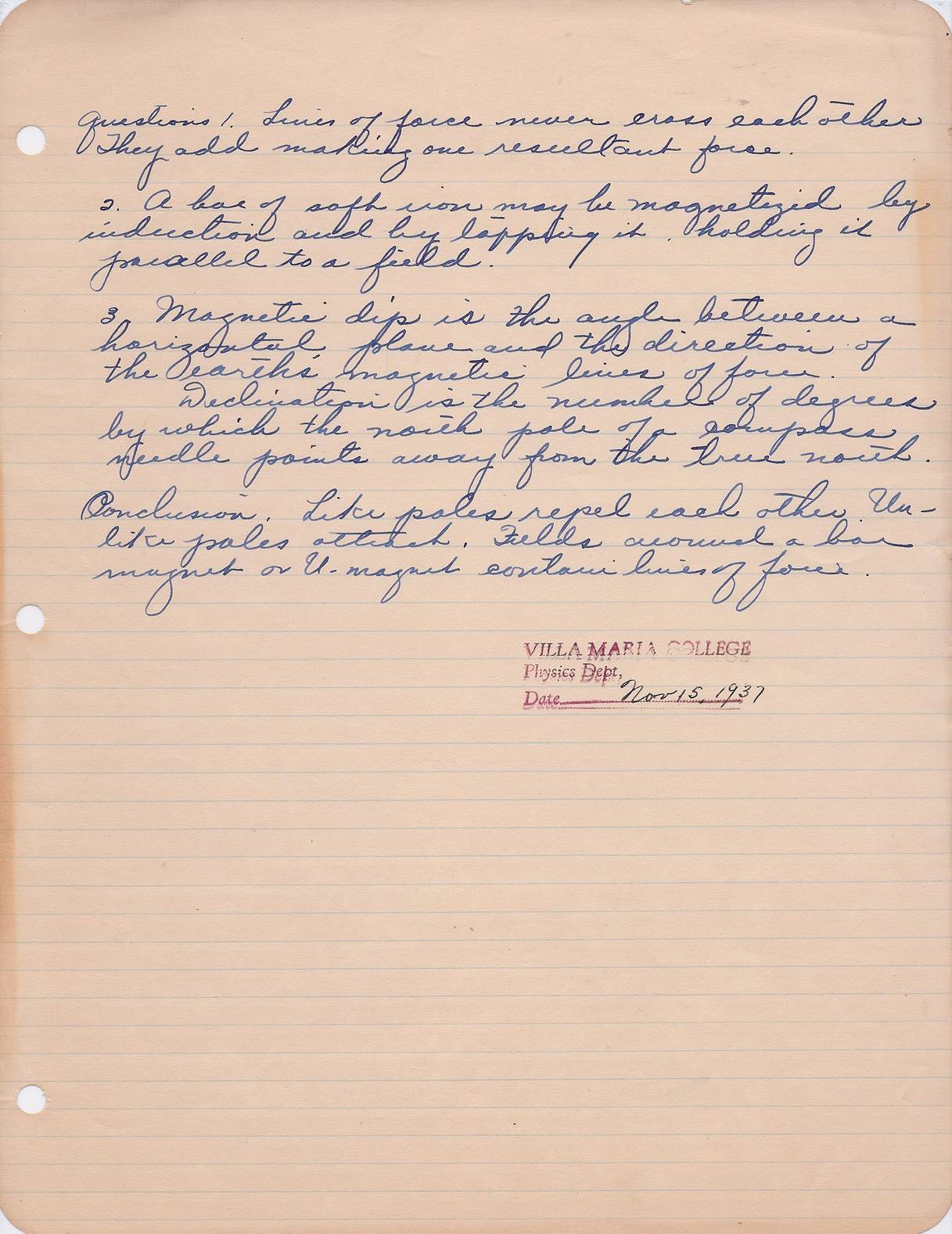 Betty Lynch's Physics Experiment.
Her diploma records that she was qualified to teach French, Mathematics and Science. While I knew of her math and science background when I was younger, I don't remember her ever mentioning or using her knowledge of French, even when I was studying French myself in junior high school.
Villa Maria was run by the Sisters of Saint Joseph. Their mission statement reads, "we serve the neighbor without distinction."[9] Their teaching may have instilled in my mother a tolerance for others who were unlike her. I never heard her express bigoted opinions or exhibit discrimination against someone because of their race, religion, ethnicity, national origin or sexual orientation.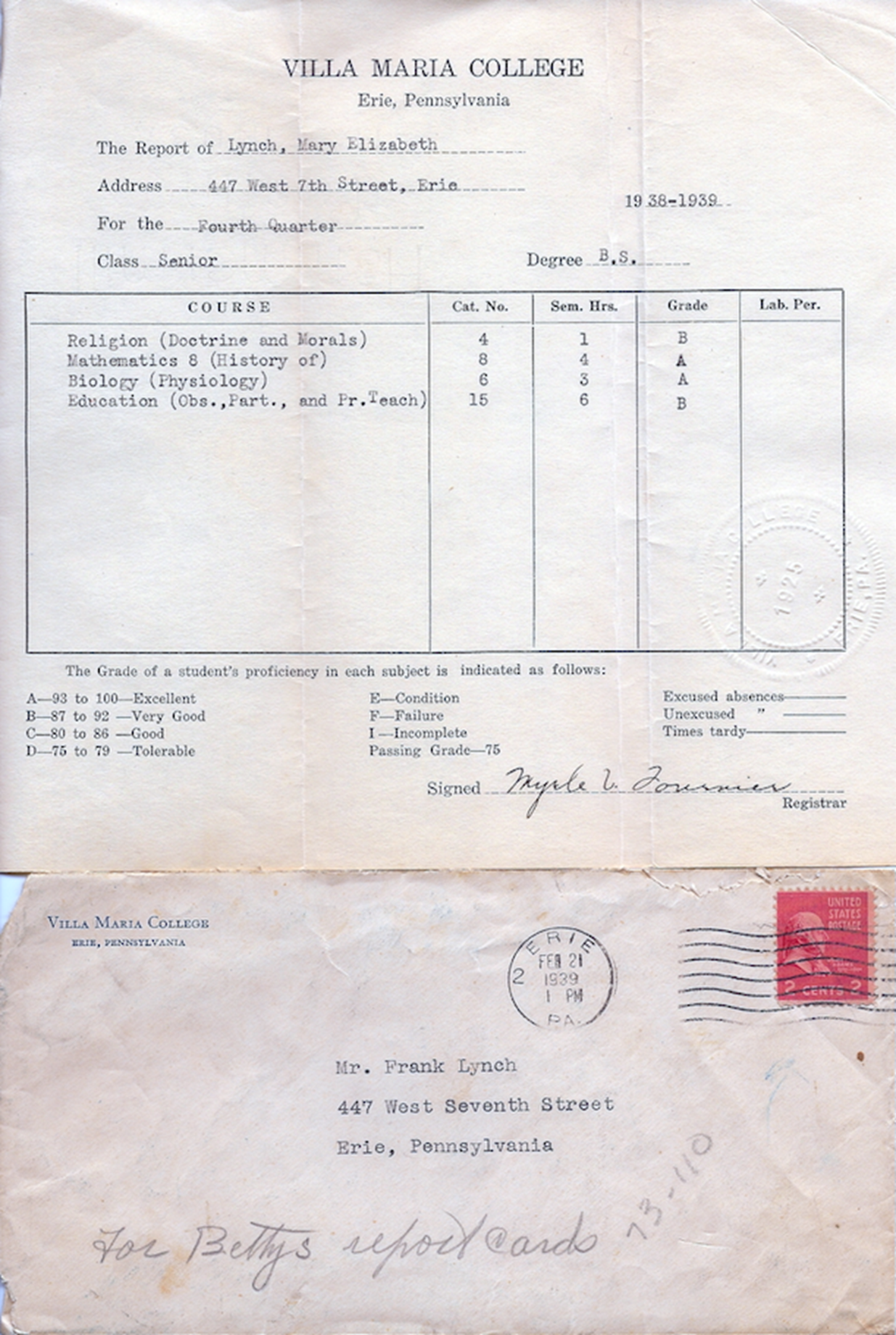 Betty Lynch's report card from Villa Maria College.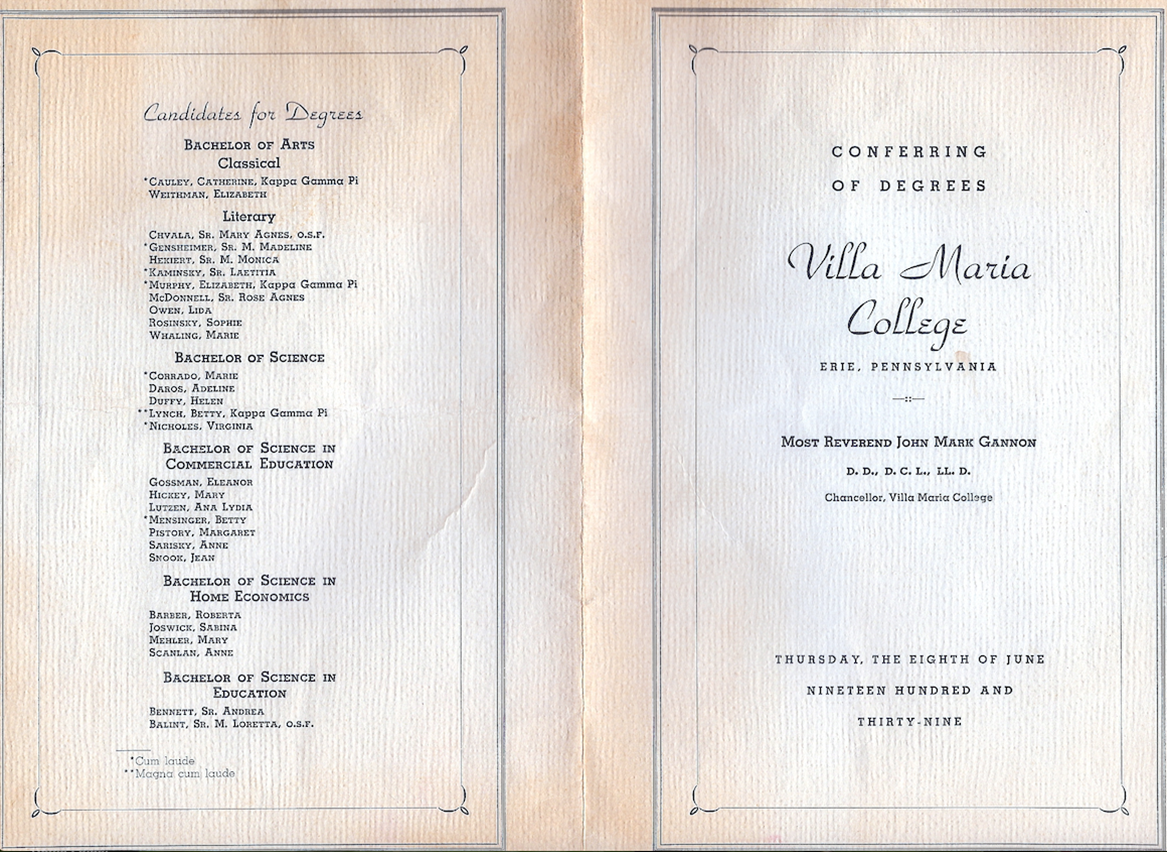 1939 Commencement program from Villa Maria College, showing Betty Lynch graduating Magna cum laude.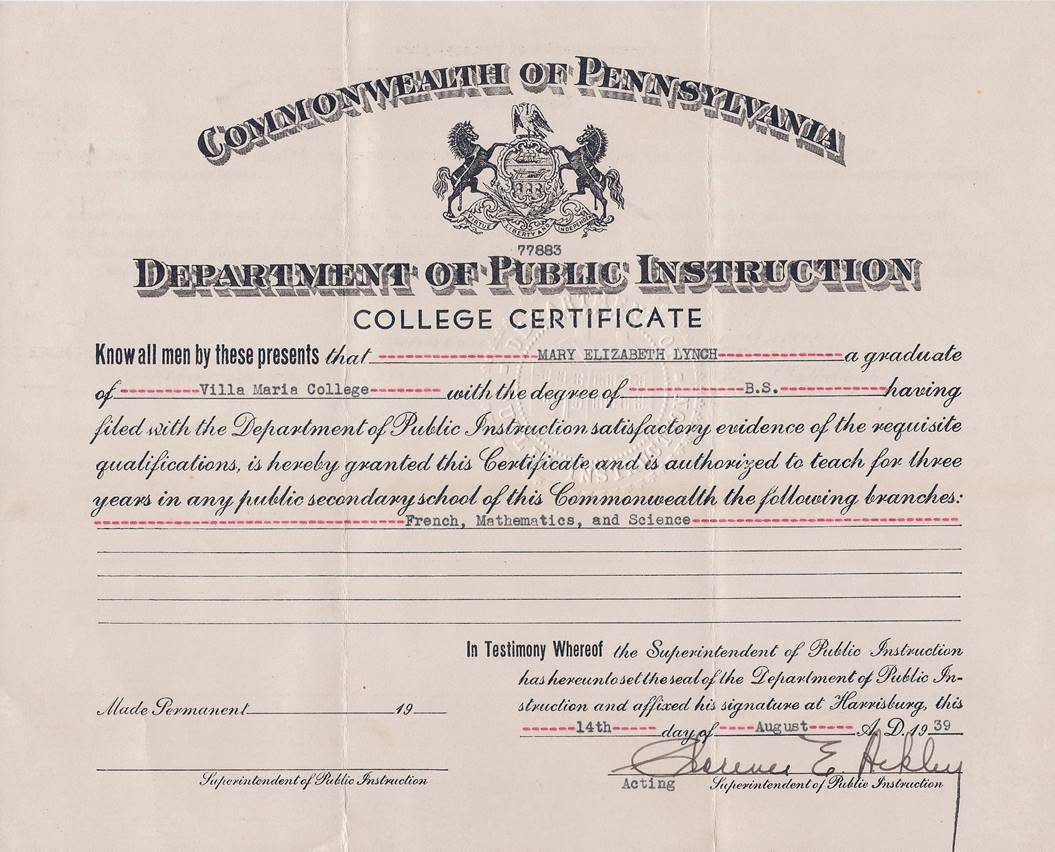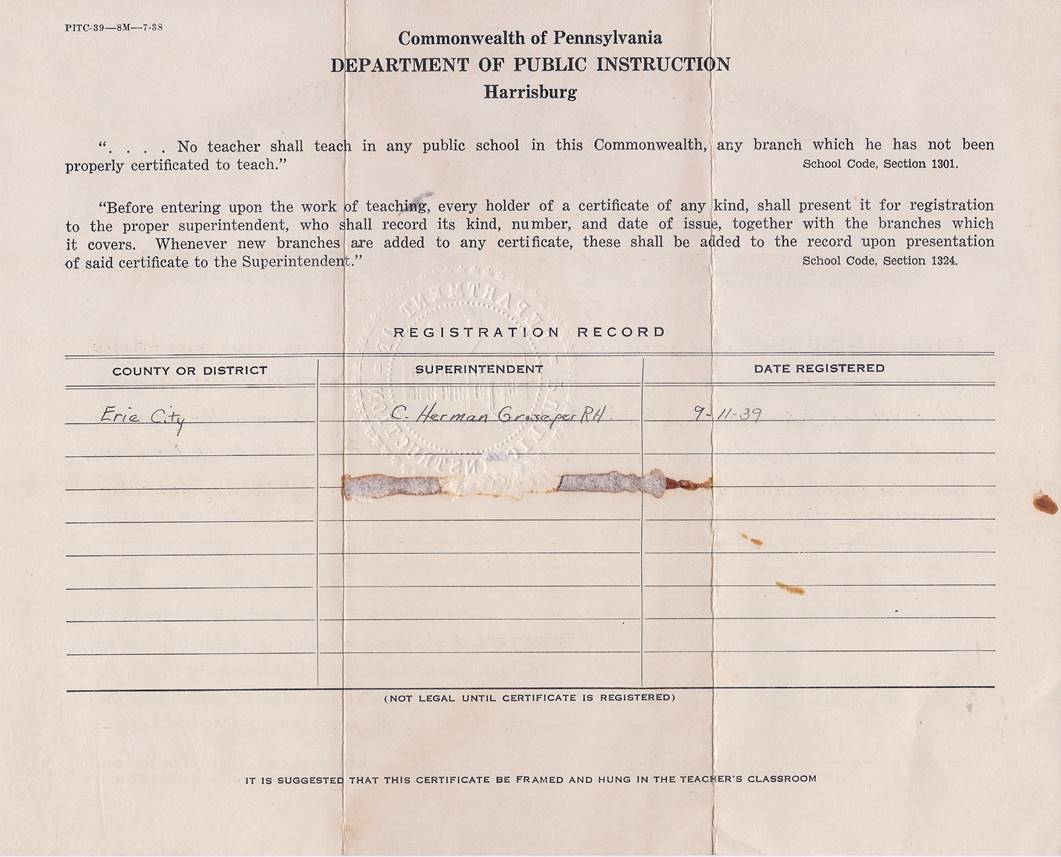 Betty Lynch's teaching diploma.
After obtaining her bachelor's degree, Betty looked for a teaching position. When she graduated, the unemployment rate in the U.S. was about 18%, and was almost certainly even higher for recent college graduates.[10] In late 1939, she signed a contract with the Erie School District as a substitute teacher. She was to be paid $6 per day.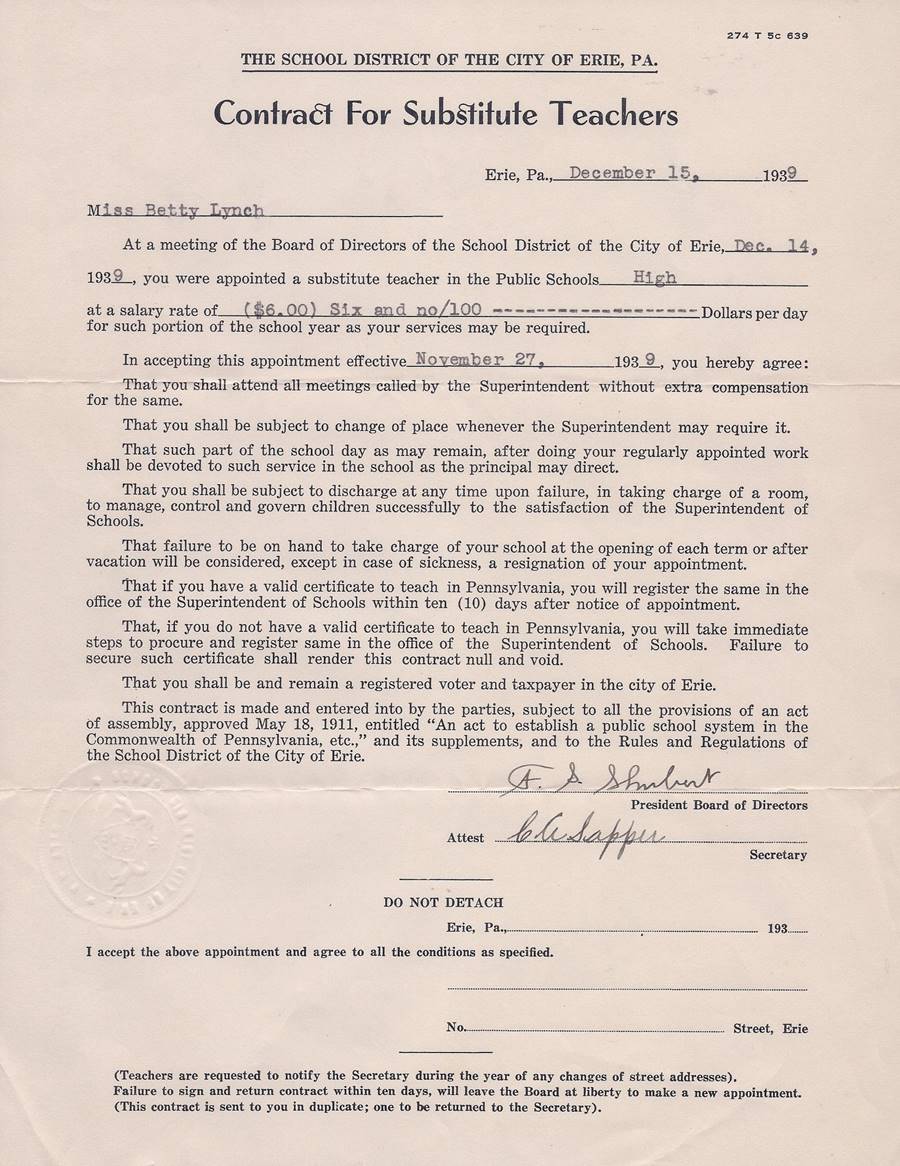 Betty Lynch's teaching contract with the Erie School District.
According to family history, as a part time teacher, Betty taught at Gridley Junior High and Strong Vincent High Schools. Some of her students who went on to careers of distinction included the artist Angelo Caravaglia[11] and the actress Ann B. Davis.[12]
Perhaps in part to secure a better job, Betty applied to the graduate program at the University of Pittsburgh's Erie Center, which was on the 8th floor of the Erie Trust Company Building at Tenth and State Streets (now known as the Renaissance Center)[13] and was enrolled in the fall of 1939. She was clearly continuing her studies for a teaching position in math or science, as indicated by her transcript, which lists courses in Current Educational Theories, Differential Equations, Conflict[ing] Tend[encies] of Soc[iety?], Mental Hygiene, and Teacher and the Curriculum. As her registration card indicates, tuition was $40 per semester.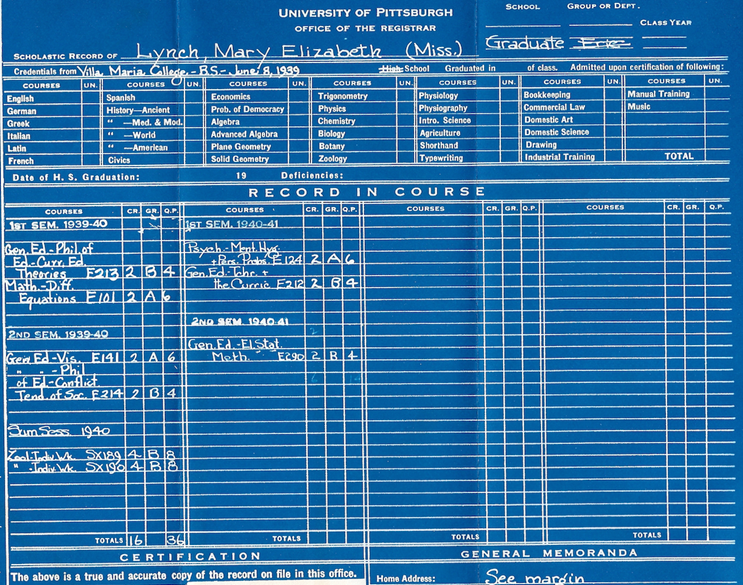 Betty Lynch's transcript from the University of Pittsburgh.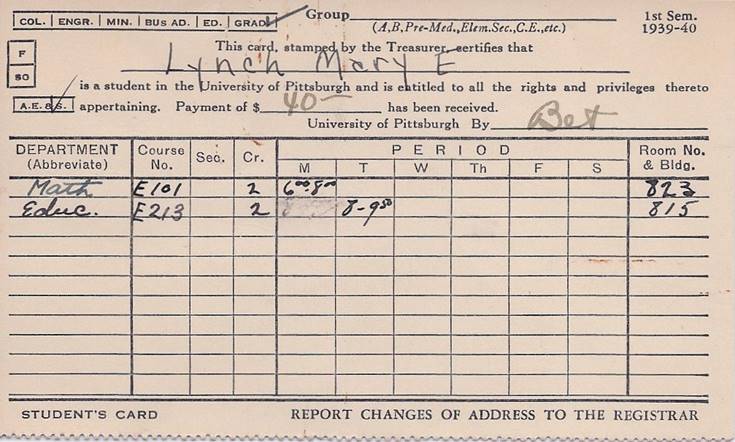 Registration card from University of Pittsburgh, showing that Betty was studying Mathematics and Education.
In the summer of 1940, she took eight credits of "individual work" in Zoology. She studied under Professor Otto E. Jennings, the Head of the Department of Biological Sciences and Director of the Lake Laboratory in Erie, who was conducting research on plant life at Presque Isle State Park in Erie.[14] Presque Isle is a sandspit extending into Lake Erie, forming a natural harbor for the city, and the Lake Laboratory was located on this peninsula.[15] Betty spent the summer at the peninsula, identifying plants and collecting specimens, some of which she pressed in scrapbooks. She returned the following summer to work with Dr. Warren Ray Witz.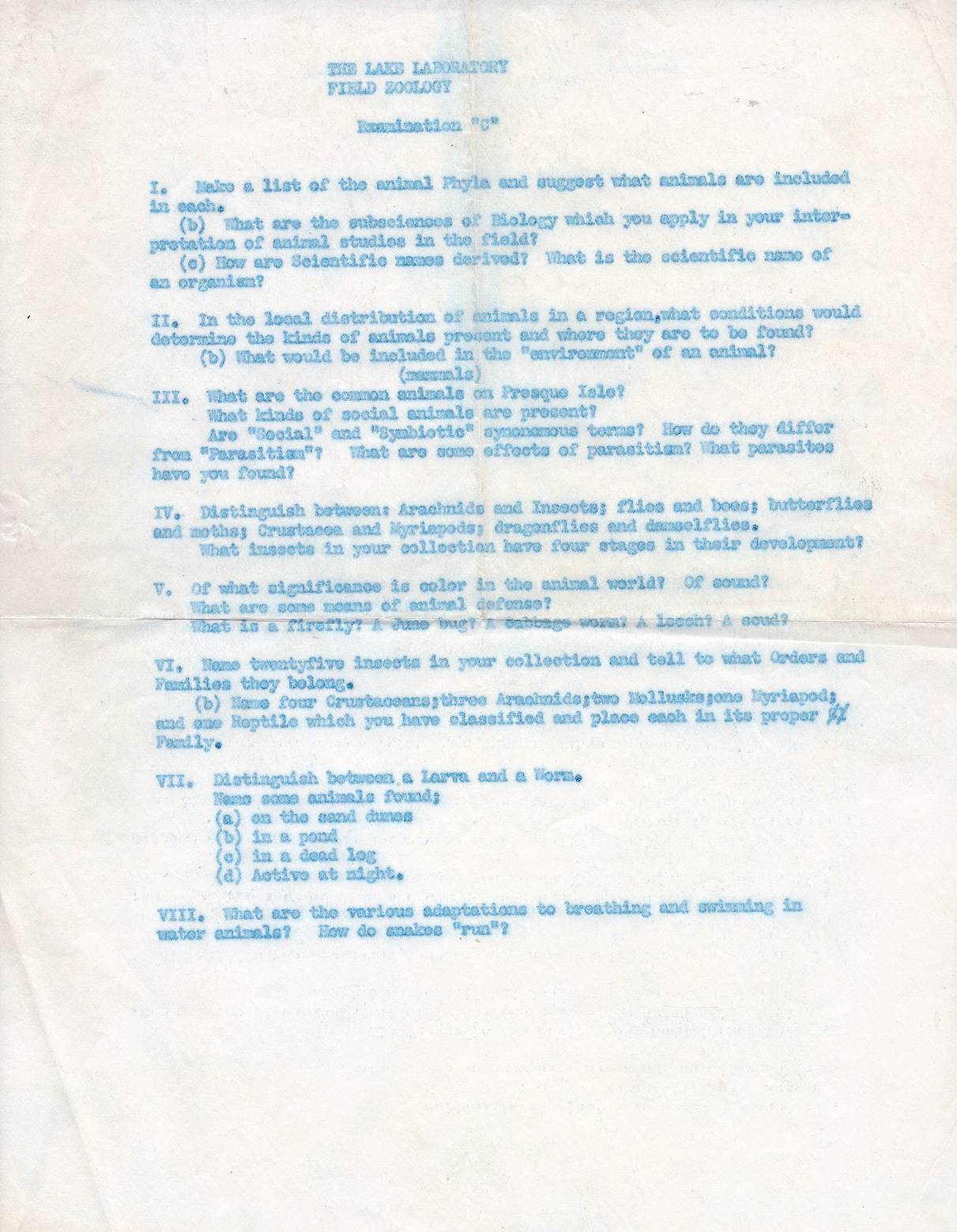 One of Betty Lynch's exams in Zoology at the University of Pittsburgh's Lake Lab.
Much later, she described this time as one of the happiest of her life.[16] In 1988, she donated her specimens to James K. Bissell, Curator of Botany at the Cleveland Museum of Natural History, where they reside today. Bissell was conducting his own research on the flora at Presque Isle at the time.[17] Among the 103 samples were some endangered species, and one that was no longer to be found anywhere on the peninsula.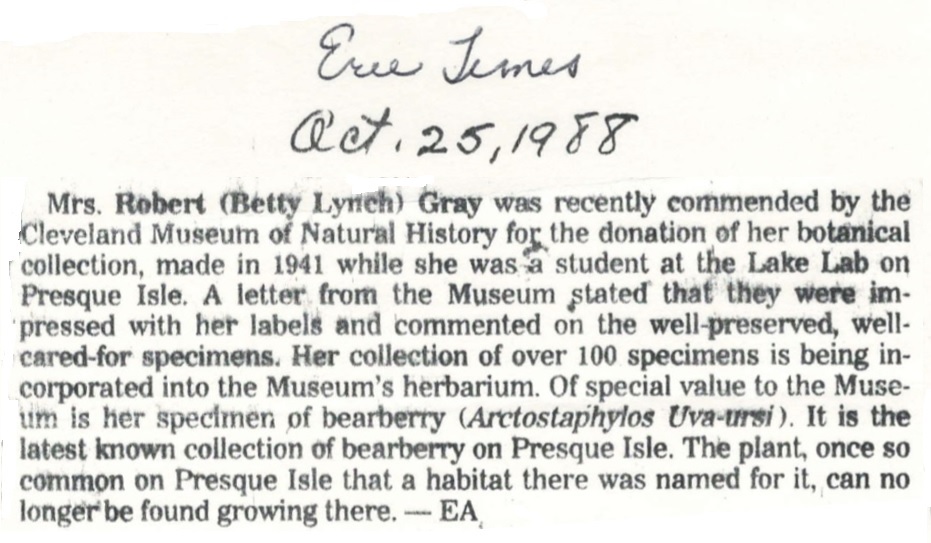 Erie Times article by Evelyn Anderson on Betty Lynch Gray's donation to the Cleveland Museum of Natural History, October 25, 1988.
In a newspaper article about her donation, Betty was quoted, "I have many pleasant memories of Presque Isle when it was less of a tourist attraction." Of her studies at the Lake Lab, she said, "Those two courses made me realize the value of the peninsula. I think the trouble with people in Erie is they take things for granted and it takes somebody from another area to come in here and make us realize the value of it. We've always had it there and never thought much of it. Until I studied there, I didn't realize the significance of it."[18]
Betty was awarded her degree of Master of Letters in August, 1941. The date suggests that she needed the summer to finish her classwork. Around this time, she met Robert B. Gray,[19] who had just moved to Erie from Pittsburgh and was rooming with her parents.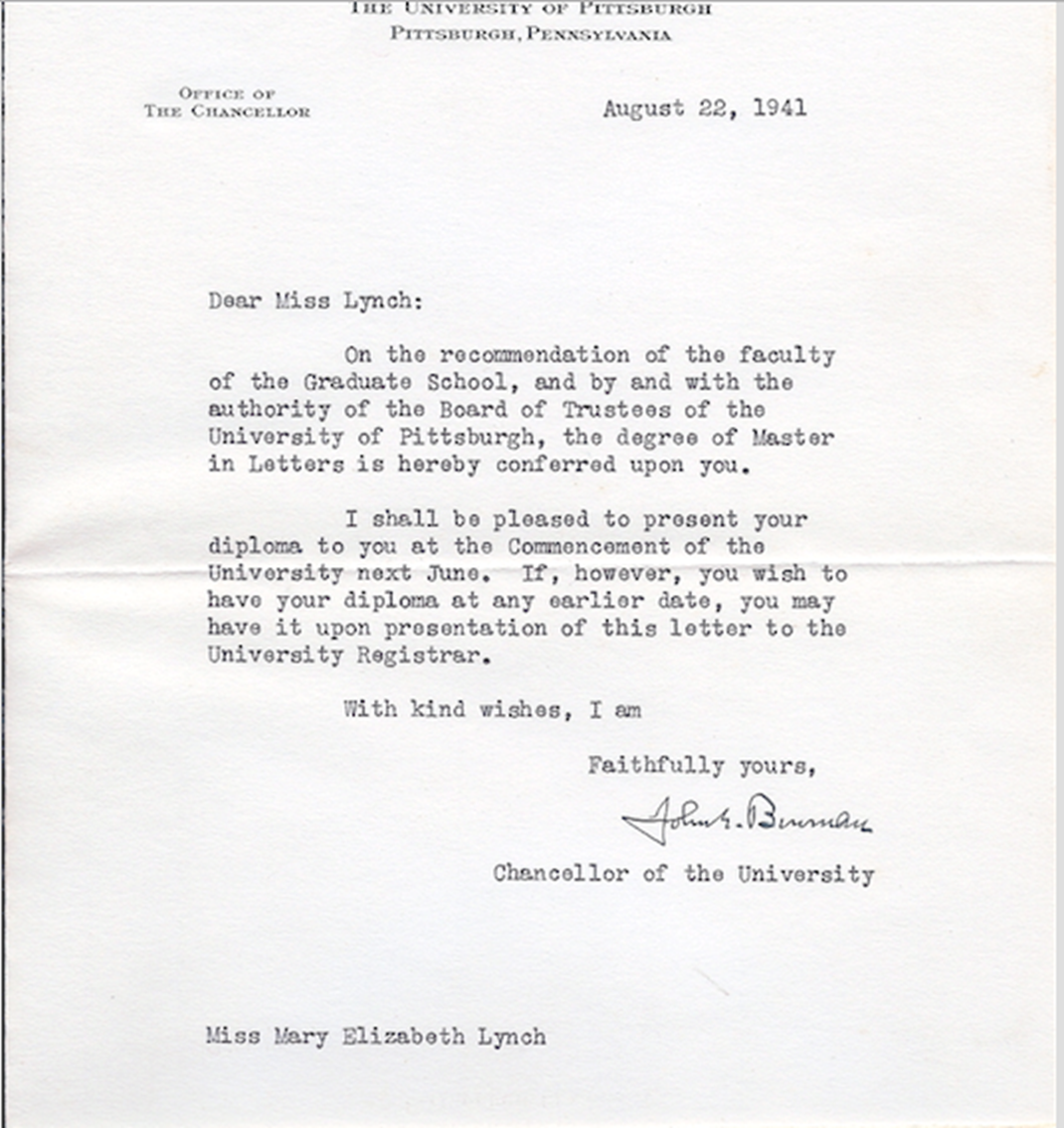 Betty Lynch's letter from the Chancellor of the University of Pittsburgh.
Betty's efforts to obtain a full-time teaching position, despite her master's degree, were apparently unsuccessful, because in early 1942 she was working at the Pennsylvania Telephone Corporation. Bob and Betty soon decided to marry, and the wedding took place in January 1942, shortly after America entered World War Two.[20] Betty was soon pregnant with my oldest brother, who was born in October. This fact put an end to any possibility of her continuing her teaching. My parents eventually had five children over the next 15 years, ending with myself in 1957.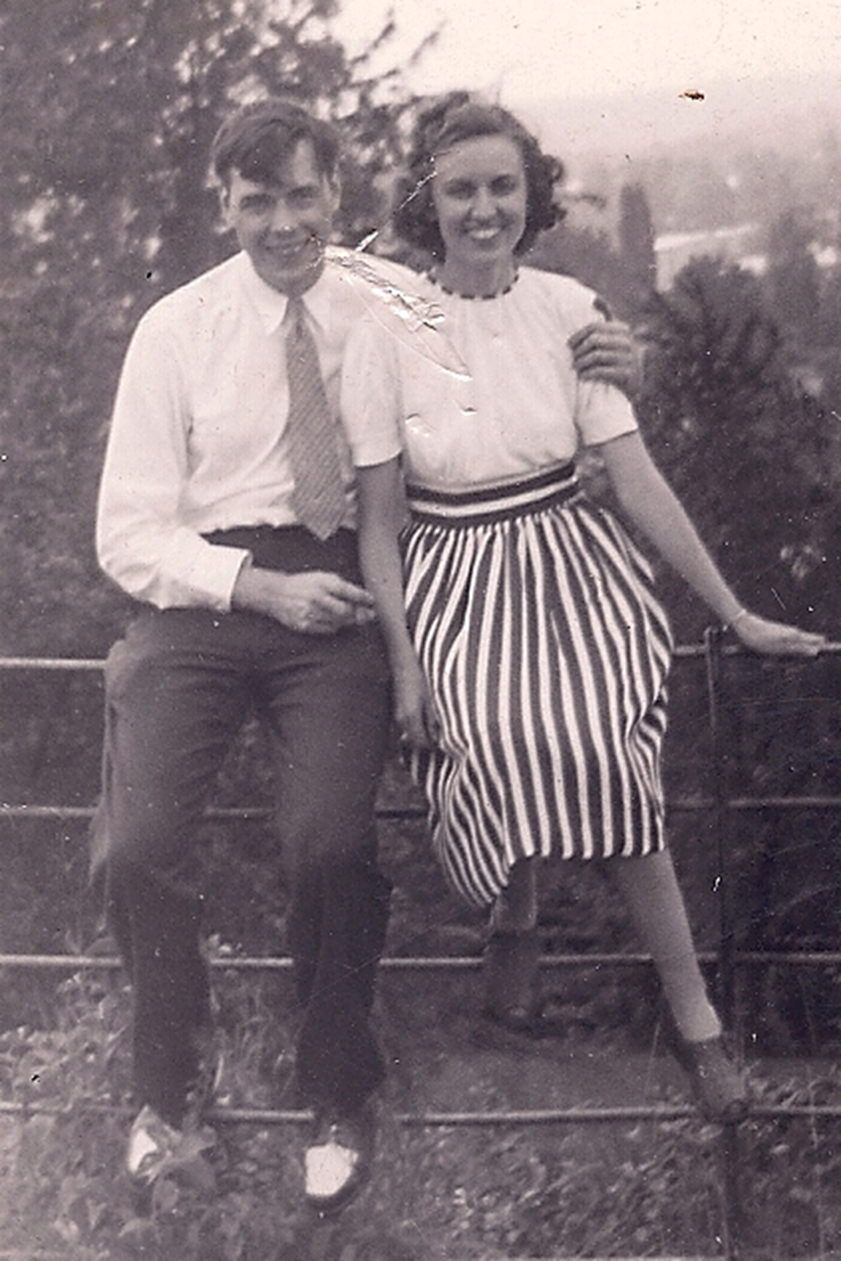 Robert B. Gray and Betty Lynch, 1941.
Betty earned a Bachelor's degree from Villa Maria College in 1939, and a Master's degree from the University of Pittsburgh in 1941. This put her among a tiny minority of American women at the time. While today, American women earn more than half again as many master's degrees as men,[21] in 1940 the ratio was reversed, with only 38% of master's degrees awarded to women.[22] Moreover, in that year, only 3.8% of all American women had completed four years of college or more.[23]
Table 1. Degrees conferred by degree-granting institutions, by level of degree and sex.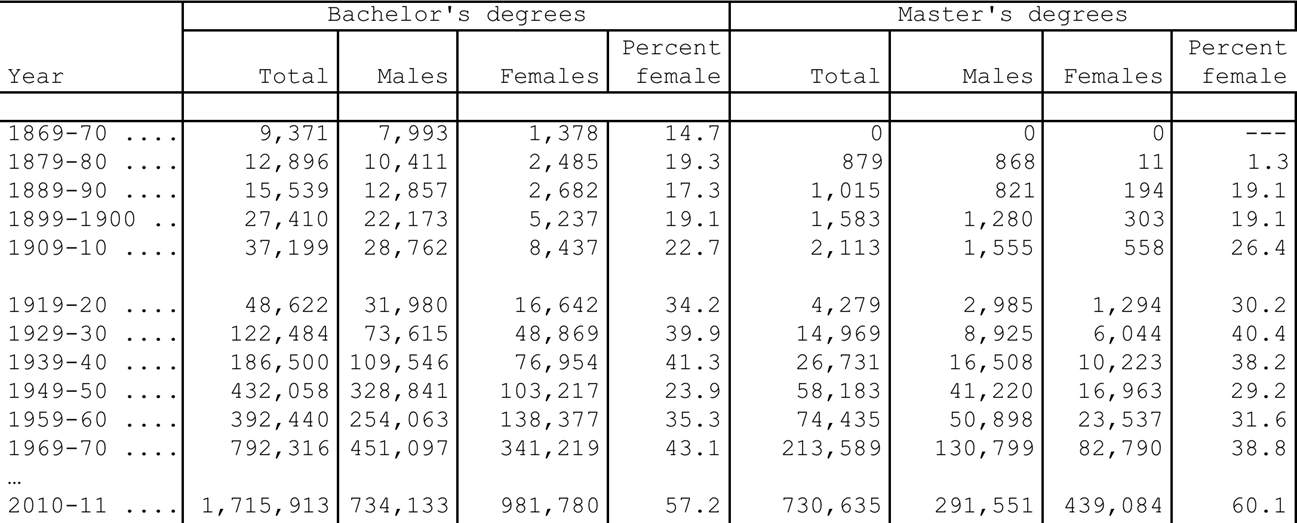 According to Babette Faehmel, in the early twentieth century American parents wanted their daughters to go to college so that they would be better wives and mothers. Most female college students studied the arts and literature. The Great Depression of the 1930s caused many parents to reconsider the purpose of higher education, and to want their daughters to obtain a practical degree so that they could get a job and help put bread on the table. Very few women at the time received degrees in mathematics, science or engineering, reflecting the bias at the time that these were male fields. Faehmel states that many women in the 1940s and 1950s were conflicted regarding their education. They wanted to be independent, but popular culture at the time still stressed that women were not complete without a husband, children and a home.[24]
As a teenager, Betty idolized Lou Gehrig, the New York Yankees slugging first baseman, and Gary Cooper, the movie star who portrayed Gehrig in film. Her high school scrapbook includes many newspaper clippings about them. Both men could be called the "strong, silent type," which certainly described my father.
It seems clear to me that Betty could have had a professional career of her own, if she had the resources available to the elite at the time. My family never had a cook or a housekeeper, even though my mother, as far as I could tell, wasn't particularly interested in either activity.
I remember growing up that there were always books and magazines and newspapers everywhere in our home. My parents even purchased a set of the Encyclopedia Britannica, which must have been a significant expense at the time. It included a large atlas of the world, which excited my imagination. Many of my childhood memories involve books and reading. I just assumed that this was normal. I now realize how special it was to have so many resources at hand.
My mother believed in education and wanted her children to succeed in school and get college degrees. I grew up knowing that I was expected to study and get good grades in school. But I don't remember my mother ever trying to direct me into any single avenue, just to "get ahead." I believe she tried to expose me to many different aspects of culture, including history, art, literature and music. She allowed me to develop my own interests, and then supported me in my pursuit of them. I think that this is what great teachers do.
At an age when most people would have been thinking of retirement, she got a job to help pay for my brother's and my college expenses. While her sacrifices certainly helped me to achieve the success I have had in life, it was her influence on my personal development that had a much greater effect, an influence that I am still learning about.