Mary Elizabeth (Betty) Lynch
Undated[i]
Hover your mouse over a photo to display its  caption. 
Click on a photo to expand, use Back button on browser to return to this page.
I was born Feb. 3, 1917 at 7th and Holland in Erie, Pa during a horrible blizzard.  The house was on north-east corner, a  flat, and we lived upstairs.  The house is no longer there.  I had a sister Jean who was 3 yrs. old at the time.
My parents made clothes for customers in shops they set up in the attic.  My father was a tailor and my mother a dressmaker.  She would make the long wool skirts and my father made the jackets for the Victorian women.

When I was 9 mo. old, the moved to East 6th and Wayne and my father went to work for Ewing and Forsythe on State St (9 or 10 hundred block).  They were a men's store selling haberdashery suits, etc.  When I was 1 ˝ years old, they bought the house at 217 East 8th Street for $3,000.  My mother's Uncle John of Dunkirk, NY gave her $2,000 of her inheritance[ii] [to help them buy the house].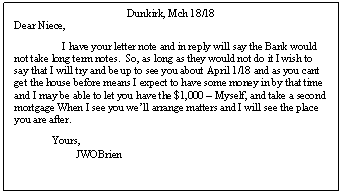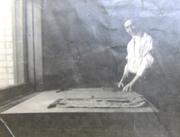 Things we did for fun that cost money
Movies (Lots of them)
Waldameer
Circus
Hill-Mill Dairy (across from 217)

[iii]

Trolley ride to cemetery out West Eight Street

[iv]

Watching parades at granddad's (Lynch) store on State St. 
Ice Cream Sodas at Adams & Streubers
Rides to farms with Aunt Alice and O'Brien Grandparents

[v]

Rides to French Creek with Uncle Frank Lanagan
Peninsula
Train ride to Dunkirk
Boston Store

[vi]

Chaconas Candy Store
Pulakos

[vii]

Kraus' Department Store

[viii]

Mrs. Schultz's Bakery – 7th & Parade
Mrs. Eddy's candy

Games we played
Hop scotch
Jump rope
Jacks
Ring around the Rosie
Roller skating
Hide & seek
Kitty in the corner

[ix]

Paper dolls
Dolls – dressing, etc.
Making mud-pies
Pet chickens

[x]

Swinging under pergola and tire in A. J. Denny's yard
Doing handstands – somersaults and gymnastics on hill in J. Gorman's back yard
Making angles in snow
Sliding down hill next door at Mr. Osborne's shop
School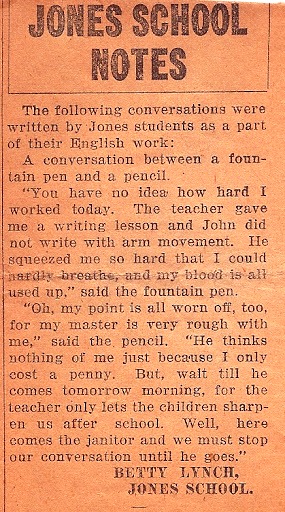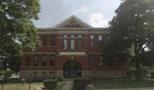 I was tutored by Mary Purtle, 5th grade teacher at Jones School[xi] at 7th and Holland until I entered 3rd grade.
Teachers
1st – Miss Sheridan (NA)
2nd – Ellen Purtle (NA)
3rd – Miss Calabrese
4-1  Mrs. Lachensky
4-2  Mrs. Slocum (awful)
5-1  Miss Shannahan (English)  We now rotated between four teachers
5-2  Mary Purtle (Math)
6-1  Miss Runser (Geography)
6-2  Miss Hecker (History)
Principal – Miss O'Day, sister of Dr. O'Day who delivered me.
Students in my class whom I remember
Girls
Dorothy Shank (best friend)
Jean Cage (prettiest)
Etta Krel (2nd prettiest)
Dorothy Beemer
Lottie Lambos (Greek)
Angline Castianis (Greek)
Lois Smith
Ann ?? (Russian girl – much older than us)
Ester Anderson
Betty Krimmel (Dr. Krimmel's daughter – 6th & Parade)
Irma ? (had perfect attendance all 6 grades)
Boys
Richard Stancliff (blind)
Joseph O'Hara
Joseph Glennon (policeman)
Bill Fowler (newsman)
Grayton Peek (epileptic)
Paul Ricart (music teacher)
Ivan ? (Russian boy who told entire Tarzan story in 5th grade)
Jewish boy who never talked
Polish boy who never talked
Russian boy who smelled of garlic, teased me all the time, he sat in front of me
Johnny Denny (speech problem, wet his pants, etc!! Sorry)
Notes: