Hezekiah Gray Sr.
Born: 14 Nov 1738, Fairfield, Connecticut
Marriage: Abigail Waterbury on 24 Apr 1760 in Fairfield, CT
Died: Bef 1784, Bedford, WestChester, New York

Noted events in his life were:
• Birth: From Family Search org, 14 Nov 1738, Fairfield, Connecticut. Other information in the record of Hezekiah Gray
from Connecticut Births and Christenings
Name Hezekiah Gray
Gender Male
Birth Date 14 Nov 1738
Birthplace FAIRFIELD TWP,FAIRFIELD,CONNETICUT
Father's Name Samuell Gray
Mother's Name Ellenor

• Family History: From History and genealogy of the families of old Fairfield, by Jacobus, Volume II, Page 405/6. Hezekiah Gray, son of Samuel.

Born 14 November 1738; died at Bedford, New York, by 1784.

He married 24 April 1760, Abigail Waterbury, daughter of Captain David of Stamford; perhaps born 14 May 1743. Hezekiah Gray and Abigail his wife of Fairfield conveyed 1764 to brother David Waterbury III, land in Stamford.

Of Bedford, he conveyed in 1770 land which his father Samuel gave him by deed in 1763.

Administration granted, 5 March 1784, to Samuel "Banett," of Bedford, and Abigail his wife, late widow of Hezekiah Gray.

Children, first recorded Fairfield, baptized Westport:

Abigail, born 22 May 1761, baptized 9 August 1761.

Lucy, baptized 15 May 1763.

Ellen, baptized 23 June 1765.

Hezekiah, baptized 3 May 1767.
• Family History: From The Genealogy of the Gray-Hort Family, 1969. Hezekiah, son of Samuel, born November 14, 1738, died at Bedford, New York, by 1784. He married Abigail Waterbury in 1760. His children were Abigail, 1761, Lucy, 1763, Ellen, 1765, Hezekiah, 1767, and David, 1770.

Note: This is the only published reference to David Gray being a son of Samuel Gray and Abigail Waterbury.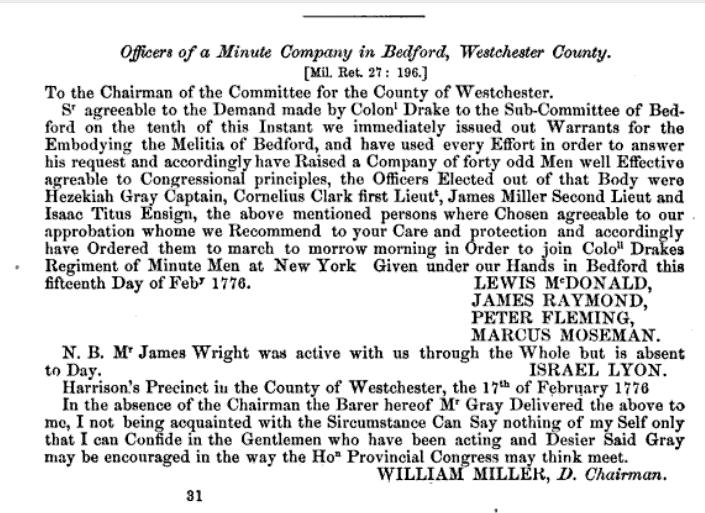 • Military Service: Captain in a company of minute-men in Colonel Drake's regiment, 20 Feb 1776, Westchester, New York. The Committee of Safety for Harrison's Precinct report the officers elected in a company of minute-men in Colonel Drake's Regiment. They are Hezekiah Gray, captain; ...

From Chronicle of a border town: history of Rye, Westchester county, New York, 1660-1870, including Harrison and the White Plains till 1788, By Charles Washington Baird, Published by Anson D.F. Randolph and Company, 1871

From History of Westchester county: New York, including Morrisania, Kings Bridge, and West Farms, which have been annexed to New York city, Volume 1, Part 1

Page 284: "Subsequently agreeable to the Demand made by Colon1 Drake to the Sub Committee of Bedford another Company of Minute men was organized in that Town with Hezekiah Gray for its Captain Cornelius Clark for its First Lieutenant James Miller for its Second Lieutenant and Isaac Titus for it Ensign."

Note: "Hezekiah Gray was originally the First Lieutenant in the Compam in the western part of the Town of Bedford of which Eli Seeley was the Captain."
• Military Service: National Archives and Records Administration. Web search of the on-line archives of Revolutionary War records yielded the following for Hezekiah Gray. Note: Family history has Hezekiah as an officer in Colonel Thomas' Regiment.

Title/Collection: Revolutionary War Rolls, 1775-1783
Publication Number: M246 -76

Publisher: NARA
Short Description: NARA M246. Muster rolls, payrolls, strength returns, and other miscellaneous personnel, pay, and supply records of American Army units, 1775-83.
State: New York
Military Org: Thomas' Battalion or Regiment of Militia
Date Range: 1776-79
Folder: 148
Annotations:26 added
William Dutcher
Daniel Martling
Gershom Sherwood
Abraham Ledew
Isaac Van Wert
Daniel Williams
Nathaniel Delivan
Samuel Lawrance
John Crissy Miller
James Cronkhyte
Obediah Purdy
Joshua Drake
Benoni Platt

Hezekiah Gray

Caleb Merritt
Abijah Gilbert
William Fanshier
Thadeus Crane
Elijah Hunter
Henry Piers
Nathan Olmsted
Samuel Townsend
Richard Hatfield
William Woodward
David Dan
Reuben Weed
• Military Service: From: Westchester County, New York during the American Revolution, Henry B. Dawson, 1886, page 107, 1776, Bedford, NY. "The District which included the western portion of Bedford elected Eli Seeley, for its Captain; Hezekiah Gray, for its First Lieutenant (see footnote 1); Ephraim Graham, for its Second Lieutenant; and Gabriel Higgins, for its Ensign."

"The Companies at Scarsdale White Plains and Brown's Point, Bedford, Poundridge, Salem, Mamaroneck and Rye, Harrison's Precinct, and Northcastle, eleven in number, which were thus reorganized and re-officered, were known as the Middle Battalion of Westchester county of which, soon afterwards, Thomas Thomas was made Colonel;..."

Footnote 1: Hezekiah Gray was chosen Captain of the Bedford Company of Minute-men, in February 1776, (Historical Manuscripts) a Report on the military status of which Company, may be seen in Historical Manuscripts, etc. He and his Company, although not regularly enlisted, were ordered to join the Continental Troops, at Peekskill (Historical Manuscripts: Miscellaneous Papers, xxxix, 325).
• Death: Freepages at Ancestry.com - BEDFORD, WESTCHESTER CO, NY DEEDS, Bef 24 Apr 1786, Bedford, WestChester, New York. Westchester County, New York DEEDS RECORDS, 1715-1786. FHL film# 562372. K:314.

24 Apr 1786. John Wollsey of Bedford, Westchester Co, NY yeoman TO John Woolsey, Jr. of Bedford, for 100 pounds ALL that a certain tract of land in Bedford, New Purchase, bounded S beginning by the road & E by land of Saml Holmes to land of heirs of Hezekiah Gray, thence N by said land to Lot Sarles, still running N by said Sarles land & land of Eli Tyler to the highway near the house of the widow Hannah Tyler, then W along the highway to the road that leads to Croton River, the S along said land by the house of Joseph Griffen to the place of beginning containing 56 acres. Wit: Samuel X Brundige, Ebern Haight. Pro: 17 Oct 1791. John Woolsey.

Note: This is interpreted to mean Hezekiah died before April 24, 1786 as it refers to the heirs of Hezekiah Gray.

*********************************************************

The Genealogy of the Gray-Hort Family states Hezekiah died before 1784.

*********************************************************

Samuel Barrett's biography states:

In December 1776 Capt Hezekiah Gray died and left his widow and four small children. Abigail Gray lived and ran a tavern on Broad Brook Road, on the north side and east of Broad Brook, to support her children. This house was destroyed in July 1967 when Route 684 was built.

SOURCE: (1)Katharine Barrett Kelly, Historian (Deceased) for Bedford, WestChester, New York

Hezekiah married Abigail Waterbury, daughter of Captain David Waterbury and Mary Sturges, on 24 Apr 1760 in Fairfield, CT. (Abigail Waterbury was born about 1739 in Stamford, Fairfield, Connecticuit and died on 20 Jan 1805 in Bedford, WestChester, New York.)

Noted events in their marriage were:
• Marriage Banns: From Fairfield Vital Records from Barbour, 1639-1850, 24 Apr 1760, Connecticut. Abigail Waterbury, dau Capt. David, of Stratford, m Hezekiah GRAY, son Samuell, Apr 24, 1760.

Also from Stamford, CT Families (1641-1935)

Marriage: Hezekiah Gray and Abigail Waterbury

Married: 24 APR 1760 in Stamford, Fairfield Co., CT 1

Source: Marriage Records of 1st Congregational Church, Stamford, CT