Abigail Waterbury
Born: Abt 1739, Stamford, Fairfield, Connecticuit
Marriage (1): Hezekiah Gray Sr. on 24 Apr 1760 in Fairfield, CT
Marriage (2): Samuel Barrett in 1778 in Bedford, WestChester, New York
Died: 20 Jan 1805, Bedford, WestChester, New York about age 66

Noted events in her life were:
• Birth: From Barbour Collection, 14 May 1743, Stamford, Fairfield, Connecticuit. Abigail, d. David & Mary, b. May 14, 1743.

Also from Waterbury web page
REGISTRATION OF BIRTHS, MARRIAGES AND DEATHS OF STAMFORD FAMILIES
Compiled by Reverend Elijah B. Huntington
Stamford, April 6, 1797
http://www.ctgenweb.org/county/cofairfield/pages/stamford/waterbury_huntington.htm


• Occupation: Tavern Owner, Abt 1776, Bedford, WestChester, New York. In December 1776 Capt Hezekiah Gray died and left his widow and four small children. Abigail Gray lived and ran a tavern on Broad Brook Road, on the north side and east of Broad Brook, to support her children. This house was destroyed in July 1967 when Route 684 was built.

• Marriage Banns: From Collections of the New York State Historical Society, 1903. Letters of Administration, Page 405

Name of Intestate
Hezekiah Gray

To Whom Granted
Samuel Barrett, Bedford, N. Y. and his wife Abigail, late widow of Hezekiah Gray

Date
March 5, 1784
• Cemetery: Buxton Cemetery: Bedford, WestChester, New York. Samuel Barrett and Abigail, Abigail's son Hezekiah Gray, Jr., three of their sons and their families, are all buried in Buxton Cemetery. Samuel and Abigail are under a huge pine tree in plot A29.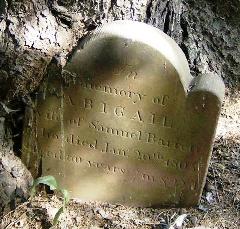 • Gravestone: Buxton Cemetery, 20 Jan 1805, Bedford, WestChester, New York. In Memory of Abigail, wife of Samuel Barrett, who died January 20th 1806, aged 60 years, 7 m. & 22 d.

From Find a Grave.
Abigail married Hezekiah Gray Sr., son of Samuel Gray and Eleanor Sturges, on 24 Apr 1760 in Fairfield, CT. (Hezekiah Gray Sr. was born on 14 Nov 1738 in Fairfield, Connecticut and died before 1784 in Bedford, WestChester, New York.)

Noted events in their marriage were:
• Marriage Banns: From Fairfield Vital Records from Barbour, 1639-1850, 24 Apr 1760, Connecticut. Abigail Waterbury, dau Capt. David, of Stratford, m Hezekiah GRAY, son Samuell, Apr 24, 1760.

Also from Stamford, CT Families (1641-1935)

Marriage: Hezekiah Gray and Abigail Waterbury

Married: 24 APR 1760 in Stamford, Fairfield Co., CT 1

Source: Marriage Records of 1st Congregational Church, Stamford, CT

Abigail next married Samuel Barrett in 1778 in Bedford, WestChester, New York. (Samuel Barrett was born on 10 Apr 1755 and died on 10 Dec 1844 in Bedford, WestChester, New York.)