Charles G. Shepard
Born: Aug 1841, New York
Died: 23 May 1900, Oswego, Oswego, New York at age 58
Buried: Town of Granby, New York

Noted events in his life were:
• Occupation: Shoe maker, 1860, Oswego, New York. From 1860 Census
• Occupation: Clerk, 1880, Oswego, New York. From 1880 Census
• Military Service: Company C 24 New York Volunteers. From headstone inscription.
• Obituary: OSWEGO DAILY TIMES, THURSDAY EVENING, Page 4, 24 May 1900, Oswego Town, Oswego, New York. DIED AT HOSPITAL

"Charlie" Shepard Passed Away as the Result of a Fall.

Was Well Known Around Town and Spent Most of Hit Time at City Hall-Had a Fine War Record and Served in Numerous Battles.

Charles G. Shepard for many years a familiar figure around the City Hall, passed away at the Hospital shortly after five o'clock yesterday afternoon as the result; of injuries received by failing on the pavement in front of the Hotel Bennett early yesterday
morning.

Mr. Shepard was discovered by a policeman stretched out on the pavement about two o'clock in the morning. Dr. Calisch was called and made an examination of his injuries at the Hospital where he was taken in the patrol. It was found that he was suffering with concussion of the brain. He was in an unconscious condition when picked up and he never regained consciousness. .

An Excellent Record.

Mr. Shepard was born in this city and was fifty-eight years old. When the war broke out he enlisted in Company C, Twenty-Fourth New York Volunteers and had an excellent war record. Brave and fearless he took part in the majority of the battles of the war. He never was engaged in any active business enterprise, but was an excellent penman ,and for several years past he was employed around the City Hall doing odd Jobs. His father, the late Elisha H. Shepard, was at one time one of Oswego's most prominent citizens and his brother, the late Oscar H. Shepard, was for many years a well known fire insurance agent. He is survived by a brother, Captain E. M. Shepard, United States Navy, with headquarters at Tompkinsville, Staten Island. Captain Shepard was notified last evening of his brother's death and wired that he would arrive to-night at seven o'clock. The remains were removed from the Hospital to Dain's morgue.

Mayor Hall received a dispatch this morning from Mrs. Shepard saying that Captain Shepard would arrive here this evening. The deceased was a member of Post O'Brien and his numerous friends will be pained to learn of his sad ending.

Mr. Shepard's funeral will be held from the Chapel of the First Presbyterian Church at 1:30 o'clock tomorrow. The members of Post O'Brien will attend in a body.



Post O'Brien G. A, K. will meet at their room Arcade Block, East ridge Street, Friday afternoon at one o'clock to attend the funeral of comrade Charles G. Shepard, Co. C, Twenty Fourth Regiment, New York Infantry Volunteers. Services to be held in the chapel of the First Presbyterian Church at l:30 p.m. Every veteran is earnestly requested to be present. A. R. PENFIELD.

THE PALLADIUM TIMES, MONDAY May 25, 1925

LOOKING BACK

THURSDAY, May 24, 1900

Charles G. Shepard died last night at the Oswesro Hospital. He is survived by a brother, Captain Edwin M. Shepard, U. S. N.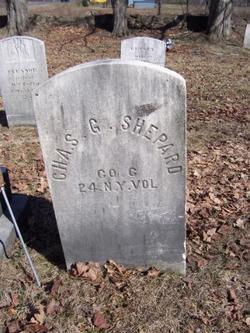 • Cemetery: Lewis Cemetery: Town of Granby, New York. http://towngranby.org/content/Generic/View/8
Headstones in Lewis Cemetery.

SHEPARD, Charles G Co. C 24 NY Vol.
[s/o Elisha and Abigail; Aug 1841-May 1900]

From Find a Grave

Charles G. Shepard

Birth: unknown Death: unknown
Undated, Civil war soldier, 24th NYS Vol.
Burial:
Lewis Cemetery
Granby
Oswego County
New York, USA
Created by: Oh look, a chicken!
Record added: Apr 09, 2008
Find A Grave Memorial# 25891260