Elisha Howell Shepard
Born: 9 Jan 1801, Greene, New York
Marriage: Abigail Kidder Gray in 1825 in Oswego, Oswego, New York
Died: 3 Sep 1877, Oswego Town, Oswego, New York at age 76
Buried: Town of Granby, New York

Noted events in his life were:
• Land: Oswego Deed Indexes (http://www.ellsworthfamily.net): Oswego, Oswego, New York. Year 1842 
Grantor(s) Shepard
First name(s) Abraham
Notes
Grantee(s) Elisha H Shepard 
Notes inTrust 
Book 37 
Page 155 
Film Reference FHL US/CAN 1011776 

***************************************************

Year 1848 
Grantor(s) Shepard
First name(s) Elisha H. & Abigail
Notes etal 
Grantee(s) Oswego&Syracuse RR 
Notes
Book 49 
Page 98 
Film Reference FHL US/CAN 1011784 


• Occupation: Farmer, 1850, Oswego, New York. From 1870 Census
• Occupation: Merchant Miller, 1870, Oswego, New York. From 1870 Census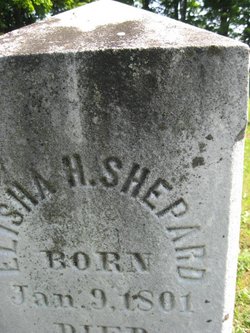 • Cemetery: Lewis Cemetery: Town of Granby, New York. http://towngranby.org/content/Generic/View/8
Headstones in Lewis Cemetery.

SHEPARD, Elisha [Howell] b. 1/9/1801 d. 9/3/1877
[s/o Abraham and Lucretia; born in Greene County, NY]
• Obituary: OSWEGO DAILY TIMES, TUESDAY EVENING, 4 Sep 1877, Oswego Town, Oswego, New York. Death of Elisha H. Shepard.

We announced briefly, yesterday, the sudden death of Elisha H, Shepard. There is but little to add in regard to the circumstances of his death. He went into his garden for the purpose of cutting corn and had gathered an armful when he was stricken down with death. With the exception of disease of the heart, which had affected him seriously at times during the last four or five years he was remarkably robust for a man of his advanced age, he was feeling even better than usual at dinner time yesterday and announced his intention of coming down to town in the evening to attend a meeting of the Board of Excise, of which he was President.

Elisha H. Shepard was born January 9th, 1801, in the town of Warwick, Orange county, N. Y. and was in his 77th year at the time of his death. He came to the town of Granby, now in this county, with his parents in 1811 and has resided in the county almost continually, With the exception of six years-from 1852 to 1858-which he spent in California. During most of this time he has been a resident of the city. He was actively engaged in various business enterprises during his earlier manhood and middle age, and until he reached the age of three score and ten his physical vigor was unimpaired. He was for many years in :the employ of the well-known firm of Bronson & Crocker and among the incidents of his life it may be mentioned that he executed a contract for building a portion of the Oswego canal and was for years a popular captain of one of the hire boats on the canal during the days of the packets. He held the office of Assessor for seven years and had been an Excise commissioner four years. He was at one time a member of the School Board.

In all relations in life, the deceased highly esteemed as a man of upright and unblemished character. He has passed away in the fullness of years and the community which mourns his loss will remember his useful and active life. H e leaves an aged wife and four sons, whose grief will be cbadteue4 by the remembrance of his many virtues.
Elisha married Abigail Kidder Gray, daughter of David Gray and Clarissa Patchin, in 1825 in Oswego, Oswego, New York. (Abigail Kidder Gray was born on 12 Feb 1805 in Town of Onondaga, New York, died on 15 Feb 1884 in Oswego, New York and was buried in Town of Granby, New York.)