Rear Admiral Edwin Malcolm Shepard
Born: 16 Sep 1843, Oswego Town, Oswego, New York
Marriage: Alice Stevens on 9 Dec 1868 in Hymmanal, New York
Died: 18 Aug 1904, Jaffrey, New Hampshire at age 60
Buried: 1904, National Cemetery, Arlington, Virginia

Noted events in his life were:
• Military Service: From History of Oswego County, 1860. Edwin M. Shepard, midshipman, " Vincennes." Enlisted Nov., 1860 ; joined naval school at Annapolis, Md.
• Occupation: OSWEGO DAILY TIMES: MONDAY EVENING, 13 May 1878, Oswego Town, Oswego, New York. Personal.

Lieutenant Commander Edwin M. Shepard, U. S. N., has been nominated by the President to be Commander. His friends in Oswego congratulate him on his promotion.
• Military Service: Palladium, Monday, 13 Jun 1881, Oswego Town, Oswego, New York. Commander E. M. Shepard has been transferred to command of the training ship Constitution.
• Occupation: Commander, US Navy, 1884. From Abigail Gray Shepard's obituary.
• Military Service: OSWEGO Times and. Express, 12 May 1884. The school ship St. Mary's has sailed from New York harbor under command of Com. E. M. Shepard, and about May 17th will leave New London for a cruise in the Mediterranean, returning some time in September.
• Occupation: THE PALLADIUM, MONDAY, 8 May 1889, Oswego Town, Oswego, New York. Edwin M. Shepard has been detached from the Naval Home at Philadelphia and ordered to take command of the historical old Kearsage. Commander Shepard is a brother of O. E. and Charles Shepard of this city.
• Military Service: THE DAILY PALLADIUM, SATURUAY, 6 Oct 1893. President Cleveland has nominated Commander E. M. Shepard, of the Navy, to be captain.
• Occupation: THE OSWEGO DAILY PALLADIUM: Wednesday, 25 Jun 1895, Oswego Town, Oswego, New York. THE OSWEGO DAILY PALLADIUM: Wednesday June 25, 1895, Page 4.

TOWN TOPICS. (The compliment comes in the last paragraph)

The San Francisco is commanded by Captain E. M. Shepard, of Oswego, a brother of the late O. L. Shepard. To say that his ship is the best officered is equal to saying that he is the best commander in the fleet.
• Occupation: OSWEGO DAILY TIMES, FRIDAY EVENING, PAGE 1, 29 Mar 1901, Oswego Town, Oswego, New York. Naval Appointments.

WASHINGTON: March 21.-The following appointments by the President were announced to-day:

Navy-Edwin M. Shepard, Rear Admiral;
• Military Service: THE SYRACUSE JOURNAL, FRIDAY NOVEMBER 29, 1901, PAGE 12, 29 Nov 1901, Syracuse, New York. THE ADMIRAL IS IN OBSCURITY

Edwin M. Shepard is Well Known in Syracuse.

TOOK NO PART IN SPANISH WAR

Reports From Washington Assert That He Declined to Dine With Frederick Douglas

Ever since the time when the battleship Maine was sunk through Spanish treachery i Havana harbor, almost to the present hour, certain circumstances connected with the then captain, but now rear admiral, Edwin M. Shepard, have formed a fruitful subject for speculation to Syracuseans.

Admiral Shepard is very well known to this city, particularly by the older residents, for in the latter sixties he married Miss Alice Stevens, at that time one of the belles of Syracuse society. He had a distinguished record during the Civil war, is noted as a Naval commander and strategist of the first order and has a reputation, even in Europe, for the discipline be maintained while aboard ship.

And yet, almost alone of all the officers in the navy, Admiral Shepard at the outbreak of the Spanish-American war was not assigned to the responsible and commanding position at sea which his friends considered was do his high abilities, but was "side tracked" to an obscure post on land, since which time he has to all intents and purposes dropped out of public view.

Of course there was a reason for this singular action on the part of the government, and numerous were the inquiries of those who sought to solve the mystery. Every query, however, whether made at the Navy Department or addressed, to officers of rank, met with rebuff.

No one appeared to know how it was that a man, who in 1897 stood twenty-sixth on the roll of naval captains and who preceded Rohley D. Evans ("Fightlng Bob") by one number, should have been forced into obscurity at a time when the services of even inexperienced lieutenants were in the greatest demand.

It was known that Captain Shepard when in command of the school ship St. Mary's (on which several Syracuse boys have served) had had some trouble with the clothing for his charges and that an official investigation had been made. But this difficulty, it was subsequently proven, was the result of the Captain's unceasing discipline and he was wholly and completely exonerated from blame. Apparently the enigma was insoluble and further Investigation was gradually abandoned.

During the last day or two, however, certain Information has reached this city from Washington, which is asserted to be authentic, but the origin of which The Journal, for obvious reasons, does not feel at liberty to state.

According to these advices Captain Shepard had been assigned to the command of the first Kearsarge - that glorious vessel that defeated the Confederate cruiser Alabama off Cherbourg and was subsequently wrecked on Roncador reef. While the Kearsarge was in Southern waters Captain Shepard, it is said, was notified that he would shortly be visited by Frederick Douglas, the celebrated negro orator and abolitionist, and he was requested to show his guest every courtesy and attention In his power.

To this dispatch Captain Shepard, it is asserted, curtly replied that he had never yet dined with a negro and that he never would.

His active naval career ended at that moment. Owing to the near approach of war, doubtless, as welt as from reasons of policy. Captain Shepard was not disciplined or punished in any way. He was simply assigned to shore duty and was permitted in course of time to become a Rear Admiral.

Such Is the explanation that is prevalent in Washington of his failure to be accorded every opportunity to distinguish himself in the recent war. Had it been granted him, his Syracuse friends are confident that Edwin M. Shepard would have improved them in a manner befitting his long experience and unquestioned ability.

• Biography: Who's Who in America, Volume 3 edited by John William Leonard, Albert Nelson Marquis, P 1342, 1903. SIIEPARD Edwin M. rear-admiral U.S.N. retired b. Oswego, N.Y., Sept 16, 1843, s. Elisha H. and A.K. (Gray) S. ed. Naval Acad. 1859-61. m. Syracuse, N.Y. Dec 9, 1868 Alice Stevens. Apptd. ensign, Nov 22, 1862; Lt., Feb 22, 1864; Lt. comdr., July 25, 1866; comdr., June, 1878; capt., May 15 1893; rear admiral, Mar 3, 1901; retired, 1902 after 40 yrs service as commissioned officer. Served on sloop Vincennes 1861-2, at passes of Mississippi River; on sloop Mississippi 1862-3 until her destruction; on gunboat Essex in siege of Port Hudson and with naval battery of 9 inch guns on shore for several weeks; on monitor Mahopac at siege of Charleston S. C., and on James River; on Wachusett, capture of privateer Florida, Oct. 7, 186, varied services on sea and land since war; light-house insp. since Apr. 1898. Clubs: New York Yacht, New York Army and Navy, Chevy Chase (Washington). Address: 2028 Columbia Rd, Washington.
• Death Notice: New York Times, Saturday, 20 Aug 1904, New York, New York. REAR ADMIRAL 8HEPARD DEAD. A Native of New York-:-Had Commanded Several important Vessels. Rear Admiral E. ,M. Shepard; United States Navy, (retired,) died at Jaffrey, N, H., of heart disease on Thursday. Admiral Shepard was born in New York, and was appointed to the Naval Academy in 1859. Admiral Shepard served through the civil war, and later commanded the first Kearsarge. the Mohiican, the Minnesota, and the San Francisco. During the Spanish war he was a Lighthouse Inspector. He became a Rear Admiral in 1901, and was shortly afterward retired on his own application.
• Obituary: The Oswego Daily Times, Saturday Evening, Page 5, 20 Aug 1904, Oswego Town, Oswego, New York. REAR ADMIRAL SHEPARD DEAD

Former Oswegonian Passes Away at Summer Home

WELL KNOWN BY MANY

Served with Distinction Throughout Civil War

Commanded Many Battleships

Was a Brother of Late Oscar and Charles Shepard

Died of Heart Disease

Many old friends will be surprised and pained to learn of the death of
Rear Admiral Edwin Malcolm Shepard U. S. N. retired which occurred
at Jaffrey, N. H., where be was spending the summer with his family. Heart disease was the cause of his death.

Appointed Prom This District.

Rear Admiral Shepard was born in Oswego in 1842 and was a brother of the late Charles and Oscar Shepard. He was appointed to the Naval Academy from this district in 1859 and was graduated from Annapolis at the opening of the War of the Rebellion. During the war he did arduous service and on two occasions the vessel on which he was serving sank. He commanded the old Kearsage, the Mohican, the Minnesota and the San Francisco. During the Spanish American War he was a lighthouse inspector. He became a Rear Admiral in 1901 and was later retired upon his own application.

Married Syracuse Woman.

After quitting the service Rear Admiral Shepard had a quiet life with his family in Washington. He was united in marriage to Alice, daughter of the late George Stevens of Syracuse, a former Police Justice and Congressman. She survives him with three daughters, Zenaide, the wife of Lieutenant Theodore Vogelsange; Alice, the wife of Lieutenant G. G. Davison and Miss Kate Shepard.

Mr. Sheperd made frequent visits to his old home in Oswego while his brothers were alive. He had numerous acquaintances who will sincerely regret to learn of his death. The funeral will be held at his late home, No. 2028 Columbia roads, Washington, on Sunday. He will be buried at Arlington Cemetery.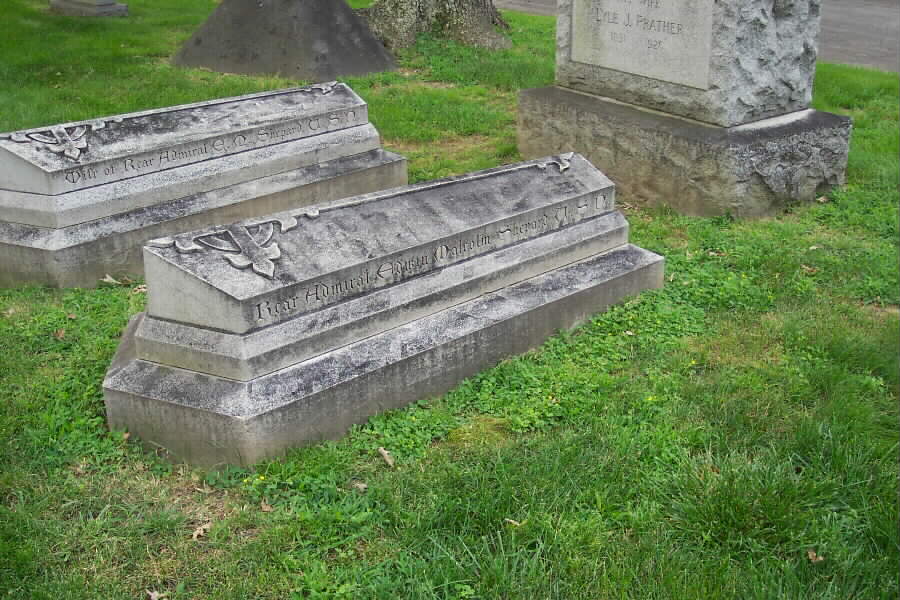 • Buried: SECTION O S SITE 179, 1904, ARLINGTON NATIONAL CEMETERY.

Edwin married Alice Stevens, daughter of George Stevens and Lydia Pendleton, on 9 Dec 1868 in Hymmanal, New York. (Alice Stevens died on 12 Oct 1915 in New London, New London, Conn.)

Noted events in their marriage were:
• Marriage Banns: THE JOURNAL-SYRACUSE, THURSDAY, Page 8, 10 Dec 1868, Hymmanal, New York. HYMMANAL.-The Reformed church on James street was, last evening, the scene of a Joyous ceremony in the wedding of one of the accomplished daughters of Syracuse to an officer of the United States navy. Of the parties, Miss Alice E., daughter of the Hon. George Stevens, is well known in a wide social circle as an amiable and pleasing young lady, while Lieutenant-Commander E. Malcolm Shepard has already made for himself a host of friends. The services were performed by the Rev. J. Elmendorf, D. D., of Albany. The occasion was a brilliant one in every respect, and the happy couple were the recipients of the heartiest congratulations, to which we would add our token of respect and well wishes for their future.