Edward Gray
Born: Abt 1828, Oswego, New York
Marriage: Armilda June (Minnie) Eades on 25 Mar 1853 in St. Louis, St. Louis, Missouri
Died: 18 May 1882, Ten Mile Township, Macon, Missouri about age 54

Noted events in his life were:

• Education: State University of New York at Albany, 1847, Albany, New York. From: An historical sketch of the State Normal College at Albany, New York and a history of its graduates for fifty years, 1844-1894.

State University of New York at Albany
Albany, N.Y., Brandow Printing Company [1894?]

1847 Fifth Class Sixth Term ending September 16 1847

Page 114.

* Edward Gray St Louis Mo Taught 3 years
Address sister Mrs CO Case Oswego NY
Taught Oswego NY 2 1/2 yrs; as above 1 yr.; became a civil engineer; Co. Engineer, Shelby Co, Mo.; moved to St Louis where he died about 1881; m. Miss Armilda J Eades; 3 children

• Occupation: Advertisement in The Palladium, Jul 1851, Oswego, Oswego, New York. ENGLISH HIGH SCHOOL.

Mr. Edward Gray would respectfully announce to the citizens of Oswego that he will open a High School for boys on Monday June 16th at he Brick School House in the 3rd ward, and hopes, by limiting the number of pupils and by strict attention to the duties of his profession, to teach with such encouragement as will sustain him in efforts to promote the cause of Education.

Those wishing for particulars will please call at his School Room, where he can be found from 10 to 11 o'clock, A. M., during the present week.

E. Gray
• Voter Registration: Dist/County = 1 Election, page 440 lists Edward Gray, 30 Mar 1855, Kansas City, Missouri. Source: from Tele Patterson email
• Occupation: Rome, Watertown & Ogdensburg, 1864, Oswego Town, Oswego, New York. He was the surveyor for the track for the Rome to Richland segment of the R. W. & O. railroad.

From www.rworr.net

Watertown District
New York Central & Hudson River R.R. Time Table No. 22. R.W&O Divsion, Oswego District.

September 19, 1898.

Rome and Richland

Mileage from Rome.

Station Mile
Rome 0
Humaston 7.4
Taberg 10.6
McConnellsville 13.2
Camden 17.9
West Camden 22.8
Williamstown 27.7
Kasoag 30.8
Altmar 36.2
Richland 41.1

• Residence: Farm near Macon City Post Office, 1870, Ten Mile Township, Macon, Missouri. Source: 1870 Census

Name: Edward Gray
Estimated Birth Year: 1828
Gender: Male
Age in 1870: 42y
Color (white, black, mulatto, chinese, Indian): White
Birthplace: New York
Home in 1870: Missouri, United States
Household Gender Age
Edward Gray M 42y
Minnie Gray F 40y
Mattie Gray F 17y
William E Gray M 12y
Granville J Gray M 9y

• Residence: Farm, 1880, Ten Mile Township, Macon, Missouri. Source: 1880 Census
• Occupation: Farmer, 1880, Ten Mile Township, Macon, Missouri. From 1880 Census

His sons, Granville J. and William E. are living with him.
• Obituary: THE PALLADIUM, Monday, 22 May 1882, Clarence, Missouri. OBITUARY NOTICE
Information has been received of the death of Edward Gray, son of our venerable friend Jesse Gray of Oswego Town, which occurred at Clarence, Mo., on the 18th of May. The deceased was several years a successful teacher in this city, and had followed civil engineering and farming since he went west. He was a most estimable gentleman.
• Death: OSWEGO MORNING EXPRESS. MONDAY, 23 May 1882, Clarence, Missouri. Death of Edward Gray

Word was received here Saturday evening of the death of Edward Gray, formerly of this city. For a number of years the deceased had been a resident of Clarence, Mo., where he pursued the business of civil engineering and farming. Many years since, he was a teacher in this city, at one time holding that position for many terms in the West Fourth street district school, and subsequently taught a select school in rooms in the Buckhout place. He was a son of the venerable Jesse Gray, of the town of Oswego, and will be favorably remembered by a large number of our citizens. Last summer he made a visit to his friends in this city and vicinity. At that time he was an invalid with the disease which terminated fatally on the 18th instant.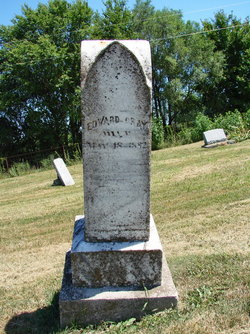 • Cemetery: From Find a Grave, Bethel Christian Church Cemetery, May 1882, Anabel, Macon, Missouri. Edward Gray

Birth: unknown
Death: May 18, 1882
Burial:
Bethel Christian Church Cemetery
Anabel
Macon County
Missouri, USA
Created by: Anonymous
Record added: Dec 14, 2008
Find A Grave Memorial# 32168397

Photo by: Diane L (#46842343)


• Newspaper: THE OSWEGO DAILY PALLADIUM: THURSDAY, PAGE 4, 11 Jun 1908, Oswego, Oswego, New York. HE BEAT OUT GENERAL GRANT
Edward Gray, an Oswego Boy, Got Place He Sought.
Future President of the United States Took a Subordinate Position and Worked with William Gray at Forty Per Week
None of those who read the speech of Secretary of War Taft, in which he made reflections upon the early life of President U. S. Grant, ____ life utterance more than Mr. William Gray of Oswego Town , the veteran Democrat, and son of the late Jesse Gray. President Grant and Mr. Gray were employees in the Engineering Department of St. Louis county, Mo., fifty years ago, both receiving the same compensation - $40 per month.
Taft's _______ utterances against Grant has caused many things to be said and told of the man who put down the rebellion - the greatest War general of modern time - and among them a the story that he failed in 1859 to receive an appointment as County Engineer of St. Louis county, Mo. Mr. Gray and Grant were coworkers at that time for several months, but upon different assignments.
The reason Grant didn't get the place, Mr. Gray said today, was because he was a Democrat and the county had gone Republican. The man who was appointed in place of Grant was named Solomon, a German. That was the second time Grant failed of getting the place. Mr. Gray says, the first time being when a native Oswegonian, Edward Gray, was selected for the position, which paid $2,200 a year, at that time considered a pretty good salary.
Edward Gray was a brother of William Gray. He graduated from the Albany State Normal College (or school in those days) in 1846 or '47. Doctor I. B. Poacher, the Principal of the present Oswego State Normal school, was a fellow attendant of Edward Gray at Albany. When the latter graduated he was induced to go to St. Louis, where he secured an appointment as instructor in an educational institution. The latter closed within a short time and Mr. Gray, leaning of a railroad on the Illinois side of the Missouri river was looking for a civil engineer, he applied for and received the appointment. He had studied engineering and surveying in college and while he had a knowledge of them he had little if any practical experience. The railroad company had a difficult problem in engineering to work out. Two men who held the place prior to the coming of Mr. Gray had failed and there was much speculation as to what would be the result in his case. He undertook the difficulties and gave some attention to what was desired before he ever took a look through an instrument. When he did he had no trouble and succeeded in placing the tracks in the entrance of a coal mine just where the company had hoped he would. After that his services in railroad work were in demand and he went with the Missouri Pacific and had charge of tunnel construct on that road. He left the last place and was appointed engineer of St. Louis county in 1856, General Grant being an applicant for the place at that time. Mr. Gray, however, appointed him to the position he occupied. At that time, Grant was President of a semi-political organization and Edward Gray was its Secretary.
After a time, Mr. Gray went to Macon and was there for several years. It became so warm for him in 1861-2 that he had to move out and he came to Oswego and was placed in charge of the Rome to Richland branch of the R. W. & O. road. After the close of the war, he returned to Missouri and was made engineer of Shelby county in 1872, getting twenty six more votes than both Grant and Greeley, who were candidates for President on the Republican and Democratic tickets. Mr. Gray had no opposition, but from the returns it was evident that there were some who didn't vote for either Grant or Greeley.

************************************************************
Supporting information about U.S. Grant not getting the position of county surveyer.

From http://www.pbs.org/wgbh/amex/grant/timeline/index.html

1859

January: Grant moves into a back room in St. Louis rented from his business partner, while his family temporarily remains at White Haven. In March, his family joins him in a rented cottage in St. Louis.

March 29: Despite the financial troubles of the Grant family, there is one remedy Grant refuses to consider. He sets free his slave, William Jones, who had come to him through his wife's family.

August 15: Grant submits his application for the position of County Engineer of St. Louis. Although qualified, Grant will be passed over by politicians who prefer a Republican.

Edward married Armilda June (Minnie) Eades, daughter of Granville O. Eades and Lucinda Sappington, on 25 Mar 1853 in St. Louis, St. Louis, Missouri. (Armilda June (Minnie) Eades was born in 1830 in Missouri and died on 5 Jul 1892 in Ten Mile Township, Macon, Missouri.)

Noted events in their marriage were:

• Marriage Record: From More Than Just a Cemetery, source unknown, 25 Mar 1853, St. Louis, St. Louis, Missouri. State of Missouri
County of St. Louis

I do kindly certify that Mr. Edward Gray and Miss Armilda June Eades was on the 25th of March 1852 married by me in the sacred bonds of matrimony ________ to the laws of the state of Mo. Given under my hand in St. Louis on May 15th 1852. John N Gilbreath, Presbyterian Minister.

Filed & recorded May 15th 1852. J. D. Baslove