Thyrza Beckwith
Born: 10 Aug 1802, Blenheim, Schoharie, New York
Marriage: Jesse William Gray on 10 Jul 1827 in Oswego, New York
Died: 20 Sep 1905, Oswego, Oswego, New York at age 103
Buried: 23 Sep 1905, Rural Cemetery, Oswego, New York

Noted events in her life were:
• Family History: Rev. Roswell Beckwith, Abt 1812, Union Village, New York. Churches.---From 1811 to 1813 two sermons were preached at Union Village, one by Rev. Roswell Beckwith, a Baptist and an uncle of Mrs. Jesse Gray, and by a Methodist itinerant named Gillett.

Source.

Landmarks of Oswego county, New York;
Author: John Charles Churchill; H P Smith; W Stanley Child
Publisher: Syracuse, N.Y., D. Mason, 1895.

**************************************************************
This also appears as part of an article published in the Oswego Daily Times, Friday Evening, November 22, 1878

First Presbyterian Church

Mr. Tully then stated in general terms the purpose of the meeting and introduced some interesting reminiscences furnished him by Mrs. Jesse Grey. From 1811 to the autumn of 1813, there were two sermons preached in Unionville, one by Mrs. Grey's uncle, Rev. Roswell Beckwith, a Baptist preacher of Cazenovia, the other by a traveling Methodist preacher named Gillet. The first school was opened in the summer of 1813.
• Occupation: Oswego Daily Times, 31 Aug 1877, Oswego, Oswego, New York. Old Settler''s Sociable

Mr. W. R. Warden introduced Capt. E. H. Shepard, and Mrs. Jessie Gray, the two oldest school teachers in the town.
• Poem: From First Presbyterian church history, 1878, Oswego Town, Oswego, New York. ANNIVERSARIES

During the pastorate of Dr. Tully public and social gatherings were held on the return of the anniversary of the organization of the church at which addresses and exercises appropriate to the occasion were in order while the ladies of the congregation provided bountifully for the refreshment of the "inner man." On one of these occasions the following commemorative poem by Mrs. Jesse Gray was read and received much commendation. It was written twelve years ago and in her seventy sixth year.

Written at the request of our beloved pastor the Rev Mr. Tully for one of our anniversaries.

Shall we speak of the days long since past
When our town was one dark forest wild,
And almost as wild and dark
Was the home of the then forest child?

True He who looks down from on high
Had his choice ones here hidden away.
They waited they watched and they prayed
For the light of the on coming day.

And they watched not in vain the light came,
Our God is a prayer hearing God,
He guideth his own with his eye,
E'en while they pass under the rod.

Mid the forest he planted a vine
A branch small and weak it was then
But He who had planted watched over
And revived it again and again

Though rough stormy winds passing by
Its beautiful foliage hath torn
Much fruit hath been garnered on high
And more still its branches adorn t

Since our last anniversary here
One hath passed to the shore ever green
A friend still to memory dear
The last of the first seventeen

She gave her young heart to the Lord
In the ardor and freshness of youth
And through trials of subsequent life
Was sustained by his goodness and truth

Thus kept by a Father's strong hand
Let us praise our Redeemer and King
And oft as his cause may demand
Our cheerful thank offerings bring

Thyrza Gray

• Occupation: The Palladium, THURSDAY, 1 Sep 1881, Oswego Town, Oswego, New York. OSWEGO TOWN OLD FOLKS.
Annual of the Old Settlers Association

Mrs. Jesse Gray, the oldest Oswego town schoolteacher, who came here in 1811, spoke of early scenes.

Oswego Palladium, September 1, 1931

Fifty Years Ago

Friday, September 1, 1881

Mrs. Jesse Gray, oldest school teacher, told assemblage of 200 she came to county and city in 1811, and three brothers served in the war of 1812. Her father made an oak tub for Lyman Coates in 1818, and Mr. Coates was still using the tub, which was as good as ever.
• Exhibit: The Oswego Town Fair, 9 Sep 1886, Oswego, Oswego, New York. The Exhibits

The venerable Mrs. Jessie Gray, aged 84 years, showed linen toweling, woolen yarn and stockings, all the work of her own hands during the present year. She is a model for the modern housewife and young lady.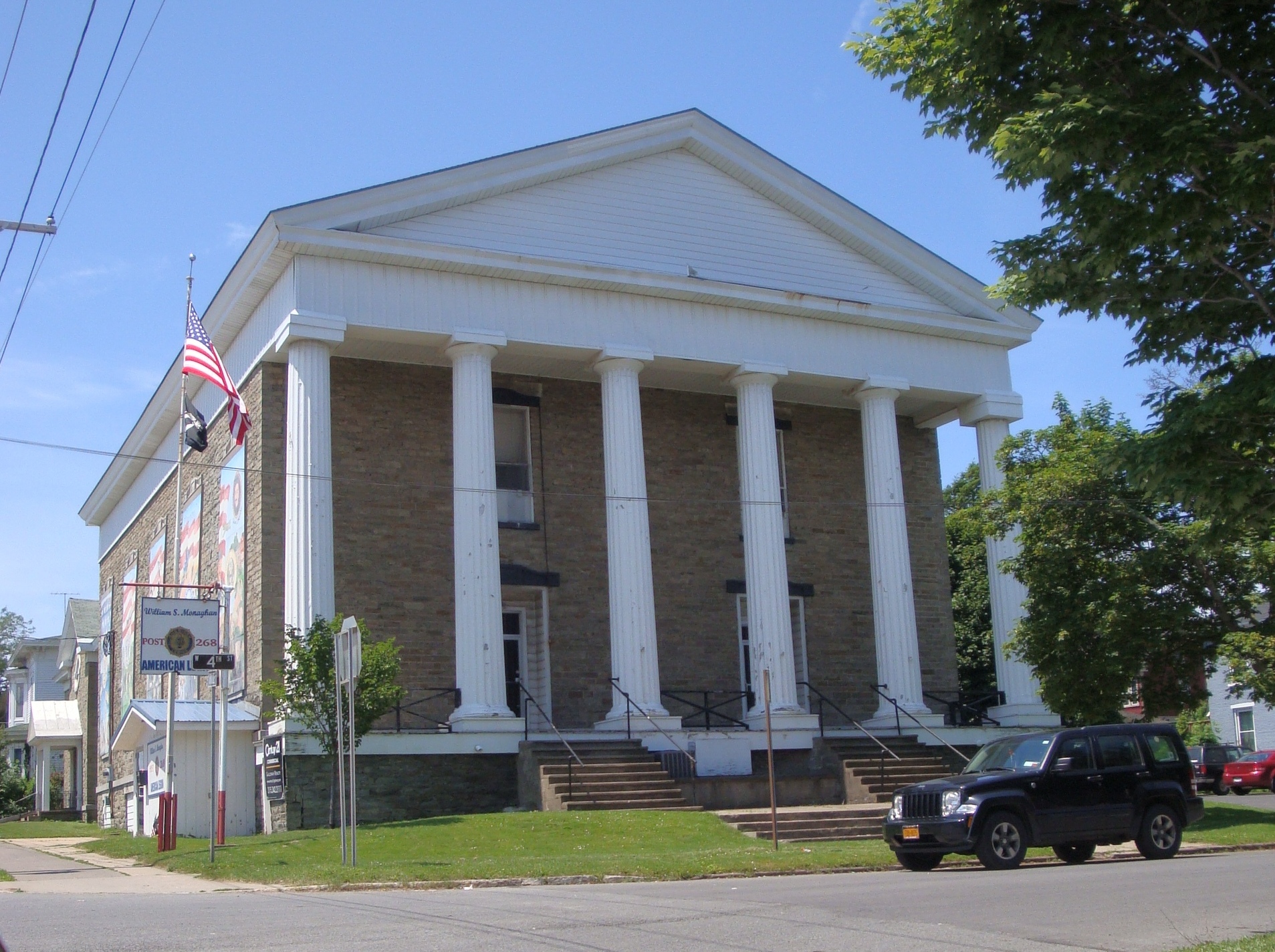 • Religion: THE SUNDAY HERALD: SYRACUSE, SUNDAY MORNING, 22 Nov 1896, Oswego, Oswego, New York. EIGHTY YEARS OLD
First Presbyterian Society Celebrates Today.

So far as is known the oldest living member of the "Old First church" is Mrs. Jesse Gray of Oswego town, who united with it in 1818 at the ago of 14. Mrs. Gray is now in her 94th year. Of the original seventeen members all have joined the silent majority, the last survivor, Mrs. Mary Whitney, having died in 1879.

**************************************************************

Notes on the Old First Presbyterian Church

Location: West Fourth and Bridge Streets

Merger with Grace Presbyterian Church in 1939

Purchased by American Legion Post in 1946 for $10,000

Plaque with past pastors 1957

Steeple torn down in 1964
• Religion: THE OSWEGO DAILT PALLADIUM: MONDAY EVENING, 23 Nov 1896, Oswego Town, Oswego, New York. EIGHTY YEARS AGO.

ANIVERSARY CELEBRATION AT FIRST PRESBETERIAN

A marked feature of the service was the reading of a lengthy poem, written for the occasion by Mrs. Jesse Gray, ninety four years old, who has been a member of the church for seventy nine years.
• Birthday: OSWEGO DAILY TIMES, WEDNESDAY, 11 Aug 1897, Oswego Town, Oswego, New York. ALMOST A CENTURY.
Mrs. Thyrza Gray Celebrated Her Ninety Fifth Birthday Yesterday.

Yesterday, August tenth, witnessed the ninety-fifth anniversary of Oswego's oldest resident, now a "mother in Israel," beloved by all who know her, and held in high esteem by all her townspeople,- Mrs. Thyrza Gray.

It is a rare privilege to meet one who knew Oswego in its infancy, and has traced its growth from a tiny hamlet in the wilderness to that lakeside city, of which, no matter what complaints they make in unguarded moments, all Oswegonians are justly proud. It means something to have seen the clouds of foreign war lifted from the nation amid shouts of victory, nor navy honored, and her capitol rising from its ashes; to have been in the prime of youth when "Old Hickory," "Tippecanoe," Daniel Webster, and a host of other choice spirits of the century were household words; to have survived the fierce controversies, anxieties and long agony of civil strife; and now, in the sunset of life to see the nation clothed with power, and crowned with the glory of her wonder-working brain.

It is a blessed thing to sit at the birthday feast with children and grandchildren who are doing their work in the world with a right good will, and giving noble promise for future years.

It will be sweetest of all, perhaps, to bad, when the Great Books are opened, many a generous deed, many a word of sympathy and motherly counsel, many a brave but unknown sacrifice

"All that the world's coarse thumb
And finger failed to plumb.";

written in lines of light, and haloed by the grateful memories of those whom this venerable friend has helped and strengthened.

Gifts of flowers from some of those who love her, added grace and beauty to the occasion. One bouquet, sent her before she had left her room, was received with this ready acknowledgment, so characteristic that it was greeted with much applause:

"Thanks for all your kindness,
And this beautiful bouquet.
In the early morn presented
Of my ninety fifth birthday."

Among the guests who helped to celebrate this memorable occasion were other old residents and life long friends,-Mrs. Seymour Coe and Mrs. Randolph Worden, of Oswego town; and Mrs. Chase and Miss Huguenin, in former years neighbors of the Grays, and in these later years always mindful of the birthday honors, and never-failing participants in its festivities.

At the request of all present, Mrs. Worden read, in honor of the occasion, two beautiful poems; the first of which was lately read at the suggestion of Mr. James Hart shortly before his death-a request prompted, it might seem by almost prophetic impulse, in view of his decease. It seems fitting that this poem should find a place in these columns, since many a kindred thought has fallen from Mrs. Gray's own gifted pen; and, above all, since it breathes the spirit of her declining years.

• Birthday: OSWEGO DAILY NEWS, THURSDAY EVENING, PAGE 5, 2 Aug 1902, Oswego, Oswego, New York. MRS. GRAY IS THE OLDEST RESIDENT

Will Celebrate Her One Hundredth Birthday on August 10.

TALKS INTERESTINGLY.

Has Been a Resident of This City for Ninety-One Years-Is the Oldest Living Member of the First Presbyterian Church-Is In Good Health.

On Sunday, August 10th, one week from tomorrow, Mrs. Thyrza Gray, of this city, will reach her one hundredth year. Despite her advanced years Mrs. Gray's health is excellent and all her faculties are unimpaired. Though somewhat bent with years she is really jolly and to a TIMES reporter this morning she laughed, joked and told some amusing stories which her brothers bad narrated to her on their return from the war of 1812 in which all three of them served.

Born In This State

Mrs. Gray was born at Blenheim, Schoharie county, N.Y. on August 10th, 1802. She was the daughter of Nathan Beckwith and Elizabeth Rich and she came to Oswego with her parents in 1811 she being then nine years of age. On July 10th 1827, she was united in marriage to Jesse William Gray by the Rev. James Able, who was the first pastor of the First Presbyterian Church in this city. Mrs. Gray, then Miss Beckwith, united with the First Presbyterian Church when she was fifteen years of age (in 1817) and she has since retained her membership continuously during the past eighty-five years. At this time the church had but seventeen members. Mrs. Gray's husband was a farmer and after removing to this place located on a farm in Oswego Town where the couple resided for sixty-seven years. He died in 1894 since which time Mrs. Gray made her home with her daughter, Mrs. Mary Case, wife of the late Chester O. Case, at the corner of West Seventh and Ellen Streets.

Three Children Living

The couple had a family of nine children, three of whom are living. They are Mrs. Mary Case, Oswego; William Gray, Oswego Town; Mrs. Jane Townsend, Ithaca, Mich. In addition to these, the following grandchildren are living: Mrs. Martha E. Gatewood, Shelbyville, Mo., Miss Clara T. Case, Oswego; Miss Margaret Gray, a teacher in the New York public school; Edward T. Gray, a civil engineer, of Logan, Ind.; Thyrza E. and Florence Gray, of Oswego.

Mrs. Gray bad three brothers who served in the war of 1812 and each of whom participated in the battles of Lundy's Lane, Ticonderoga, Plattsburg and Fort George. Speaking of their experiences she said to a TIMES representative today: "After the battle of Lundy's Lane all the survivors were gathered together in a large barn. It was very dark and one of them got up on a high place and called out in the darkness: "Are any of the Beckwith boys here?" From one end of the barn came the answer, "here's one" and from another a voice came, "and here's another," "well, I'm the third," he cried out, "and thank God we're all safe."" Mrs. Gray told another story of the experience of one of her brothers on a battlefield. "There was a British officer named , Drummond," she said, "who was a very profane man. He yelled to his men 'Come on boys, give the damned Yankees no quarter'. As he did so he fell pierced by a bullet and my brother caught his sword. He kept it intending to bring it home as a trophy but he sold it for $10 because he could not care for it and it was probably worth much more."

Houses Few and Scattered.

When Mrs. Gray came to Oswego houses were few and scattered. During her long residence, though a few miles in the country she has seen the forest and jagged hills give way before the march of progress and a beautiful city has grown up. Mrs. Gray gets reminiscent at times and tells interesting stories of things that happened almost a life time ago. About three years ago Mrs. Gray had an attack of grippe since which time she has not been as rugged as before. She walks with a cane and occasionally goes to a near neighbor's house. About three weeks ago she went driving with her son to the farm near Fitch's Corners on which she resided. So for as is known Mrs. Gray is the oldest woman in Oswego City and her many friends congratulate her on her long and happy life and hope she will not only live to enjoy her one hundredth birthday, but several more as well.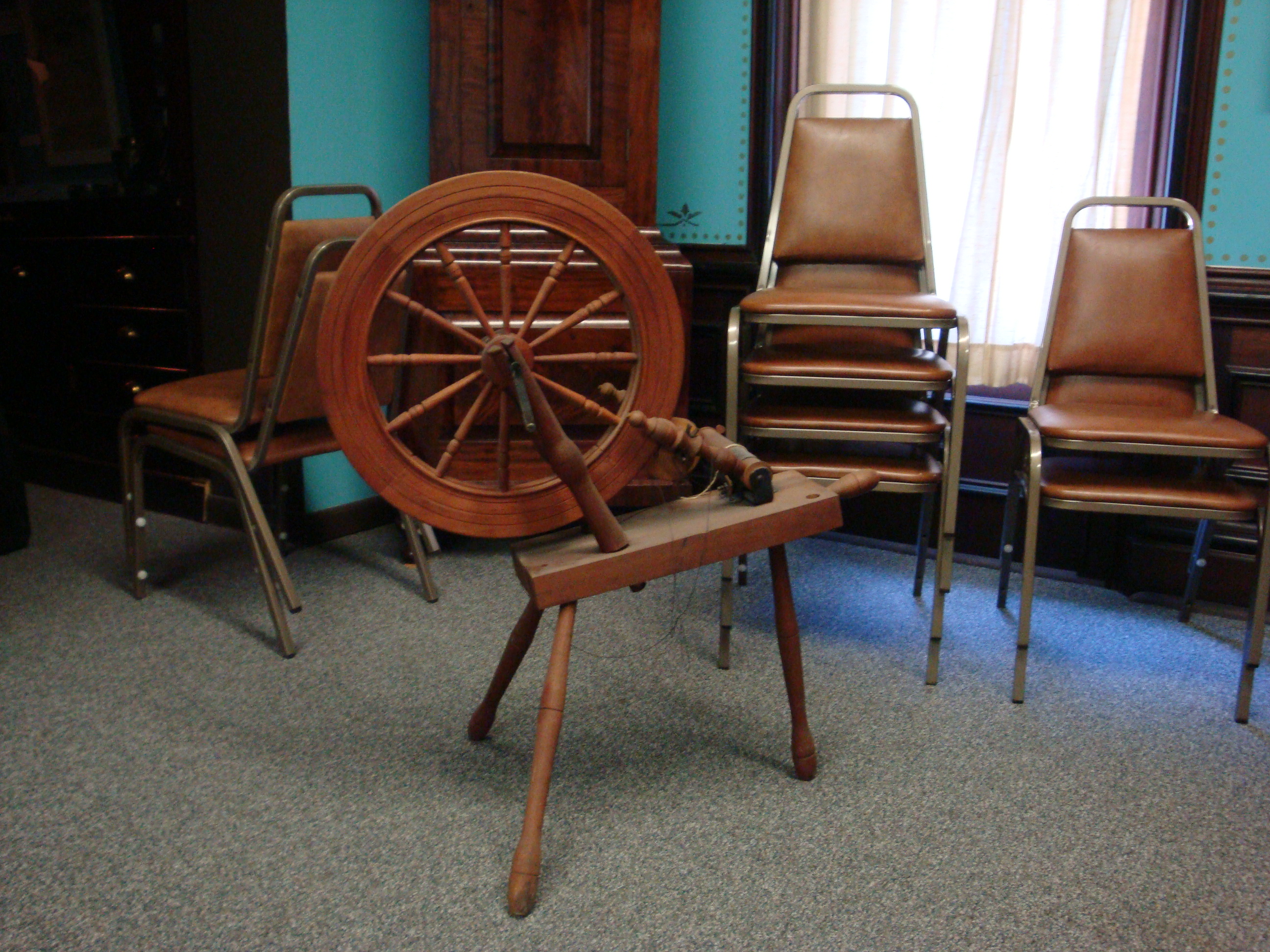 • Birthday: THE PALLADIUM, SATURDAY - PAGE 5, 9 Aug 1902, Oswego Town, Oswego, New York. THE PALLADIUM, SATURDAY AUGUST 9, 1902 - PAGE 5

ONE HUNDRED YEARS OF AGE.

Mrs. Thyrza Gray Approaches the Century Mark.

Tomorrow, August 10th, She Celebrates Her Birthday-Health is Excellent and Mental Faculties Strong and Vigorous - Sight and Hearing Not So Good.

More than one hundred years of life is the allotment of Mrs. Thyrza Gray in God's great plan. If she be spared until Sunday, August 10th, she will have rounded out a full century of existence. Quite naturally Mrs. Gray desires to celebrate her one hundredth birthday, and she has been saving her health and strength that she might do so. It is given to but few to live one hundred years, to experience the joys and sorrows, the hopes and fears, the storms and ______, and to witness the ________ changing events of history during a century's period. Mrs. Gray realizes that she is favored by the Lord and thanks Him for having allowed her to become a centenarian. "When God wants me, He will call me: I shall be prepared to go," she told a PALLADIUM reporter.

Mrs. Gray lives at the home of her daughter, Mrs. Mary Case, 236 West Seventh, near Ellen street. Mrs. Case is herself seventy years, old but feels young when she considers her mother's advanced age.

Mrs. Gray, despite her 100 years, is cheerful and happy and has a most delightful sense of humor. She dearly loves to recount the incidents of her youth, and she smiles as she relates the funny things that happened. Mentally Mrs. Gray is a marvel, and physically, too, but in the past few years, some of her faculties have become impaired. Her sight is now poor, and although able to distinguish objects, she can not read or sew, and has thus lost much of her pleasure. Likewise her hearing is not good, but, strange, to say, Mrs. Gray has ______ sound teeth in her head. What woman or man at such an age can make a similar boast. Mrs. Gray's daily life is simple and tranquil, and she rests much. She arises every morning at five o'clock, dresses herself and combs her hair and washes her face and hands without assistance. She eats well, but carefully, and always rests after her meals. In fact, much of the time she occupies her room, and retires every night at seven o'clock. Mrs. Gray is always ready to greet her friends, but becomes fatigued if a conversation is long continued.

Mrs. Gray was willing to talk to a PALLADIUM reporter, who called at Mrs. Case's home yesterday and she recounted many incidents of her past life.

She was born in the town of Blenheim, Schoharie county, New York, her father being Nathan Beckwith and her mother Elizabeth Rich, both the descendants of the English colonists who settled in Connecticut. From Blenheim, the family removed to Pompey, then successively to Manlius, Salina, Onondaga Valley and Oswego.

Mrs. Gray vividly recalls that when living at Pompey, a scoundrelly fellow cheated her father out of a farm because he discovered it to be valuable. Mrs. Gray tells the story with a great show of feeling and says she hopes no greater scoundrel has ever lived than he. Her father, she says, threatened the man, but stayed his hand because he had a family to support.

At Manlius, her father had charge of a tavern, although his principal occupation was farming. The village of Salina, now the city of Syracuse, was even then famous for its salt springs, but the salt was then boiled. Among Mrs. Gray's more vivid recollections is the War of 1812. She had three brothers in that conflict, Josiah, Appleton, and Nathan, and they all took part in the bloody battle of Lundy's Lane, escaping uninjured. At that time, the Beckwith family lived at Fitch's Corner, Oswego Town, having removed there in 1811, when Mrs. Gray was nine years old. Oswego at that time was, according to Mrs. Gray, a place of scrub oak, wintergreen, and huckleberry bushes, with only the forts and a few other buildings. She recalls the gradual growth of the settlement to a village and from a village to a city.

Mrs. Gray was given a good education by her parents, and for several years before her marriage to the late Jesse Gray, July l0th, 1827, she taught school at Unionville and at the old school near Minetto on the River road.

In 1817, when fifteen years old, she became a member of the First Presbyterian Church, joining with the second communion, the church having been organized in 1816.

The church building was a small wooden structure standing in Frentlic(?) Park. There, she and Mr. Gray were married by the Rev. James Abell. Mr. Gray took his bride to a farm in Oswego Town and later bought the Jesse Gray farm between the River and the West Fifth street roads. Mrs. Gray's father died in 1845, at the age of seventy-six, and her mother at the age of eighty-four in 1853. She had four brothers, Josiah, Appleton, Edgar, Nathan, and three sisters, Elizabeth, Emily and Delinda, all of whom died when comparatively young. Her parents and several of the family are buried in Rural Cemetery.

Mrs. Gray was the mother of nine children, as follows: Edward, Barnard, Mary, David, Emily, William, Henry, Jane, Sarah. Of the number, Mrs. Mary Case, of Oswego, William, who runs the Gray farm on the West Fifth street road, and Jane Townsend, of Ithaca, Mich. survive.

Mrs. Gray tells with patriotic pride of her children, and recalls the bravery of one and the cleverness of another. Several of the children died in their youth. Her memory of small events is remarkable, and those things which happened in childhood are still fresh and vivid in the memory. She remembers the wry face she made at Mrs. Outting's cheese when only two years old, and how she surprised her father by comparing his cheese to Mrs. Outting's, several years later.

A thorough Christian, Mrs. Gray still loves her bible and up to three years ago, read the good book daily and diligently. For more than forty years, she taught Bible class at ___________ school in the old schoolhouse on the West Fifth street road. She was always charitable and many a neighbor has she nursed through a long sickness. When her husband was ill for five months, twenty-two years ago, she was his constant companion, although she was then seventy-eight years old. Again at Grand Rapids, Mich., where she and her husband were both in a roadway accident while on the way to visit Mrs. Case at Adrian, she sat up all night in a hotel, bathing her husband's hip, although her lip had been split open and her teeth knocked out. On that occasion
she composed this couplet:

The fresh young flower in its sweetness is called,
While the old stalk withers and is left to bend with the storm of life,
And waltz to the reaper here.

Mrs. Gray has always been ready with verse. She composed a poem at the eightieth anniversary of the First Presbyterian church in 1886, but says that she will have nothing to offer for her 100th birthday. When she was ninety-five years old, a friend presented her with flowers to which Mrs. Gray then responded:

Thanks for this kind remembrance,
And this beautiful bouquet;
Is the early morn ________,
Of my ninety fifth birthday.

Mrs. Gray is, and has been, a staunch Democrat, as were her husband and her father. She has read the PALLADIUM since this paper was founded, and she always found pleasure in its columns. Up to a few years ago she would use the PALLADIUM's editorials to answer those who opposed her politically.

She operated a flax wheel at the Presbyterian church celebration, and wove towels for Mrs. Case since reaching her ninetieth year.* Mrs. Gray has three children living, seven grandchildren and two great grandchildren. She hopes to see them all some day, and would like to have them with her on her birthday. Oswego is proud of Mrs. Gray, and its citizens, through the PALLADIUM, extend to her congratulations and salutations.

Mrs. Gray vividly recalls the attack on Oswego by the British during the war of 1812. She does not recollect the date, but the events are very fresh in her mind. The family had come to Oswego only a short time before and were then living at Fitch's Corner over three miles from the now city.

Mrs. Gray says that the constant boom, boom of the cannon aroused the family, but as the guns of the fort answered the British sallies, Mr. Beckwith, her father, continued un-annoyed at his work. But when the sharp, spiteful barking of the small arms replaced the dull boom of cannon, Mr. Beckwith excitedly hastened from the field, rushing to the family home, and grasped a rifle in each hand and started down the road to the settlement. When he arrived, the fighting was over. Mr. Beckwith was disappointed; but he was enabled by his trip to gain full particulars of the conflict without having to wait for the village gossips. Mrs. Gray's three brothers were at that time in the western part of the State fighting against the common enemy.

Mrs. Gray, in telling the story, says that she often wondered why Mr. Beckwith took two rifles, and she answers the question herself by the conclusion he intended to give one of the guns to one of his neighbors on the road to the fort.

Mrs. Gray's husband died December 27th, 1894, at the age of ninety two years at the family home in Oswego Town, where they had lived sixty-seven years, and since then Mrs. Gray has made her home with Mrs. Case.

Mrs. Gray's partial loss of sight and hearing was caused by an attack of the grip which she suffered in the Winter of 1898.

* This article included the etching of her sitting behind the flax wheel that is used as her personal picture and none other are known to exist. The flax wheel in the photo with this article is believed to be hers.

• Children: Names, 1902. The article published by the Oswego Palladium on her 100th birthday lists the names of her nine children.
• Birthday: Oswego Daily Times, Monday Evening, Page 4, 10 Aug 1903, Oswego, Oswego, New York. THE OLDEST RESIDENT.

Mrs. Thyrza Beckwith Gray is One Hundred and One Years Old Today.

Mrs. Thyrza Beck with Gray is receiving congratulations today on the occasion of her 101st birthday. Mrs. Gray was born in Blenheim, Schoharie County, in 1802, and moved to Oswego County in 1811. She has since been a resident of Oswego County and now lives with her daughter, Mrs. Mary Case, in West Seventh Street. Many of her friends called today and left flowers and other presents. Mrs. Gray is remarkably bright and received all her friends cordially.
• Birthday: New York Daily Tribune, Monday, Page 7, 11 Aug 1903, New York, New York. HUNDREDTH BIRTHDAY.

Oswego, N.Y. Aug. 10. - Mrs. Thyrza Gray, the oldest woman in Northern New York, celebrated her one hundredth birthday.today at the home of her daughter here. Mrs. Gray was born in Schoharie County. Her general health is excellent, and she expects to live many years.
• Birthday: The Culver Citizen, No. 21, Page 6, 24 Sep 1903, Culver, Indiana. HALE AND HAPPY AT 101.

Old Lady Insists She Grows Stronger as She Grows Older.

Mrs. Thyrza Beckwith Gray has lived 101 years. She celebrated her birthday at Oswego, N. Y., recently, by giving a family party at her home at Tallman and West Seventh streets and by sitting for a photograph with her 71-year-old daughter, Mrs. Mary Case, and her 65-year-old son, William Gray.

Mrs. Gray is in good health and says she grows stronger as she grows older. Her sight is failing, but otherwise her senses are perfect. She is a famous cook and declares that today there is nothing she enjoys better than making a batch of mince pies, unless it is eating one. She was ten years' old when the war of 1812 broke out, and she remembers many incidents of that period. Oswego was then only a trading post. During the past year Mrs. Gray has spun the flax and woven several tablecloths and sets of table napkins for her daughter, just as she used to do when Mrs. Gray first commenced housekeeping.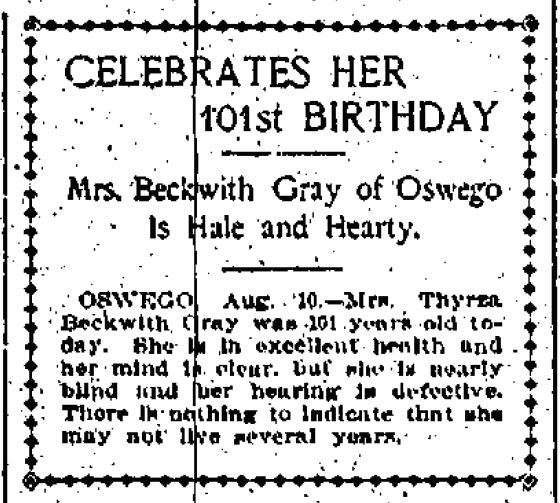 • Birthday: THE POST-STANDARD, SYRACUSE, N.Y., TUESDAY MORNING, 11 Aug 1903, Syracuse, New York.
• Birthday: Oswego Daily Times, Wednesday, Page 4, 10 Aug 1904, Oswego, Oswego, New York. OSWEGO'S OLDEST INHABITANT

Mrs. Gray Celebrating 102d Birthday Surrounded by Friends

Oswego's oldest inhabitant, Mrs. Thyrza Gray today received the congratulations of many of her friends and neighbors, it being the occasion of her 102d birthday.

Mrs. Gray is a remarkable woman and though enfeebled by old age is cheerful and in fair health and to her friends she talks pleasantly of things that happened many years ago. She resides with her daughter, Mrs. Chester O. Case, on West Seventh Street where she has made her home since the death of her husband several years ago.

Mrs. Gray's maiden name was Thyrza Beckwith and she was born in Blenheim, Schoharie County in 1802. She came to Oswego when nine years old and at fifteen she united with the First Presbyterian Church, being at the present time its oldest member. For a great many years she lived at Oswego Town and it and its vicinity grow from a forest to a prosperous farming community and she has also witnessed many remarkable changes in Oswego City during her ninety odd years here.

Mrs. Gray's many friends congratulate her of attaining such an advanced age and hope she will live to enjoy several other birthdays.
• Birthday: OSWEGO DAILY PALLADIUM, WEDNESDAY, 9 Aug 1905, Oswego Town, Oswego, New York. ONE HUNDRED THREE YEARS OLD.

Mrs. Thyrza Gray Celebrates Birthday Tomorrow.

Born in Schoharie County, in Oswego for Ninety Four Years
-Enjoys Good Healh and Will See Personal Friends Tomorrow.

Mrs. Thyrza Beckwith Gray, the oldest woman in Oswego city, probably in the county and perhaps in the State of New York will celebrate her 103rd birthday tomorrow. Mrs. Gray lives with her daughter, Mrs. Mary Case, corner of West Seventh and Tallman streets, and while she is in a somewhat weakened condition, her general health is all that could be expected.

"Mrs. Gray's condition is very good indeed," said Mrs. Case, who is past seventy-three herself, to a reporter this morning. "Her appetite is good and her mind strong and clear." There will be no celebration of Mrs. Gray's anniversary, but many friends will call during the day to pay their respects. There is probably no woman in the city who can count as many friends as Mrs. Gray.

She is the oldest living member of the First Presbyterian Church and up to five years ago was a most regular attendant as services. She remembers the establishment of the society in 1816 and became a communicant one year later. During the dark days of the society's existence this Winter it was a bright and cheerful letter from her, read at one-of the church meetings to determine the future of the society, that more than anything else put new life into the members of the congregation and decided them to keep the doors of the old First open, come what may.

Mrs. Gray was born in Blenheim, Schoharie county, August 10th, 1802, the daughter of Nathaniel Beckwith and Elizabeth Rich, English colonists, who settled in Connecticut. From Blenheim the family went to Pompey, Onondaga county, then to Manilas, Onondaga Valley, and lastly to Fitch's Corners, Oswego Town, where they settled in 1811. Mrs. Gray formerly took enjoyment in reciting incidents of the War of 1812, including the attack on Fort Ontario, but it now troubles her some to talk.

Mrs. Gray's father died in 1845 at the age of seventy-five and her mother in 1853 at the age of eighty four. Jesse Gray, who died several yean ago, was her husband and to them were born nine children, three of whom, Mrs. Case, William Gray, who lives in the old homestead in Oswego Town, and is sixty-six years old, and Mrs. Jane Townsend, Ithaca (Michigan), is sixty-two years old, survive.

• Death Notice: Oswego Daily Times, Thursday Evening, Page 2, 21 Sep 1905, Oswego, Oswego, New York. THB DEATH OF MRS. THYRZA GRAY.

After a useful and active life covering many more than the three score and ten years usually allotted to man, Mrs. Tbyrza Gray has passed on to another world at the ripe old age of 103 years. Just five weeks ago, on August 10, Mrs. Gray celebrated her 103rd birthday; and that she was permitted to live long enough to round but perfectly one more year was a great joy to her, and will be a pleasant memory to her friends. To few is given the privilege of such a long and remarkable life, coverage as it did more than a century of the world's most stirring period of development, and compassing within its own personal sphere so much of activity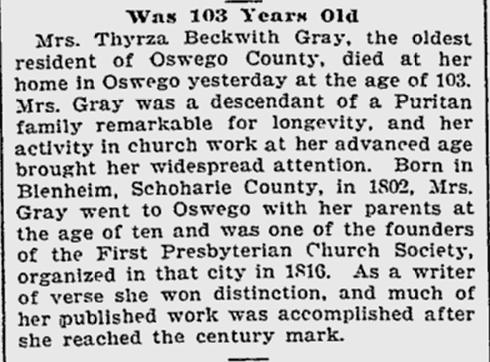 • Death: Boston Evening Transcript, Page 12, 22 Sep 1905, Boston, Suffolk Co., Massachusetts. Was 103 Years Old

Mrs. Thyrza Beckwith Gray, the oldest resident of Oswego County, died at her home in Oswego yesterday at the age of 103. Mrs. Gray was a descendant of a Puritan family remarkable for longevity, and her activity in church work at her advanced age brought her widespread attention. Born in Blenheim, Schoharie County, in 1802, Mrs. Gray went to Oswego with her parents at the age of ten and was one of the founders of the First Presbyterian Church Society, organized in that city in 1816. As a writer of verse she won distinction, and much of her published work was accomplished after she reached the century mark.

• Funeral: OSWEGO DAILY TIMES, Saturday Evening, 23 Sep 1905, Oswego Town, Oswego, New York. Funeral of Mrs. Thyrza Gray.

The funeral of Mrs. Thyrza B. Gray was held from the residence of her daughter, Mrs. Mary Case, at 2:30 o'clock this afternoon.

The bearers were members of the First Presbyterian Church as follows: James and Wm. Cochrane, Wm. Garland, C. A. Tanner, Robert Barnett, James Jackson.

Burial was at Rural Cemetery. The Rev. Mr. Magary officiated.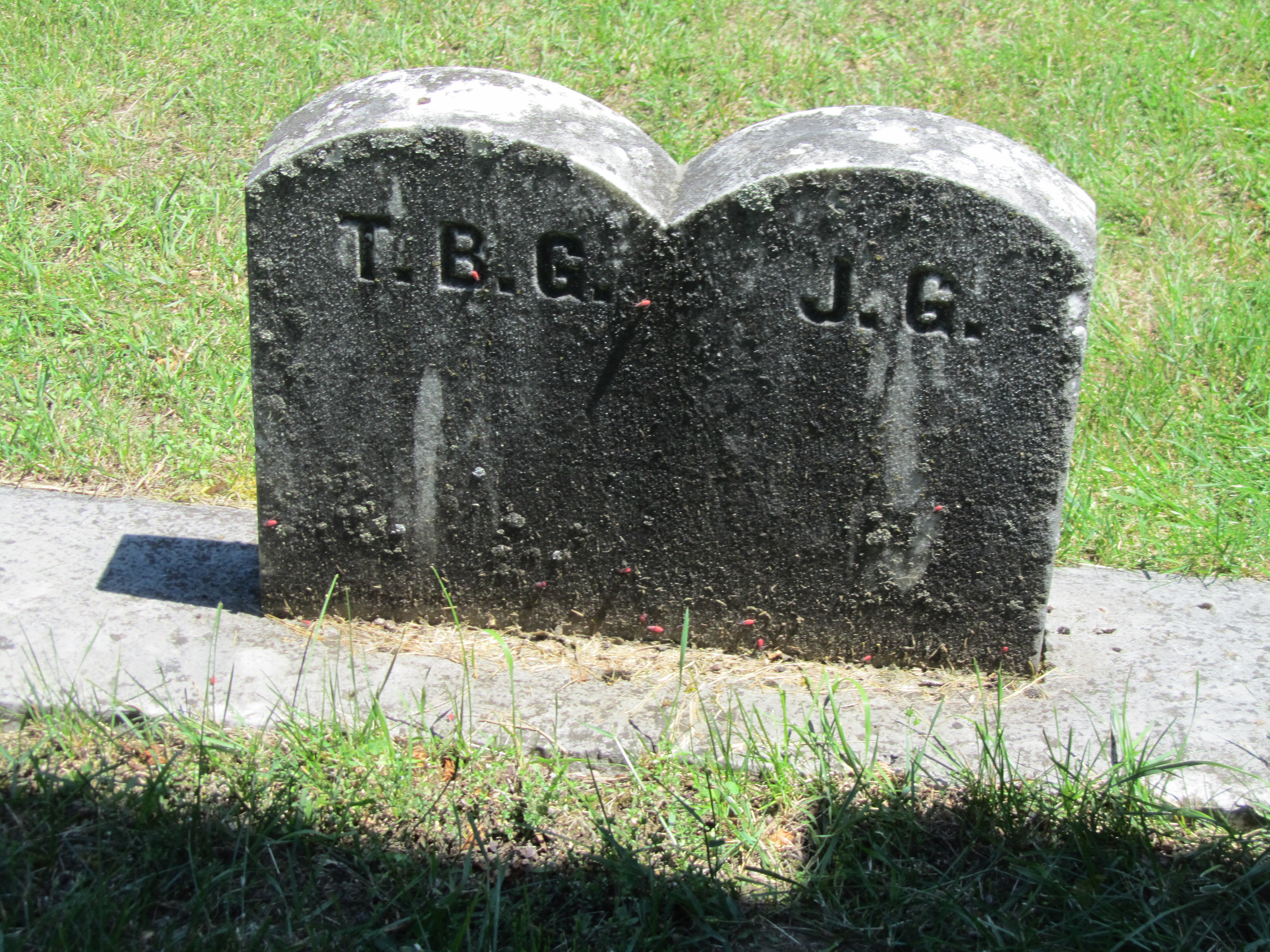 • Cemetery: Rural Cemetery, Jesse Gray Lot, Section Acre, Lot 45, 1905, Oswego Town, Oswego, New York.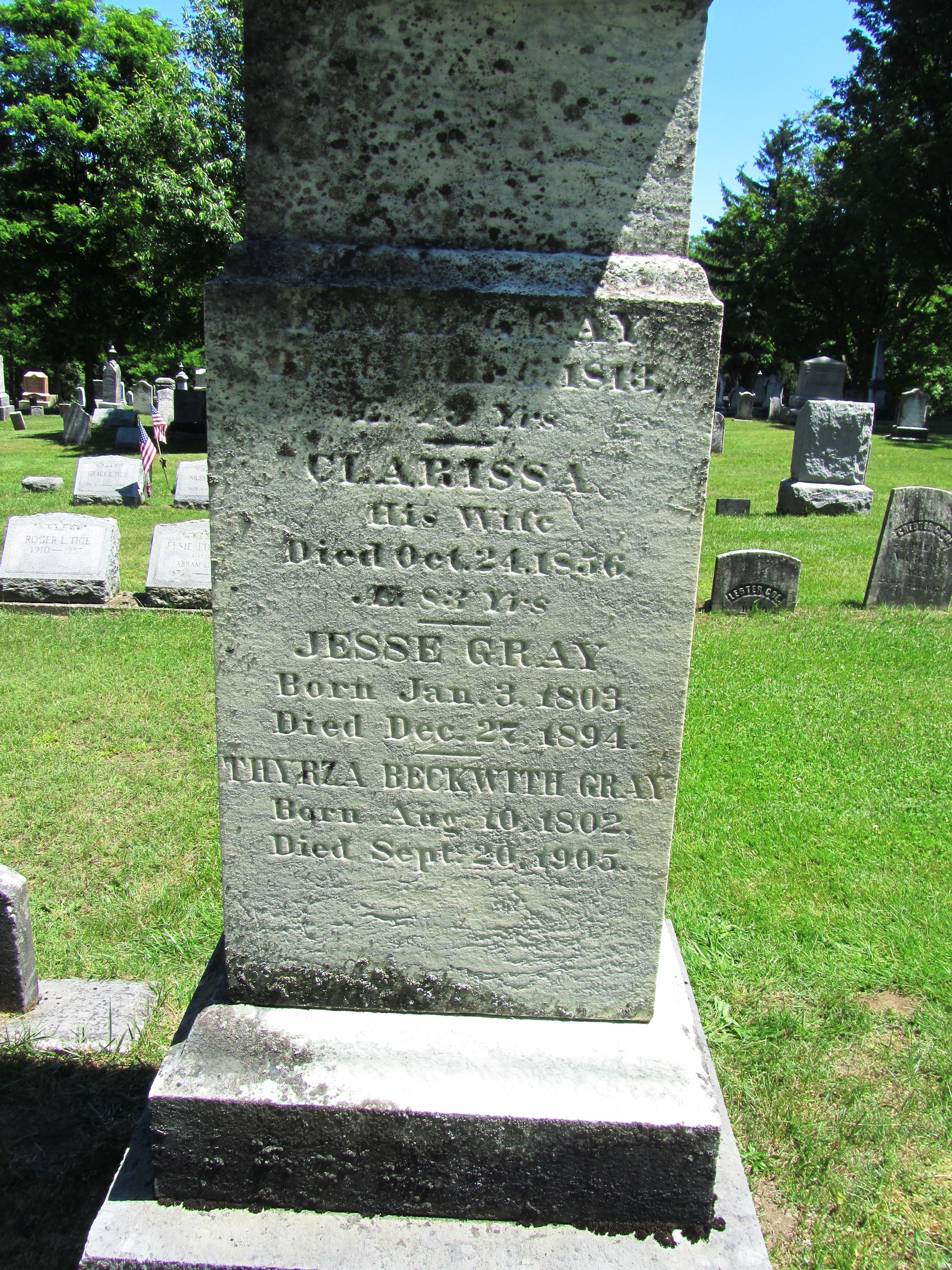 • Monument: Side parallel to individual stones. Inscription

David Gray Died June 6, 1813 Age 43 yrs
Clarissa Gray Died Oct 24, 1856 Age 83 His Wife
Jesse Gray Died Dec 27, 1894 Born Jan 3, 1803
Thyrza Beckwith Died Sep 23, 1905 Born Aug 10, 1802

Thyrza married Jesse William Gray, son of David Gray and Clarissa Patchin, on 10 Jul 1827 in Oswego, New York. (Jesse William Gray was born on 3 Jan 1803 in Milton, Saratoga, New York and died on 27 Dec 1894 in Oswego, Oswego, New York.)