William Gray
Born: 11 Jun 1838, Oswego, Oswego, New York
Marriage: Rosanna Stevenson on 25 Oct 1871 in Oswego, Oswego, New York
Died: 5 May 1924, Minetto, Oswego, New York at age 85
Buried: 1924, Rural Cemetery, Oswego, New York

Noted events in his life were:
• Residence: Living with his parents, 1870, Oswego Town, Oswego, New York. Also living with them in 1850 and 1860 Census
• Occupation: From History of Oswego County, 1877, Oswego Town, Oswego, New York. NAMES OF CITIZENS WHO ASSISTED AND CONTRIBUTED TOWARDS THE PUBLICATION OF THE HISTORY OF OSWEGO COUNTY, WITH PERSONAL STATISTICS

OSWEGO CITY.

Gray, William, Farmer, Oswego, b. Oswego Co., N. Y., s. 1838, p. o. add. Oswego City.
• Occupation: Farmer Dairy, 1880 Census, Oswego, Oswego, New York.
• Newspaper: THE PALLADIUM, FRIDAY, Page 5, 9 Jan 1891, Oswego Town, Oswego, New York. IN JACKSON'S TIME

An Interesting Document That Recalls Memories of Pioneer Days

William Gray, one of the most respected and beet known residents of Oswego Town, showed the PALLADIUM yesterday one of the most interesting documents we have seen in a long time. It was the tax roll of the village of West Oswego and Oswego Town for the year 1834. Jesse Gray, father of William was the collector. He is still living, also his wife, both 90 years old. Of all the names, on the tax roll, only five are now living, so far as known. Those are Jesse Gray, Benjamin Scott, Schuyler Worden, John Ostrander and S. Crolius, the latter, in New York. The total amount of the tax was $3,397.78 and the heaviest taxpayer was Alvin Bronson. The Collector's warrant was dated at Richland, October 18th, 1834. The Supervisors who signed it were Asa D_rtiey, Jesse Crowell, Joseph Shoecraft, Henry Fitzhugh, ______ _____, ___ Crandell, E. Rockwell, Jacob N. Bonesteel, Allan Strong, Alfred Phelps and Oliver Burdick. On the back of the warrant is the receipt of Avery Skinner, County Treasurer.

Jesse Gray settled on the farm where he still lives, just beyond the Kingsford farm, in 1827. At that time a dense forest surrounded the place, now almost within the city limits. The path to and from the village was marked by blazed trees and on one occasion, Mrs. Gray became lost just at dark while on her way home. Unable to follow the path or to feel the marked trees she wandered around for a time then lay down beside a log and slept until morning. When she awoke she found she found that she was somewhere near where the R. W. & O. shops are now located.

On another occasion when Mr. Gray was going home from the village be was suddenly confronted by a big wolf that stood directly in the path. Mr. Gray was unarmed and stood facing the wolf for a minute or two, when he suddenly sprang toward the animal, giving a loud yell. The wolf turned and ran through the forest.

Mr. and Mrs. Gray are still in excellent health and enjoy recounting their experiences of pioneer days.

• Land: The Oswego Palladium, Thursday, Page 7, 6 Oct 1892, Oswego Town, Oswego, New York. Real Estate Transactions.

Jesse Gray and wife to William Gray, July 5th, 1892, property in Oswego Town, $1.

Jesse Gray and wife to William Gray, March 1, 1892 property in Oswego Town, $1 .
• Occupation: Farmer, 1892, Oswego Town, Oswego, New York. From 1892 New York State Census

Name Age Place of Birth Occupation
William Gray 54 US Farmer
Rosanna Gray 46 US
Margaret Gray 20 US Teacher
Edward T. Gray 12 US
Thyrza A. Gray 10 US
Florence E. Gray 6 US

• Occupation: Farmer, 1900, Oswego Town, Oswego, New York. From 1900 Census
• Occupation: From 1905 New York State Census, 1905, Oswego Town, Oswego, New York. William Gray, age 66, Farmer
Margaret Gray, age 59, housework
Thyrza A. Gray, age 22, bee worker
Florence E. Gray, age 7, at school
• Occupation: Farmer, 1910, Oswego Town, Oswego, New York. From 1910 Census
• Occupation: Farmer, 1920, Oswego Town, Oswego, New York. From 1920 Census
• Obituary: The Oswego Daily Times, Monday Evening, Page 12, 5 May 1924, Oswego Town, Oswego, New York. WILLIAM GRAY OLD OSWEGO TOWN RESIDENT IS DEAD
Surveyed Along Missouri River With General Grant

William Gray, 86 years old, the oldest native born resident of Oswego Town, died this morning at 3 o'clock at the old Gray home on the Gray road south of the city. He had been in poor health for more than a year and seldom left his home in that time.

Mr. Gray was born in the farm where he died, June 11, 1838, the son of the late Jesse Gray and Thyrza Beckwith, pioneers of the town. His education, was obtained in the schools of the district and later in the schools of this city. He had a liking for land surveying and studied that profession and early in life went west and was located near St. Louis on the Missouri river. In those days the country was new and there was a big demand for his services. General U. S. Grant, former president of the United States was one of Mr. Gray's associates on the job and his brother, George (sic Edward) Gray was elected over President Grant for highway engineer of the parish in which they lived. General Grant and the Grays were members of the same fraternal societies and were intimates.

The coming of the Civil war drove Mr. Gray and his brother north and General Grant went back into the army where he became famous. After General Grant became president, William Gray wrote him congratulations.

Mr. Gray's brothers and sisters have all passed away. He had made his home in Oswego town on a farm all during his later life. Since the death of his wife some years ago his household affairs have been looked after by his daughters, Florence and Thyrza.

The other surviving members of his family are a son, Edward Gray of Johnstown Pa., where he is a mechanical engineer in a big steel plant, a daughter, Margaret Gray of New York and a grandson, Robert Gray.

Mr. Gray's mother, Thyrza, and his father, Jesse Gray, were among those who were the organizers of the First Presbyterian Church society more than 100 years ago. The family was noted for its longevity, Mrs. Thyrza Gray living for more than a century.

All through the years the family has been a prominent one in the town of Oswego and the late Jesse Gray was one of the founders of the first agricultural society organized in the county. William Gray was prominent in the affairs of his town until incapacitated by age and was one of the leading Democrats of the town, never losing interest in party affairs.

Notice of Mr. Gray's funeral will be announced later, after the arrival of his son from Johnstown and his daughter from New York.
• Death Notice: OSWEGO DAILY TIMES, Tuesday Evening, Page Two, 6 May 1924, Oswego Town, Oswego, New York. WILLIAM GRAY

The funeral of the late William Gray, who died at his home on Gray road, south of the city yesterday morning, will be held tomorrow afternoon, at 2 o'clock. Services will be conducted at the home by Rev. T. T. Hays, of the First Presbyterian church of which Mr. Gray was a life long member. Burial will be at the Gray plot in Rural Cemetery.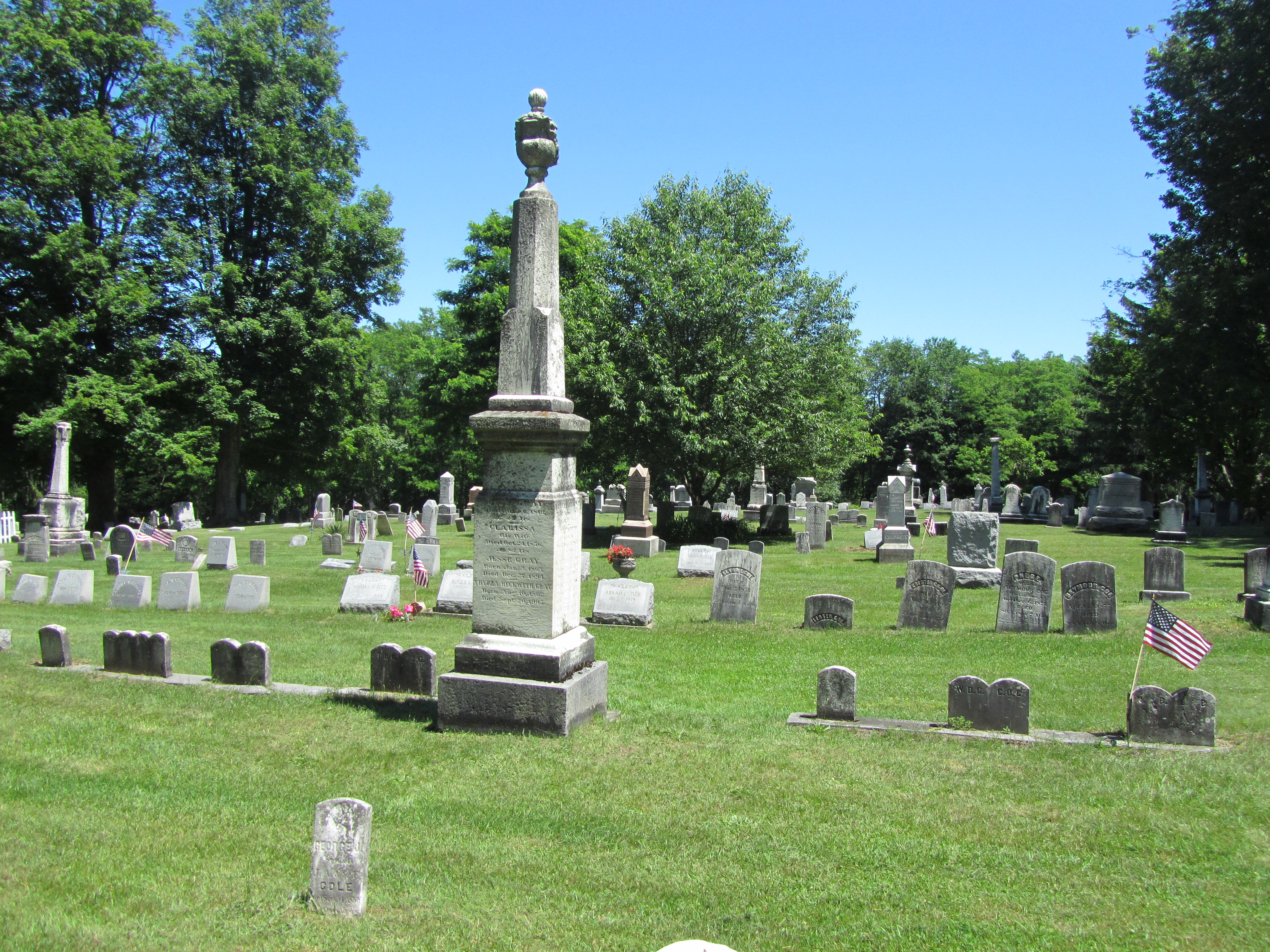 • Cemetery: Rural Cemetery, Jesse Gray Lot, Section Acre, Lot 45, 1924, Oswego Town, Oswego, New York. No Marker Found
• Newspaper: The Palladium-Times, Friday, Page 8, 3 Oct 1971, Oswego Town, Oswego, New York. LOOKING BACKWARD
FIFTY YEARS AGO
Saturday, Oct 3, 1921

William Gray, Gray Rd., Oswego Town was a little disappointed today because the Giants and Yanks didn't play. Mr. Gray, who will be 84 in June hiked three miles to hear result of today's game. When he learned the game was rained out, he started for home and to get some mushrooms for supper.
William married Rosanna Stevenson, daughter of Edward Stevenson and Margaret Kentfield, on 25 Oct 1871 in Oswego, Oswego, New York. (Rosanna Stevenson was born in Mar 1845 in New York, died on 22 May 1922 in Minetto, Oswego, New York and was buried on 24 May 1922 in Rural Cemetery, Oswego, New York.)

Noted events in their marriage were:
• Marriage Banns: OSWEGO DAILY PALLADIUM, Page 4, Column 4, 26 Oct 1871, Oswego Town, Oswego, New York. MARRIED
GRAY - STEVENSON At the bride's home, in Oswego Town. Oct. 25 by Rev. F F. Jewell, Mr. WILLIAM GRAY and ROSANNA STEVENSON - all of Oswego.