Edward Stevenson
Born: 5 Feb 1813, Enniskillen, Fermanagh, Ireland
Marriage: Margaret Kentfield about 1845 in Syracuse, New York
Died: 12 Dec 1906, Oswego Town, Oswego, New York at age 93

Noted events in his life were:
• Immigration: 1900 Census information indicates he was a naturalized citizen, 1845, Oswego, Oswego, New York.
• Occupation: Grocer, Real estate value of $1,800, 1850, Oswego, New York.
• Residence: From 1855 New York State Census, Page 135, 26 Jun 1855, Oswego Town, Oswego, New York. Dwelling #213: framed, $600

Edward Stevenson, 42, born Ireland, married, res. 2 yrs., farmer.
Margaret Stevenson, 30, wife, born Ireland.
Rosanna Stevenson, 9, born Oswego (E.T. Gray's mother)
Edward W. Stevenson, 7, born Oswego.
Frederick H. Stevenson, 4, born Oswego.
Ann Kentfield, 49, mother-in-law, born Ireland, widow.
Ann E. Kentfield, 19, sister-in-law, born Columbia (County), seamstress.
Mary J. Kentfield, 16, sister-in-law, born Columbia (County), teacher.
• Occupation: Farmer, 1860 Census, Oswego, Oswego, New York. Value of real estate $3,985
Value of estate $1,714
• Occupation: From 1880 Census, 1880, Oswego Town, Oswego, New York. Name: Eduar Steverson
Residence: Oswego, Oswego, New York
Birthdate: 1813
Birthplace: Ireland
Relationship to Head: Self
Spouse's Name: Margret Steverson
Spouse's Birthplace: Ireland
Father's Name:
Father's Birthplace: Ireland
Mother's Name:
Mother's Birthplace: Ireland
Race or Color (Expanded): White
Ethnicity (Standardized): American
Gender: Male
Martial Status: Married
Age (Expanded): 67 years
Occupation: Farmer
NARA Film Number: T9-0913
Page: 311
Page Character: A
Entry Number: 4223
Film number: 1254913
Household Gender Age
Eduar Steverson M 67
Spouse Margret Steverson F 55
Child Edward Steverson M 32
Child Frank Steverson M 16

• Occupation: Farmer, 1892, Oswego Town, Oswego, New York. From 1892 New York State Census

Name Age Place of Birth Occupation
Edward Stevenson 80 Ireland Farmer
Margaret Stevenson 67 Ireland
Edward W. Stevenson 44 US Farmer
Francis Elmer Stevenson 28 US

• Occupation: Farmer, 1900, Oswego Town, Oswego, New York. From 1900 Census

Name Born Age Place Born Occupation
Edward Stevenson Feb 1813 87 Ireland Farmer
Margaret Stevenson Mar 1825 75 Ireland
Frank Stevenson May 1864 36 New York Farm Laborer
Elizabeth Kentfield* May 1836 64 New York Housekeeper

* Sister in law

• Birthday: THE OSWEGO DAILY PALLADIUM: THURSDAY EVENING PAGE 5, 6 Feb 1902, Oswego Town, Oswego, New York. EIGHTY NINE YEARS OLD.
Edward Stevenson, of Oswego Town, Enjoys Excellent Health.
Edward Stevenson, who resides on the fifth street road in Oswego Town, yesterday celebrated his eighty-ninth birthday. Mr. Stevenson was born in Ireland and came to this city fifty-eight years ago. He lived here six years, when he moved to Oswego Town, where he has since resided. He is in good health and comes to the city twince each week and does his own shopping. He has four children, Mrs. William Gray, Thomas, Frank and Frederick Stevenson. Many friends join in wishing Mr. Stevenson many happy returns of the day.
• Newspaper: Oswego Daily Times, Wednesday Evening, Page 4, 24 Dec 1902, Oswego Town, Oswego, New York. His Ninetieth Christmas.

Not one in a thousand will live to celebrate the 90th Christmas anniversary but that is what Mr, Edward Stevenson will do tomorrow, for he is able today to drive down to the city from his home on the Fifth Street road, where he has lived for fifty years. Mr. Stevenson has lived in Oswego for over sixty years and is happy in being surrounded by members of his family who live here.
• Death: Letter from William Gray to his son, ET Gray, 12 Dec 1906, Oswego, Oswego, New York. Oswego, Dec. 12th 1906

Dear Children,

My fingers are so cold that I can hardly hold a pen as I have just come in from doing the Noon chores.

I've to tell you that your grandfather died this morning at 5 o'clock. Your mother, Uncle Tom & Frank were there but only Tom was with him. He had rested well through the night & Tom had just turned him in bed.

He said "that felt better." Soon after "I am going" and after a few ______s he was gone.

We are all pretty well. Your mother has been home but once in two weeks. I will write some more soon but now will close with love.

William Gray

P.S. I have just got your letter & am glad to hear that the apples are there & that you are all enjoying them.

Your Dad

• Obituary: THE OSWEGO DAILY PALLADIUM, THURSDAY, PAGE 8, 20 Dec 1906, Oswego, Oswego, New York. Edward Stevenson.

Edward Stevenson, who died at his home in Oswego Town December 12th, 1906, was born in Enniskillen, county of Fermanagh, Ireland, February 5th, 1813. His father, Thomas Stevenson, was of Scotch decent and his mother, Rosanna Porteus, was a member of a well known Scotch family of Episcopalians.
He enlisted at Dublin in 1831, spent about two years in England and Ireland at various stations, when his regiment was ordered to America. Here he was stationed at Halifax, Nova Scotia and Quebec. From the latter place his regiment was sent out to help quell the Patriot uprising, but it was needed only a short time.
After his term of service in the British Army had expired he came to the United States. He became an American citizen and joined the American Army, in which he served five years. He was stationed among ether places at Fort Ontario, Oswego, New York, going thence to Old Point Comfort, Virginia.
At Oswego he first met Margaret Kentfield, whom he married several years later. He was engaged in business in Oswego from 1845 until 1858, when he purchased a place in Oswego Town on what is now known as West Fifth street road. Here he lived the remaining years of his life.
He was a member of one of the early lodges of Odd Fellows and was a staunch Republican from the formation of that party. About 1860 he united with the First M. E. church of Oswego. He is survived by four children and ten grandchildren. Those who knew him will long remember his generous hospitality, his merry humor, his wonderful memory and his love of all things true.
"After life's fitful lever he sleeps well"

• Probate: THE OSWEGO DAILY PALLADIUM, WEDNESDAY, PAGE 5, 8 May 1907, Oswego Town, Oswego, New York. Surrogate Court.
Letters were issued to Rosanna Gray yesterday on the estate of her father, Edward Stevenson, who died in Oswego Town December 12th, leaving an estate valued at $5,000 real and $1,000 personal property. The use of the estate was bequeathed to his wife, Margaret Stevenson, but she died about two months before her husband and by his will $200 will now go to F. H. Stevenson, $200 T. E. Stevenson, $200 to Rosanna Gray and the residence to Francis H. Stevenson.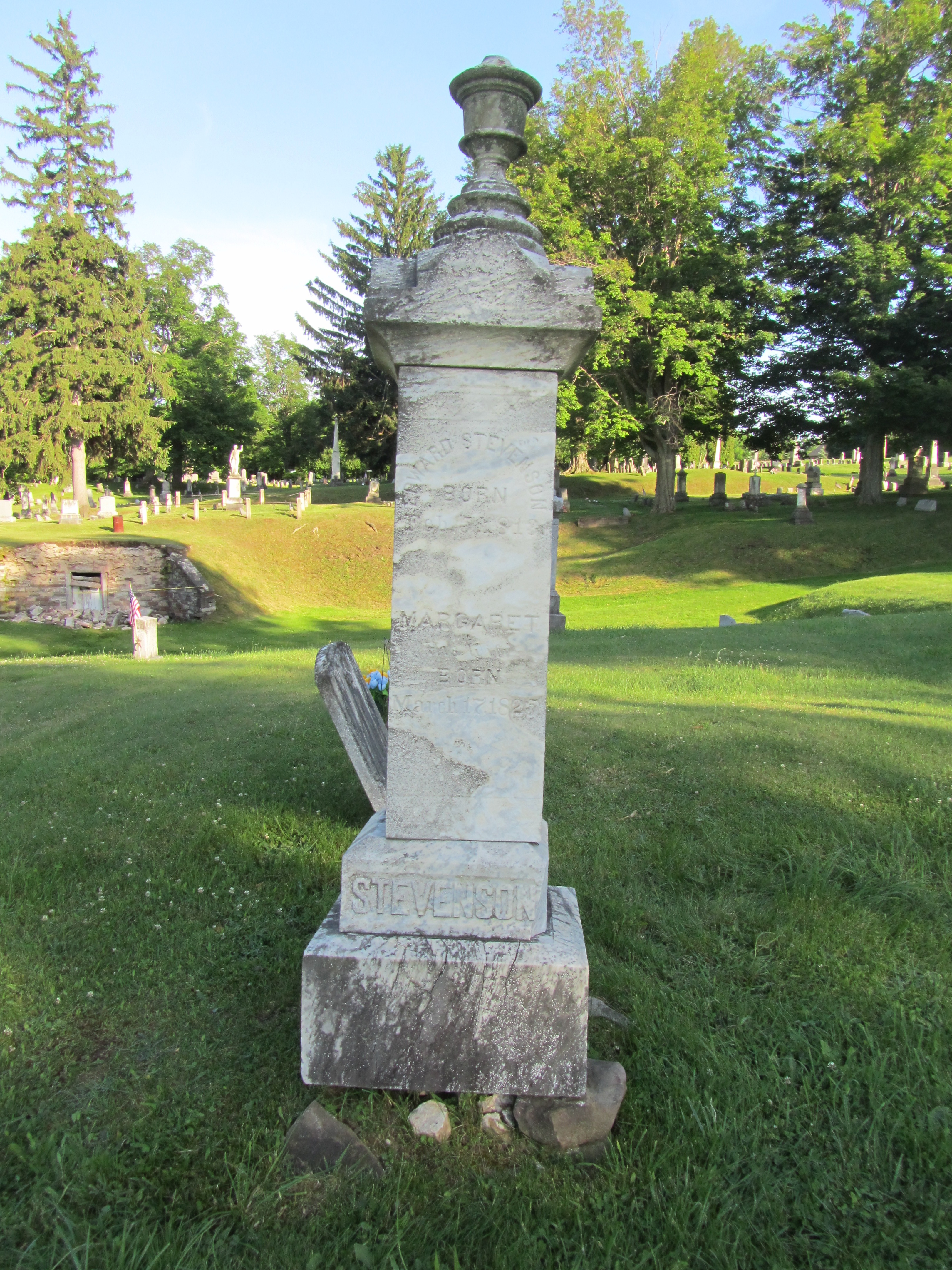 • Cemetery: Rural Cemetery, 12 Dec 1906, Oswego Town, Oswego, New York. Section 7, Lot 44 - Lot Owner Edwin Stevenson
Stevenson, Edward / died 12-12-1906 / born 10-7-1893 *
Stevenson, Margaret / died 10-10-1906 / born 3-17-1825 / wife of Edward / died in Oswego Town
Stevenson, Edward W. / died 11-11-1896 / married / age 48 / died in Oswego Town
Stevenson, Francis / died 2-19-1954 / widower / aged 89, 9 months, 15 days / C.E. Myers Funeral Home

* This date is inconsistent with all other records
Edward married Margaret Kentfield, daughter of William Kentfield and Anna MacDain, about 1845 in Syracuse, New York. (Margaret Kentfield was born on 17 Mar 1825 in Boyle, Roscommon, Ireland, died on 10 Oct 1906 in Oswego Town, Oswego, New York and was buried on 13 Oct 1906.)

Noted events in their marriage were:
• Marriage Banns: From Margaret Kentfield's obituary: Syracuse, New York. Married at St. Paul's Episcopal Church by Reverend Henry Gregory.